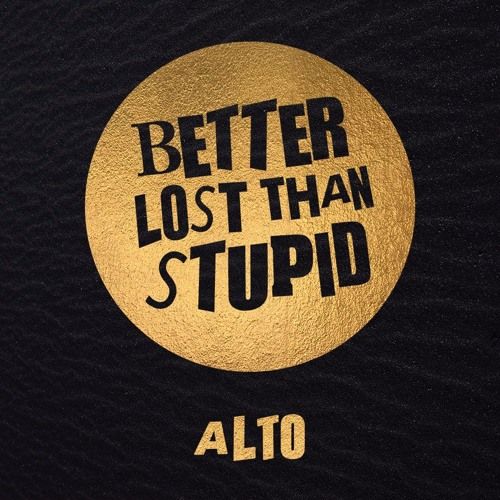 Better Lost Than Stupid - Alto
Better Lost Than Stupid have announced their debut single, 'Alto', for new label, Skint/BMG. Released on 27 October,'Alto', is the first new material from their as yet untitled debut album, which is set for release in 2018. Last weekend,Better Lost Than Stupid headlined the legendary Ibiza venue, Amnesia (for the club's closing party), the latest in a series of 2017 live gigs that have included a sold-out headline show at Koko in London, Razzmatazz in Barcelona, Circoloco at DC10, Krystal Club in Romania, and BPM Festival.
A trio comprising 3 of the world's finest producers, Martin Buttrich, Davide Squillace, and Matthias Tanzmann, was always going to be an intriguing proposition, but Better Lost Than Stupid have proven themselves to be something very special, hinting at a future that transcends electronic music. With the kind of chemistry that comes from late night recording sessions and touring together, rather than swapping parts over the internet, the dynamic between the three is now more like a traditional band.
Eager to get out on the road, the three initially eschewed studio time to get out and play shows over the past 12 months, winning fans on a now notorious European club tour, hosting all-night sessions at DC10, and wowing festival crowds across the world. 'Alto' (which features a well-known, but for now unnamed, collaborator on vocals) is the first fruit from album recording sessions earlier this year.
'Alto' follows the free single, 'Dynamite' which dropped in February (and is included on this EP release); a big record forRadio 1's specialists and, naturally, some of the world's biggest DJs, the 7-minute instrumental was designed as a trippy, off-kilter intro to Better Lost Than Stupid, as 'Alto' shows, these are the first glimpses of an incredible vision.
With the serious work of their debut album almost done, Better Lost Than Stupid will soon announce 2018 gig and festival dates, before unveiling further singles and the album itself. The band celebrated the forthcoming release of 'Alto'with a special invite only ADE show at A'DAM&Co in Amsterdam on 20th October.
https://www.facebook.com/BetterLostThanStupid/
https://twitter.com/BetterLostStupd
https://soundcloud.com/betterlostthanstupid