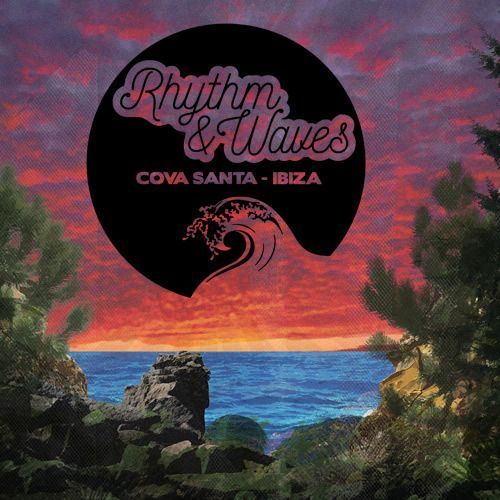 Amnesia & Together present Rhythm & Waves… first lineups announced
Brand new to Ibiza for 2016, Together and Amnesia are excited to announce Rhythm and Waves, a unique experience in the beautiful open-air setting of Cova Santa, bringing you the hottest live acts in the world for three exclusive showcases.
As well as some of the biggest and best nightclubs in the world, Ibiza is blessed with many stunning venues outside of the norm. These offer a unique setting for the world's best live electronic music acts. The finest of these is Cova Santa, a beautiful venue high up in the mountains of San Jose and first used by pirates. The charming venue dates back to the 15th century and is without doubt one of the most incredible places on the island. This authentic space makes the perfect venue to embrace the open-air, full-bodied experience of Rhythm and Waves…
With all these outstanding acts bringing their unsurpassed sounds to the picturesque hills of the Ibizan countryside, it is safe to say there is nothing else like this on the island. Capturing that summer festival feel with live performances from premier artists, the caves of Cova Santa will be filled with the beats and bass emanating from Ibiza's first event of its kind, delivering that concert feel in the glorious surroundings of San Jose.
http://rhythmandwaves.com

JUST ANNOUNCED…

RUDIMENTAL
THURSDAY 7TH JULY
Hackney quartet Rudimental are bringing their epic live show to the alluring hills of Cova Santa this summer. Hitting the scene in 2012 with their UK number one single 'Feel the Love', the electronic collective are now a multi-platinum selling band, chalking up number one albums, MOBO and Brit Awards and have an extensive list of hit singles featuring a host of collaborations from John Newham, Ella Eyre, Emeli Sande and most recently Ed Sheeran with smash hits 'Bloodstream' and 'Lay It All On Me'. A firm festival headliner last year, this year sees the electronic outfit travel across the world as a band that NME hailed have 'hit the formula'. Disco, funk, soul, electro, drums, bass and brass will all be in full flow as Rudimental join us deep in the mountains for the first Rhythm and Waves experience of the summer.
KATY B & TINE TEMPAH
THURSDAY 14th JULY
London super star Tinie Tempah is our next hot act to join us in the beautiful setting of Cova Santa, forming a rare chance for fans to see him in an intimate and visionary setting. Now head of his own record and fashion label, Disturbing London (DL Records), Tinie is as global as they get. No stranger to the White Isle, the multi-award winner is joined by fellow chart-topping artist Katy B to reunite a year after their UK number one collaboration of KDA's Turn The Music Louder (Rumble)'. Both no strangers to lending their vocals to EDM smashes, Tinie Tempah has had seven number one singles in the UK and Katy B's second album 'Little Red' took the top spot on the UK album charts. The Peckham bred girl rose to fame after collaborating with electronic rave specialists Magnetic Man and hasn't stopped since then. Constantly pushing herself she has now worked with a diverse range of artists on UK-driven dance music label Rinse FM and Colombia Records. Previously touring together in 2011 Tinie and Katy come together once again for a collaboration made in heaven.
CHASE AND STATUS (LIVE)
THURSDAY 21st JULY
The duo already at the top of the game and in the run up to their fourth studio album have recently been busy trying to prove their versatility at the highest end of other genres. Hailed as 'the most exciting producers in the UK today' by Pharrelland considered the backbone of Rihanna's Rated R record, the pair, consisting of dance DJs, multi-platinum artists and record-label owners Saul Milton and Will Kennard, have firmly cemented their place among the top ranks of Drum & Bass, dominating the dance scene for over a decade with their unique sound, which never fails to get crowds jumping. Forever pushing their music boundaries, the duo have recently collaborated with English punk band Slaves as well as producing killer grime instrumentals for Jammer and Novelist. Chase & Status have spent a long time crafting their stage act, augmenting the set-up to include a live drummer along with MC Rage and the show has captivated audiences worldwide winning the Best Band Award at the Brits. Bringing their live show to Cova Santa expect an aural assault of ferocious beats and their famous tumultuous bass driven sound.

TICKET INFO:

Individual tickets – €50
Joint Tickets – €75

Rudimental at Cova Santa on 7th July

Rudimental – Individual Cova Santa show
Joint ticket option 1 – Individual CS show + 5th July @ Together
Joint ticket option 2 – Individual CS show + 12th July @ Together

Katy B & Tinie Tempah at Cova Santa on 14th July

Katy B & Tinie Tempah – Individual Cova Santa Show
Joint ticket option 1 – Individual CS show + 12th July @ Together
Joint ticket option 2 – Individual CS show + 19th July @ Together

Chase & Status at Cova Santa on 21st July

Chase & Status – Individual Cova Santa Show
Joint ticket option 1 – Individual CS show + 19th July @ Together
Joint ticket option 2 – Individual CS show + 26th July @ Together