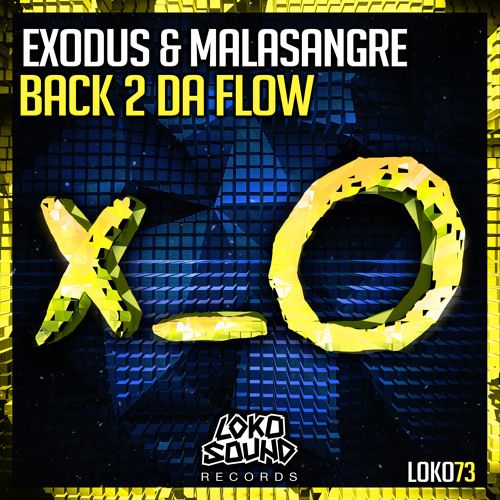 Exodus & Malasangre - Back 2 Da Flow
Fresh on LokoSound comes an absolute belter from Exodus, who has teamed up with Malasangre to give us 'Back 2 Da Flow', sure to get you in the mood for the weekend! In typical Big Room style, we get a rush from the get go, thanks to thumping kicks and snares which surge with an aggressive saw bass synth – this one will keep your heading rocking back and forth all night long. The breakdown does not give us time to breathe as we are quickly brought back into the energy with building snares and vocals ready to explode back into the beat. This will certainly be doing the circuits around festivals this year!
Exodus came fresh onto the New York city scene by first playing in small nightclubs. He became known for his high energy DJ sets and frequent guest appearances on radio shows and quickly caught the attention of promoters and talent scouts with New York City. Within his first year, Exodus found himself playing alongside House music legends such as Danny Tenaglia, Roger Sanchez, Frankie Knuckles, David Jones and Erick Morillo! whilst quickly landing residencies at some of New York City's largest nightclubs. Fast forward, Exodus managed to land deals with labels such as Sony Music, which lead to several licensed physical CD releases. He is back with Malasangre on this release after his recent success with a remix of Audien x Max's 'One More Weekend', which he collaborated with Rivero. Stay tuned for more releases from both Exodus and Malasangre!
Available on Beatport
https://www.beatport.com/release/back-2-da-flow/2131048
Exodus Online
https://www.facebook.com/DJExodusNYC
https://twitter.com/djexodusnyc
https://soundcloud.com/djexodusnyc
https://www.instagram.com/djexodusnyc
https://www.youtube.com/user/DJExodusTV
LokoSound Online
http://lokosound.com
https://www.facebook.com/pages/LokoSound/320895041302274
https://twitter.com/lokosoundrecs
https://soundcloud.com/lokosoundrecords
https://www.instagram.com/lokosound
https://www.youtube.com/lokosound