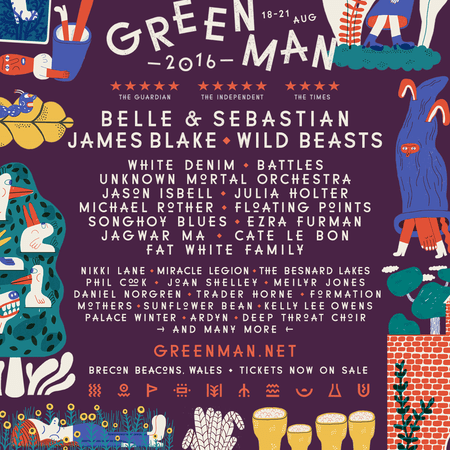 Belle & Sebastian, James Blake and Wild Beasts headline Green Man 2016
Green Man 2016 takes place in the Brecon Beacons ‪from Thursday 18th to Sunday 21st August.

Today is a happy day, because today sees the official launch of Green Man 2016! This means a burgeoning wave of musical delights PLUS a brand-new website for you all to play with – www.greenman.net.
We are whistling a merry song as we announce leading lights and rising stars alike, the line up is shaping up nicely – joining ever-present festival headliners such as scrumptious grub, lip-smacking local ales and spellbinding surroundings.
Here we go… After years spent besotted by their effortless individuality and independent spirit, it makes it all the sweeter and exciting to finally welcome the imperious Belle & Sebastian, as they celebrate twenty years since their timeless debut 'Tigermilk'. We are ready and waiting in hushed (kind of) silence for the magical melancholy that James Blake will once again cast over the Brecon Beacons (his fourth appearance!). Growing up in the Lake District, our own wild pastures have always been a home-from-home for Wild Beasts' strange-and-beautiful pop. What a treat!
White Denim can be relied upon to focus their energies squarely on rocking out, relationship strife told in the most feet-shaking, grin-inducing way possible with Unknown Mortal Orchestra and Battles will offer even more frenzied opportunities to boogie. Quiet beauty is to be found elsewhere, in the dreamlike songwriting of critical darling Julia Holter and the guitar fuzz-filtered delicacy of Cate Le Bon.
Jason Isbell has carved his own niche in Americana. Krautrock experimentalist Michael Rother will revisit the highs charted by his legendary bands Neu! and Harmonia, while Miracle Legion will see the return of singer-songwriter Mark Mulcahy to his garage rock roots.
On a grander scale, there will be slow-rising epiphanies aplenty from Floating Points' 11-piece band. Songhoy Blues jump up to the Mountain Stage this year following last years legendary performance. Ezra Furman's endearing alt-pop and the dance pop of Jagwar Ma, meanwhile, have their own high energy appeal.
Line-up in full:
Belle & Sebastian, James Blake, Wild Beasts, White Denim, Battles, Unknown Mortal Orchestra, Jason Isbell, Julia Holter, Michael Rother, Floating Points, Songhoy Blues, Ezra Furman, Jagwar Ma, Cate Le Bon, Fat White Family, Miracle Legion, The Besnard Lakes, Nikki Lane, Phil Cook, Joan Shelley, Meilyr Jones, Daniel Norgren, Trader Horne, Formation, Mothers, Sunflower Bean, Kelly Lee Owens, Palace Winter, Ardyn, Deep Throat Choir.
Tickets on sale now from www.greenman.net.