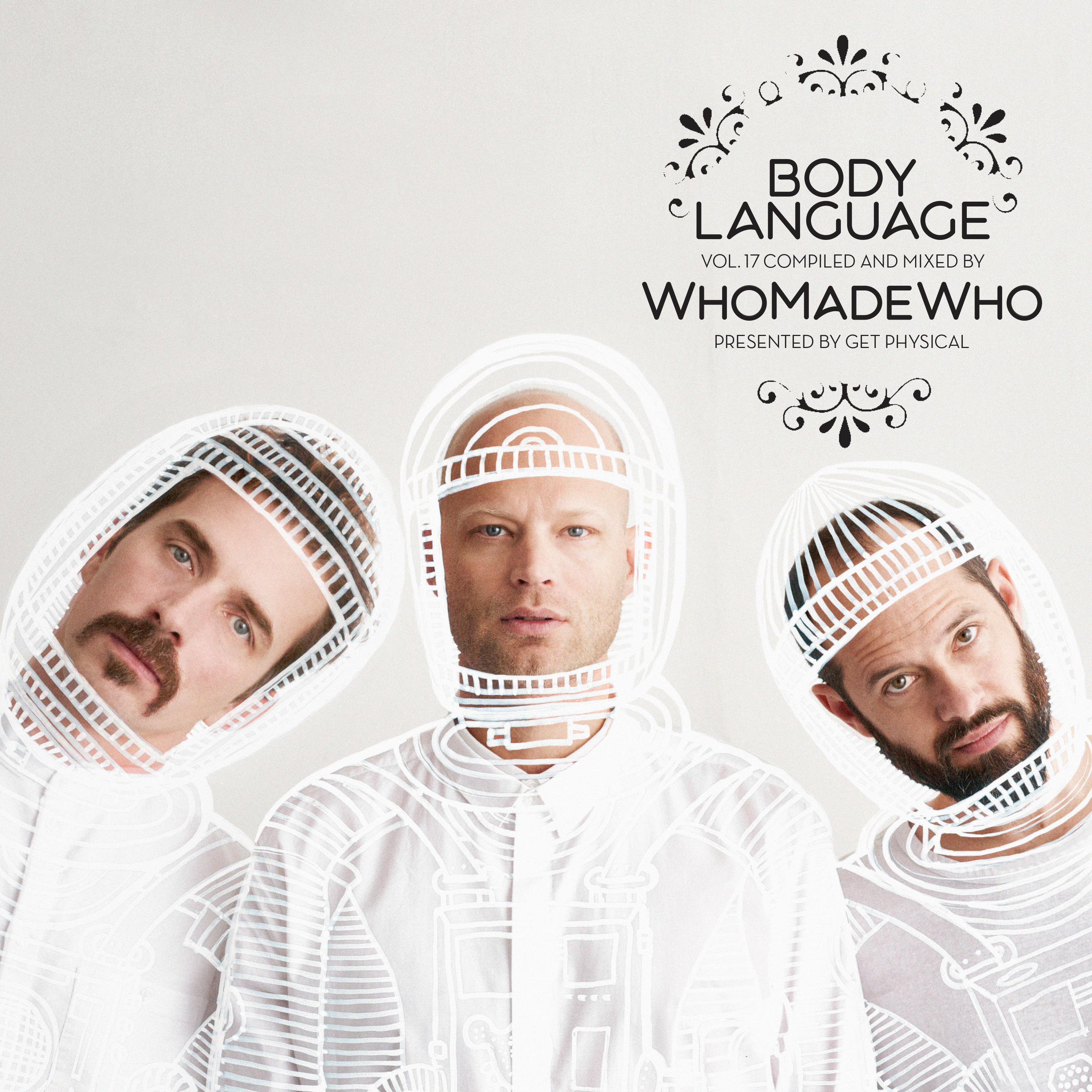 WhoMadeWho - Body Language Vol. 17
WhoMadeWho… Aren´t that those three Danish guys who reformatted Funk Punk with Euro-cowbells a while back? That is correct, but that is also a very narrow question. Shuffling genres emerging from the postmillennial style-clash is but one of their many talents, although perhaps one of their key disciplines. In any case, the genre-crossing think-tank consists of drummer/DJ/producer Tomas Barfod, and the two-headed vocal monster singer/bassist Tomas Hoffding, AKA Bon Homme and singer/guitarist Jeppe Kjellberg. With three extremely different backgrounds in electronica, rock and jazz (respectively), each member supports and compliments each other independently, as one; challenging the traditional 'band' structure of days long past.
There is a significant reason why WhoMadeWho, unlike congenial bands like The Rapture, LCD Soundsystem or Radio 4, survived the so-called new millennium. It is their unconditional curiosity towards contemporary club sounds and their approach, often incorporating the functionality of club tracks in their own songs, to look further than the edge of the stage, keeping a close eye on and constantly checking the pulse of the dancefloor. Keeping this virtue close to their hearts has already brought them major exposure in some of the biggest sets from Jamie Jones, Maceo Plex, Tale Of us and many more…
This approach they have issued in each of their six studio albums. So what better way to revive this approach as the DJ mix? And what Mix-series would be better suited, after acts like Matthew Dear, Dixon, Modeselektor or M.A.N.D.Y., to open WhoMadeWho's vocabulary book for their own Body Language? Oops, spoiled the surprise. But surely it was clear that one of the best fits for their intentions is also one of the most prestigious and celebrated series – Get Physical Music's Body Language series.
Directly from the beginning, David August's revision of The Acid track 'Ra' makes the depth known as it fades into The Invisibles' falsetto-meditation, 'The Stain'. From Cibucolors' 'Down the Wall' the sound meanders gently towards the club-groove as it gains a touch of Acid-House thanks to Ghost Culture; then indie-dance bliss made by The Golden Filter and Weval. Next a Nick Galemore contribution with a tiny bit of magic from WhoMadeWho. Here you are grooving to a tapestry of post-rock guitar inching inexorably towards a peak-time bounce. The WhoMadeWho acapella of 'Wanted Your Love' can then be heard perfectly adapted to Luke Abbott's number 'Modern Driveway' before pumping up the floor with George Fitzgerald's 'Your Two Faces'.
What follows is more contemporary Club material in the form of DJ Tennis via a Roman Flügel remix, &me's 'Trilogy' – probably one of the eulogistic cuts of the previous House-season – and the hypnotic House of Fort Romeau. The whopping Applescal kick drum then advances into the WhoMadeWho-exclusive in the mix, the ultra-catchy 'High & Low' (a misleading title, incidentally). This gently stalking and then flourishing into the hook pop song is an unmistakable highlight in this mix. A climax even, after which Clark tiptoes in. Meanwhile, 'Strength Through Fragility' finally connects with Nosaj Things' ambient/bass hybrid '2K'. A deep, worthy culmination of this amorous sound journey through the WhoMadeWho orbit.
www.facebook.com/whomadewho
@whomadewho
www.twitter.com/whomadewho