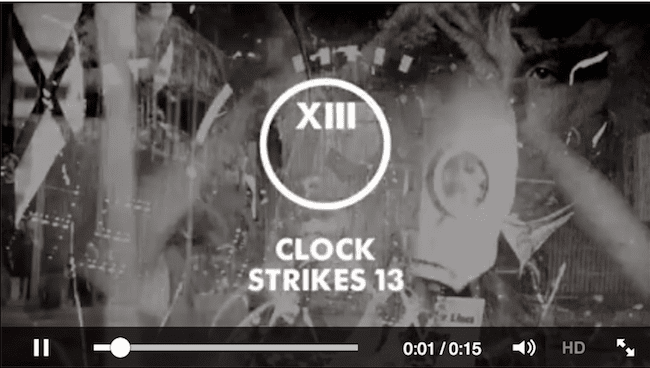 Clock Strikes 13:: A new event series for London
Armed with an uncompromising vision for the future of electronic music, Clock Strikes 13 is a brand new event series breaking new ground by uniting iconic labels, influential artists and revered venues in a way never done before. The brain child of Ajay Jayaram (The Hydra), CS13 will run across three months of consecutive Friday and Saturday nights from October to December throughout London. Showcasing the diversity of the ever-evolving underground, CS13 will journey through sounds that span bass, house and hip hop through to grime, techno and myriad hybrid genres in-between.

Check the teaser video for a look at whats in store. Full line-ups and parties coming next week.
A new event series for London feat XL Recordings Ninja Tune Lex Records Boxed Local Action Príncipe Discos Skam Records 1080p Smalltown Supersound Liberation Technologies SUED Astral Black 20/20 LDN Houndstooth Planet Mu (OFFICIAL) Northern Electronics Samurai Music Viewlexx Cómeme, Eclair Fifi Bok Bok HighlifeFull line ups coming next week.

Posted by Clock Strikes 13 on Thursday, 6 August 2015
2nd October – Lex, The Laundry
3rd October – Boxed x Local Action, Corsica Studios
9th October – Príncipe, Dance Tunnel
10th October – Skam Records, Birthdays
16th October – 1080p, Dance Tunnel
17th October – Smalltown Supersound, Bloc
23rd October – Liberation Technologies, Bloc
24th October – SUED, Venue TBA
30th October – Ninja Tune I, St Johns at Hackney
31st October – Bok Bok Takeover, Village Underground
6th November – XL Recordings, Village Underground
7th November – Hyperdub X Teklife, Corsica Studios
20th November – Ninja Tune II, ICA
21st November – 20/20 X Astral Black, Village Underground
27th November – Houndstooth, Village Underground
28th November – Planet Mu 20, Village Underground
4th December – Northern Electronics x Samurai Horo, Corsica Studios
11th December – Viewlexx, Bloc
12th December – Ninja Tune III, Corsica Studios
18th December – Eclair Fifi Presents, Bloc
19th December – Comeme x Highlife, Corsica Studios