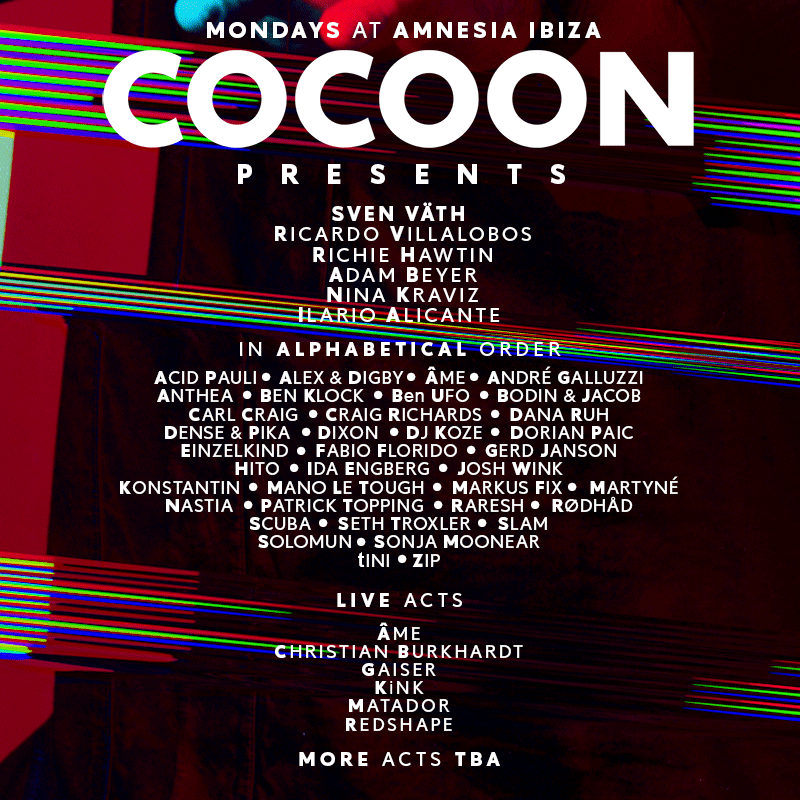 Cocoon Ibiza announce artists for summer 2017
On the 29th May Sven Väth will launch the 18th season of Cocoon Ibiza with our massive opening party unlocking the gates to summer as usual. This is the time to draw back the curtains and reveal the sensational line-up for 2017
So much has been going on behind the scenes preparing for what is going to be a monster of a season and this year you will notice the difference inside and outside Amnesia.
There will be 19 Monday nights with Sven leading the charge as ever. 14 unmissable performances across both rooms. Sven's supporting cast this year is outstanding. We get the shivers thinking about it. Ricardo Villalobos who blew us all away last year plays 6 exclusive shows. And check this. Richie Hawtin is back not just for 1 performance. Not even for 2. There will be 5 ladies and gentlemen and you will only see him with Cocoon. These boys are back in town and the ever more brilliant Adam Beyer joins in with 7 gigs. Nina Kraviz, who also gets more astonishing by the day, will present 5 performances. Ilario Alicante continues his ascent and in Amnesia will be knocking out 7 shows on these amazing Monday nights ahead of us.
A lot more to tell, so many artists that matter join this 18th season of Cocoon Ibiza and we list them all below. Familiar faces and the freshest new talents complete our explosive 2017 line-up.
To seal the deal the incredible Dub Video Connection team will be handling production every single Monday night inside Amnesia and anyone who joined us last year knows what that means. A visual extravaganza.
Please check our social media channels which are humming and starting to express the feverish anticipation tingling away in the Cocoon HQ about number 18. With the atmosphere here you would think it was the first season. Perhaps thats the secret.
We look forward to welcoming you on to the dancefloor once again. It all begins on the 29th May. See you there…
---
25th May – 2nd October 2017
ARTISTS PERFORMING:
Sven Väth:
29th May – 5th June – 19th June – 26th June – 3rd July – 10th July – 24th July – 31st July – 7th August – 14th August – 21st August – 11th September – 18th September – 2nd October
Richie Hawtin:
12th June – 10th July – 7th August – 4th September – 25th September
Ricardo Villalobos – Adam Beyer – Nina Kraviz – Ilario Alicante
In Alphabetical order:
Acid Pauli – Alex & Digby – Âme – André Galluzzi – Anthea – Ben Klock – Ben UFO – Bodin & Jacob – Carl Craig – Craig Richards – Dana Ruh – Dense & Pika – Dixon – DJ Koze – Dorian Paic – Einzelkind – Fabio Florido – Gerd Janson – Hito – Ida Engberg – Josh Wink – Konstantin – Mano Le Tough – Markus Fix – Martyné – Nastia – Patrick Topping – Raresh – Rødhåd – Scuba – Seth Troxler – Slam – Solomun – Sonja Moonear – tINI – Zip
Live Acts:
Âme – Christian Burkhardt – Gaiser – KiNK – Matador – Redshape
More acts TBA