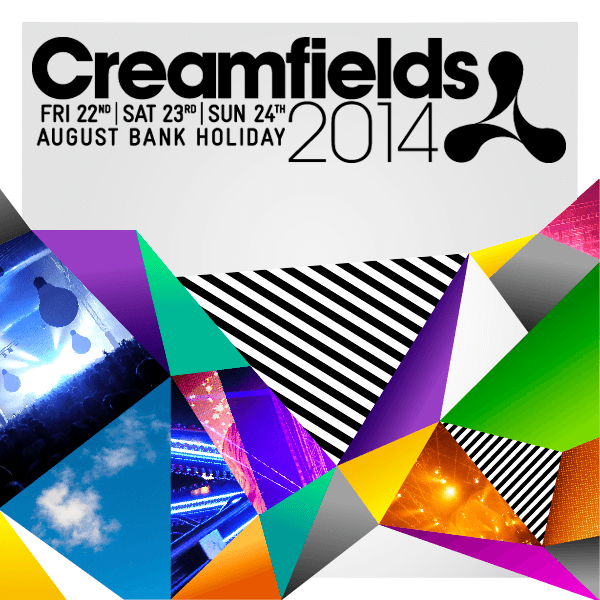 Creamfields 2014 Line Up Announced!
Following its 4th consecutive sell-out in 2013, the mighty Creamfields once again returns to Daresbury in Cheshire this August Bank Holiday weekend with its biggest electronic line up to date, featuring an array of exclusive performances from some of the world's biggest dance acts. Voted the UK's #1 dance festival (UK Festival Awards 2013), Creamfields have once again pushed the boundaries across the board from line-up to production and overall festival experience, introducing a host of new arenas and the world's biggest outdoor stage.

Headlining Saturdays South Stage is Avicii, this Swedish born DJ/Producer has raised the bar with his epic live shows over the last 12 months following his sell out 'True' tour, in addition his studio skills have turned this 24 year old into a household name and one of the world's most in demand producers, following the release of his track 'Wake Me Up' which topped the charts in 22 countries and was the 2nd most streamed song in the world on Spotify last year. Over on the North Stage we welcome Canadian born electro pioneer deadmau5, this dance music phenomenon has gone from an emerging underground talent to an internationally recognised superstar in but a few years, with a penchant for headgear and famous for global hits including 'Ghosts n Stuff' and 'I Remember', expect a mesmerising performance of some classic deadmau5 and music from his soon to be released new album.

Proceedings continue on Sunday with an unmissable performance from chart topper Calvin Harris. The Grammy award winner and multi-talented DJ, producer, singer, songwriter returns to headline the North Stage. Whilst over on the South Stage we welcome back Creamfields favourite Tiësto, always a guaranteed crowd pleaser with his renowned productions and stage show, expect an all new feast for the senses this year.

The Swedish flag continues to fly high at Creamfields this year, first up we have 'Departures' from Axwell and Sebastian Ingrosso who will be unveiling their brand new arena at this year's Creamfields, playing back to back to finish the summer in style. They will be joined by the likes of Alesso, Dirty South, Otto Knows and Oliver Heldens. Departures was born last summer on the White Isle at Ushuaia Ibiza where Axwell and Ingrosso played to sold out crowds every Wednesday at the infamous poolside venue. This year they touch down on UK soil to play a staggering 10 thousand capacity, 360 production tent taking over Sunday at Creamfields. Next up we have Steve Angello who returns on Saturday with his Size Matters Arena bringing with him an array of talent from the Size stable including AN21, Max Vangeli, Third Party, Tim Mason Qulinez, Dimitri Vangelis & Wyman. Renowned for their unique and visually creative performances these guys have gone down in dance music history and we can expect the same high level of production and SFX to be unveiled across these arenas this summer

A key part of Creamfields success is keeping the format fresh, and this year is no different with the introduction of 5 new arenas, as well as Departures on the Sunday, we are pleased to announce that the flag bearer of the trance movement Armin van Buuren will be debuting his own arena 'A State Of Trance', joining this Grammy nominated dutchman will be Aly & Fila, Cosmic Gate, Andrew Rayel, Ørjan Nilsen, Jochen Miller and Marlo to name a few. Another new arena unveiled on Saturday is 'Revealed' hosted by Hardwell who will be performing exclusively for Creamfields this year, this will be the first of 2 performances across the weekend. Over the last decade Hardwell has risen up the ranks to be crowned the world's #1 DJ in the 2013 DJ Mag Top 100 poll, cementing his position as the electronic scenes newest superstar DJ and becoming the youngest ever winner of the coveted award, he will be joined by friends W&W, Dyro, Dannic, Deorro, Sick Individuals, Jordy Dazz and Thomas Newsom to name a few.

Everyone's favourite Clubbing bible Mixmag return once again as hosts across the weekend, Sunday's all new Mixmag Presents arena will bring performances from trio Above & Beyond, Duke Dumont, Booka Shade (DJ Set), James Zabiela, Tenshake, Andrew Bayer plus special guest Redlight and Saturday they'll be playing host to the Residents featuring performances from the unsung heroes of dance including Andy Mac, Alan Hartley, Jemmy, Sean Hughes, James Dutton, Paul Nunn and James Glover to name a few.

Another new addition to this year's roster of new arenas and debuting their first soiree out of the capital is London Warehouse Events aka LWE who for the last few years have been making waves across the London clubbing scene with their forward thinking events, bespoke production and diverse line ups, representing them will be Seth Troxler, Adam Beyer, Better Lost Than Stupid aka Martin Buttrich, Davide Squillace and Matthias Tanzmann, the Martinez Brothers and Magda whose ethos of avoiding all of the rules has enabled her to create a niche sound.

Joining Avicii and completing Saturday's line up on the South Stage will be a UK festival exclusive from Grammy award winning DJ/Producer Afrojack, an iconic name in electronic dance music whose become an outdoor stage regular of recent years, future hero Martin Garrix whose 2013 breakout international single 'Animals' climbed to the #1 spot on Beatport and impressively held the spot for four weeks, along with Cazzette, Rebecca & Fiona and Syn Cole. Whilst joining deadmau5 and completing the line up over on the North Stage will be Steve Aoki whose acrobatic crowd surfing stunts and debauchery add to the party atmosphere (prepare to be caked!), Showtek whose electrifying performances and unique sound has turned these brothers into an act producers far and wide want to work with, BBC Radio 1 supremo Zane Lowe, GTA and Gareth Wyn.

Completing Sunday's North stage line up and joining Calvin Harris will be everyone's favourite party DJ Fatboy Slim returning to Creamfields after a 5 year hiatus no doubt with a bucket load of bells and whistles, he'll be joined by Belgian duo Dimitri Vegas and Like Mike who undoubtedly delivered one of last year's stand out performances. Whether its wreaking havoc across the globe, showering fans with seemingly endless bottles of champagne, or ripping up the music charts with immense original tracks, unbelievable collaborations and huge remix cuts from the A-list elite, this duo have become one of the leading lights in the new wave of international dance music currently taking the planet by storm and bringing some much needed girlie glamour to the stage Nervo.

Joining Tiësto on Sunday's South Stage is the world's #1 DJ Hardwell for his second performance of the weekend, Danny Avila, Moti plus Grammy and VMA nominated producer Tommy Trash, now a Creamfields regular and with Platinum records around the world, singles on labels ranging from Axtone to Fools Gold, from Refune to Mau5trap, every new instalment of his diverse floor filling productions lay testament to the pride this Aussie takes in his blazing musical legacy.

Eric Prydz returns on Saturday with his Pryda arena with a contingent of friends to complete what will be one of the most eclectic arenas on site this year, which includes Maceo Plex, Scuba, George Fitzgerald, Jeremy Olander and Fehrplay who will be performing back to back plus special guest Maya Jane Coles. Queen of the airwaves Annie Mac is back with her arena jam packed full of acts that are guaranteed to get you rocking including Skream, Breach which is the alter ego of Ben Westbeech, Paul Woolford, Route 94, Friend Within, Karma Kid and Monki. Whilst King of the airwaves Pete Tong returns with a cutting edge line-up that includes Sasha, Joris Voorn, Claude von Stroke, Hot Since 82, Justin Martin, Jaymo & Andy George.

Other highlights across the weekend include the colossal Cream Arena which returns in all its glory with a back by demand line up of dance music stalwarts including Cream Ibiza resident Paul van Dyk, Ferry Corsten, Markus Schulz, John O'Callaghan, Rob Harnetty plus special guest Paul Oakenfold. Dust off them superhero outfits because Laidback Luke's Super You&Me Arena is back with performances from Dirty Dutch sound pioneer and double MOBO award winner Chuckie, DVBBS, Blasterjaxx, D.O.D and a debut performance from rising stars Ibranovski & Badd Dimes + more to be added.

Always at the forefront of fresh new music BBC Radio 1's Mistajam is back with his Speakerbox Imprint featuring an eclectic mix of music including a debut performance from arena headliners Gorgon City, expect heavy hip swinging rhythms and butt-shaking bass for a set celebrating the very best aspects of the mid-tempo melting pot that makes girls wriggle and boys giggle, joining the party will be MK, Jaguar Skills, Shy FX, a performance from one of the original pioneers of the UK's garage movement which has seen a huge revival in recent years DJ EZ feat. Majestic , Wilkinson, B.Traits and All About She + more.

For those who like worshipping at the alter of Hard dance, then Goodgreef Xtra Hard will be your church with performances from Kutski, the Tidy Boys who will be delivering a classic set celebrating 15 years of Hard House along with Alex Kidd, Andy Whitby, Steve Hill, Mark EG vs Proteus and Cally Gage to name a few.

Disco Kings Hed Kandi are back as Hospitality arena hosts which will put a smile on the faces of all those who prefer a more luxurious festival experience, so get your hands in the air and get your souls fired up for the mother of all VIP parties!

As if all of this isn't enough to get you salivating we've yet to reveal the Friday night line up which will be coming soon, however, we can tell you that as well as the world's biggest silent disco returning on the Friday night which sets the fun factor level for the weekend, this year will also be the first year Friday night will have audible arenas – Boom!

The countdown begins….

Creamfields – 2014 Line-Up Trailer on MUZU.TV.

CREAMFIELDS UK 2014

SATURDAY 23rd AUGUST

SOUTH STAGE
Avicii
Afrojack
Martin Garrix
Cazzette
Rebecca & Fiona
Syn Cole

NORTH STAGE
deadmau5
Steve Aoki
Showtek
Zane Lowe
GTA
Gareth Wyn

A STATE OF TRANCE
Armin van Buuren
Aly & Fila
Cosmic Gate
Andrew Rayel
Ørjan Nilsen
Andrew Rayel
Jochen Miller
Marlo
David Gravell
Ruben de Ronde

SIZE MATTERS
Steve Angello
AN21
Max Vangeli
Third Party
Tim Mason
Qulinez
Dimitri Vangelis & Wyman

REVEALED ARENA
Hardwell
W&W
Dyro
Dannic
Deorro
Sick Individuals
Jordy Dazz
Thomas Newson
Julian Calor
Kill the Buzz
JoeySuki
Futuristic Polar Bears
Matt Nash & Dave Silcox

PRYDA
Eric Prydz
Maceo Plex
Scuba
George Fitzgerald
Jeremy Olander &
Fehrplay (B2B)
Special Guest: Maya Jane Coles

AMP ARENA
Annie Mac
Skream
Breach
Paul Woolford
Route 94
Friend Within
Karma Kid
Monki
+ more

ALL GONE PETE TONG
Pete Tong
Sasha
Joris Voorn
Claude von Stroke
Hot Since 82
Justin Martin
Jaymo & Andy George
+ more

MIXMAG PRESENTS THE RESIDENTS
Andy Mac
Alan Hartley
Jemmy
Sean Hughes
James Dutton
Paul Nunn
James Glover
Ed Mackie
Sam Rice
Paul Dolphin
LilRockit

HED KANDI HOSPITALITY
Phil Faversham
DJ Eibhlin
Sam Cannon
Phoebe D'Abo
Dean Oram (On percussion)
Tom Lormor (On sax)

SUNDAY 24th AUGUST

NORTH STAGE
Calvin Harris
Fatboy Slim
Dimitri Vegas & Like Mike
Nervo
+ more

SOUTH STAGE
Tiësto
Hardwell
Tommy Trash
Danny Avila
Moti
+ more

DEPARTURES
Axwell Λ Ingrosso
Alesso
Dirty South
Otto Knows
Oliver Heldens
+ more

MIXMAG PRESENTS
Above & Beyond
Duke Dumont
Booka Shade (DJ Set)
James Zabiela
Tensnake
Andrew Bayer
Special Guest: Redlight

CREAM ARENA
Paul van Dyk
Ferry Corsten
Markus Schulz
John O'Callaghan
Venom One
Rob Harnetty
Special Guest: Paul Oakenfold

SUPER YOU&ME
Laidback Luke
Chuckie
DVBBS
Blasterjaxx
D.O.D
Ibranovski & Badd Dimes
+ more

LWE ARENA
Seth Troxler
Adam Beyer
Better Lost Than Stupid
– Martin Buttrich
– Davide Squillace
– Mathias Tanzmann
The Martinez Brothers
Magda
+ More

MISTAJAM PRESENTS SPEAKERBOX
Gorgon City
MK
MistaJam
Jaguar Skills
Shy FX
DJ EZ featuring Majestic
Wilkinson
B Traits (MC Juma)
All About She
+ more

GOODGREEF XTRA HARD
Kutski
Tidy Boys (15 years of Hard House Set)
Alex Kidd
Andy Whitby (B2B)
Steve Hill
Mark EG vs Proteus
Cally Gage
Danny Williamson
Shaun T
Phil Mackintosh

HED KANDI HOSPITALITY
Carl Hanaghan
Lucy Stone
Dan Van
Sarah Louise
Dean Oram (On percussion)
Tom Lormor (On sax)

EVENT INFO

Creamfields UK 2014
Daresbury, Cheshire
Friday 22nd / Saturday 23rd / Sunday 24th August Bank Holiday weekend www.creamfields.com / Tel: +44 (0) 151 707 1309 / [email protected] / To tag Creamfields in social media posts please type @Creamfields for both Facebook & Twitter

**** Tickets on sale 10am Friday 28th February 2014 ****

TICKETS
1 Day Tickets
Saturday Standard Day – £80.00+BF
Sunday Standard Day – £85.00+BF
Saturday Hospitality Day – £120.00+BF
Sunday Hospitality Day – £120.00+BF

2 Day Tickets
2 Day Standard Camping – £155.00+BF
2 Day Standard Non-Camping – £155.00+BF
2 Day Hospitality Camping – £230.00+BF

3 Day Tickets
3 Day Standard Camping – £175.00+BF
3 Day Hospitality Camping – £260.00+BF

Official Tickets Agents:
www.ticketmaster.co.uk / Tel: 0844 847 2448 (Standard & Hospitality)
www.ticketline.co.uk / Tel: 0844 888 4401 (Standard & Hospitality)
www.biggreencoach.co.uk/creamfields / Tel: 0845 463 8361 (Travel & Ticket packages)