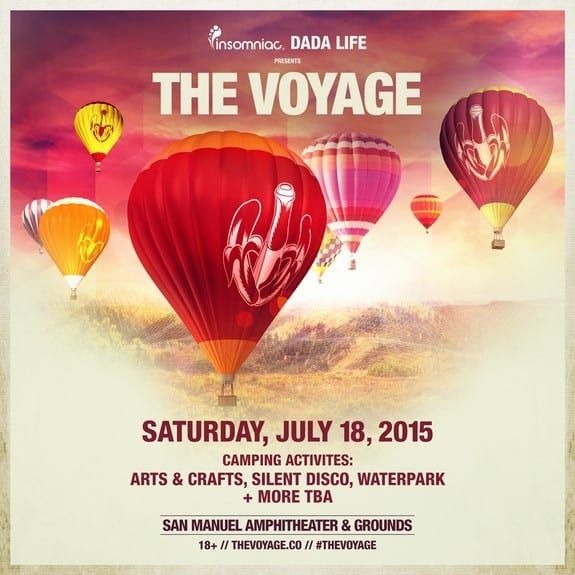 DADA LAND 'THE VOYAGE 2015' TICKETS NOW ON SALE
Once upon a time in a Land called Dada, two intrepid, slightly crazed explorers rose above the clouds on a Voyage of epic proportions. On the edge of thehorizon they spotted the perfect location to unleash their signature brand of musical and mental tomfoolery, a sprawling valley sitting deep in the bosom of the Californian desert, ripe for the plundering.

They put the call out far and wide. Thousands heard it and came from all corners of the continent. They came beautiful; they left very, very ugly…

What else could it be but the announcement all Dada Life fans across North America have been waiting on the edge of their bananas for. After a week of teasing across social media channels, Olle Corneer and Stefan Engblom finally let loose the news last week.

On July 18th 2015, at San Manuel Amphitheatre in San Bernadino, The Voyage will rise from the ashes like a champagne-fuelled phoenix, laying waste to taste, decency and the rulebook – and you can get your hands on tickets right here!

If last year's festival was anything to go by, then those attending 2015's edition will be in for a true spectacle. As well as mammoth tunes, dizzying production and a spectacular line-up topped by Dada Life themselves, fans can also indulge themselves at a waterpark, a Silent Disco, banana tossing competitions, arts & crafts, scavenger hunts, a Dada Life 'Classic' set and much, much more to be announced.