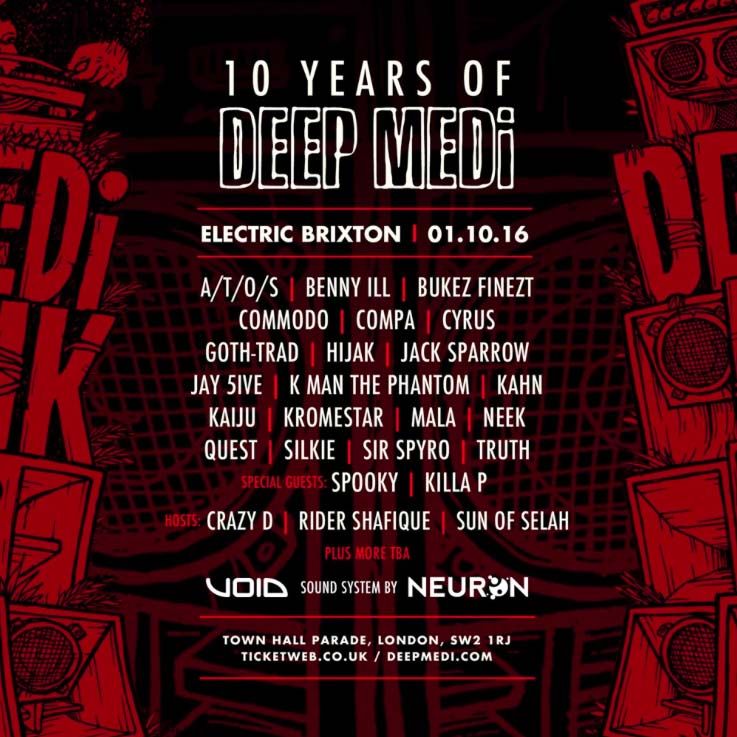 Deep Medi celebrates 10th Anniversary with Mala
Mala's Deep Medi Musik has announced the full line up of the label's talent appearing at the DEEP MEDi 10 event at Electric Brixton on Saturday 1st October 2016.
Helping celebrating 10 years and one hundred releases from the groundbreaking label will be A/T/O/S, Benny Ill, Bukez Finezt, Commodo, Compa, Goth-Trad, HiJak, Jack Sparrow, Jay 5ive, K Man the Phantom, Kahn, Kaiju, Mala, Neek, Quest, Silkie, Sir Spyro, Truth, plus special guests Spooky, and hosts Crazy D, Rider Shafique, and Sun of Selah.
Since it's inception a decade ago, the London label has firmly cemented its place in dubstep history and continues to discover and nurture some of the most innovative, interesting and prominent names from the underground bass scene.
Mala created DEEP MEDi MUSIK as a broader outlet for his talents as a producer, curator and tastemaker following the success of his other label DMZ.
Deep Medi houses a wide range of producers with a common thread, which label manager Steph describes as 'music that you can feel' and the Deep Medi name is synonymous with the deep, warm meditative sounds that can be heard at their club nights.
Mala began spreading the dubstep message in South London in the early '00s, when the scene was in its infancy. He helped build a community of like-minded individuals, committed to the exploration of subsonic frequencies via record shop Big Apple, Club Forward>> at Plastic People, and pirate station Rinse FM. He formed production outfit Digital Mystikz with Coki and launched the DMZ night with Loefah and St Pokes, the first club night to bring dubstep to a wider audience.
As dubstep moved from a tiny collective to a national and then international scene, Mala was at the forefront of the wave. Deep Medi was formed and Mala chose to release his long player 'Return II Space' on the label, which took things to a whole new level. His music connected with like-minded artists and has collaborated with NYC's Francois K, Moritz Von Ozwald from Basic Channel, Grace Jones, and Lee "Scratch" Perry amongst many others.
However, scenes, gig sizes, notable collaborations and major motion picture soundtracks are milestones of little importance to Mala; what remains important to him is his deep connection with music and his ability to create frequencies and to create a blissfully powerful, unifying sound.
Deep Medi events are an intimate and authentic representation of modern day sound system culture, where exclusives, dubplates and a spirit of unity are all delivered through a heavyweight sound system, with Neuron providing the Void Sound at this event.
http://www.electricbrixton.uk.com
DEEP MEDI LINE UP: A/T/O/S / BENNY ILL / BUKEZ FINEST / COMMODO / COMPA / GOTH-TRAD / HIJAK / JACK SPARROW / JAY 5IVE / K MAN THE PHANTOM / KAHN / KAIJU / MALA / NEEK / QUEST / SILKIE / SIR SPYRO / TRUTH PLUS SPECIAL GUESTS: SPOOKY. HOSTS: CRAZY D / RIDER SHAFIQUE / SUN OF SELAH
Date: Saturday 1st October 2016
Time
21:00 – 06:00
Price
£10-20
Buy Tickets: http://www.ticketweb.co.uk/event/XUL0110
18+ (ID Required)