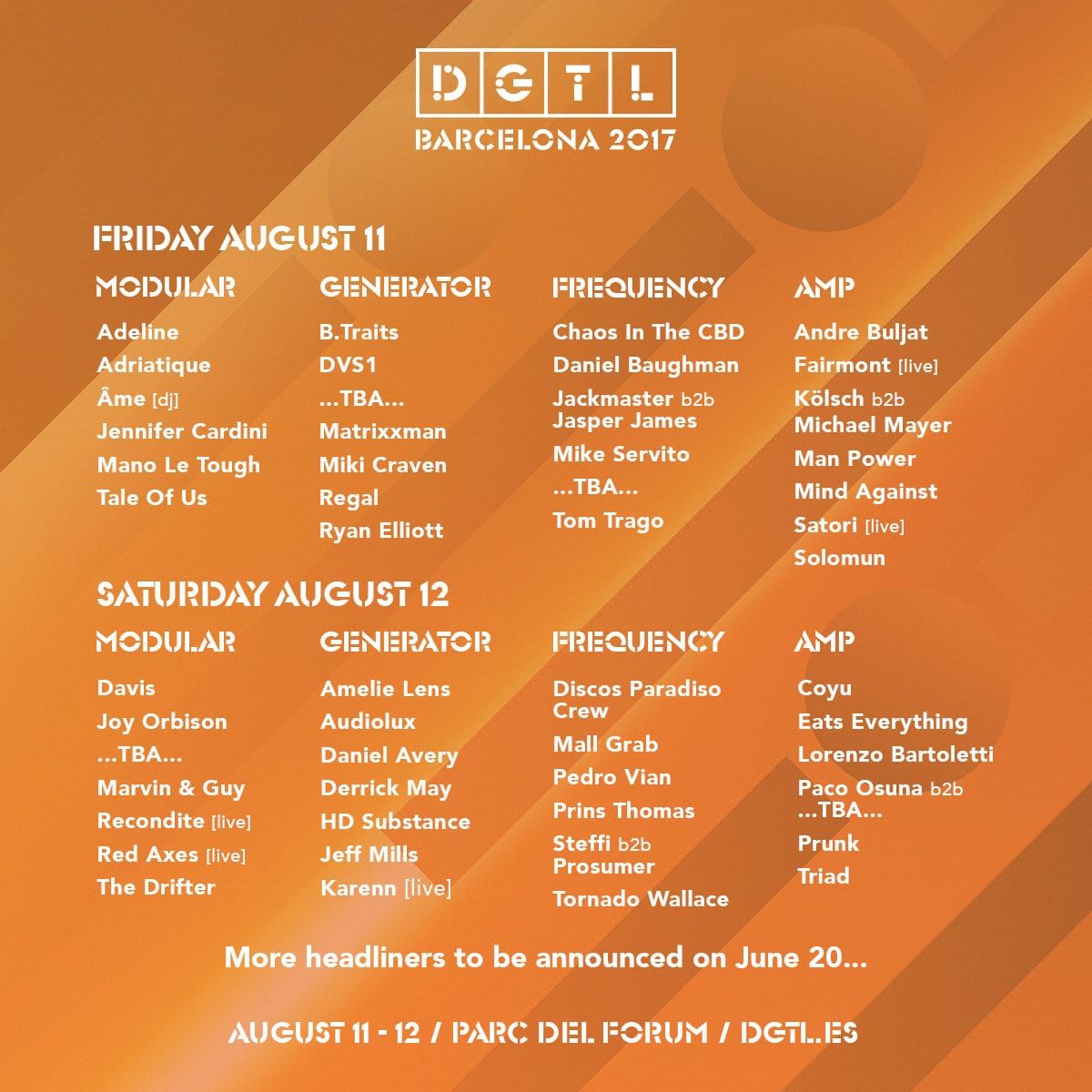 DGTL Barcelona takes up new spaces at the Parc delFòrum and releases its lineup by stages
DGTL Barcelona takes inspiration from a modular switchboard to name its 4 stages: Modular, Generator, Frequency and AMP; and announces artists for each one in a new and extended venue distribution for August 11 and 12.
DGTL Barcelona celebrates its third edition at the Parc del Fòrum on August 11 and 12, which will feature performances by Jeff Mills, Solomun, Recondite [live], Tale Of Us, Adriatique, Jackmaster, DVS1, Paco Osuna and many others. The festival, faithful to its particular industrial aesthetic, has taken the design of a modular synthesizer to name the four stages in which the more than 60 artists that form the lineup will be distributed: Modular, Generator,Frequency and AMP. Modular will be placed under the covered concrete structure, while Generator will be set in the esplanade of the Fòrum. As for Frequency, it will be placed under the solar panel. The great novelty of this edition in terms of venue is the use of the large auditorium, one of the favorite spots of Barcelona festival goers, who will premiere the AMP scenario.
The layout of the festival is inspired by the design and operation of a modular synthesizer. The visitor is treated as a sign, traveling through the veins of the artifact. The trip starts at the DGTL entrance called Input. Once the line is crossed, the visitor / signal -that will move through the different areas of electric charge or frequency- is generated, its final destination on the map being the amplifier. Then, the audience is unleashed and turned into a sound signal, an illusion from which it will also be possible to escape in the silent area. In default of completing the lineup with some headliners left to be announced next June 20, the distribution of artists by days and stages will be as follows:
DGTL Barcelona returns to the Parc del Fòrum on August 11 and 12, combining the more than 60 artists who will form the billing with their accompanying art and sustainability lineup. The festival stands out once again for its particular style when it comes to programming, with a careful selection in which the headliners, the local dj's and other emerging artists are mixed. Some lineup artists will be on the two official festival after parties, which will take place in Nitsa on Friday and Saturday once the festival ends. As a finishing touch, the party will continue on Sunday, with the first edition of DGTL -In the Park. Just like in previous editions, the DGTL Art program will bring its industrial atmosphere to the harbor. Moreover, it will be extended throughDGTL Revolution's sustainability program, which aims to create a festival that is free of waste entirely. More details will be announced soon…
INFO TICKETS
Tickets Info & Purchase: https://bcn.dgtl.nl/en/mydgtl/tickets/
Day tickets from 35€
2 Day Pass from 60€
2 Day Pass + Sunday Event from 74€
Passe Partout (2nd release) from 99€
Lineup by days and stages:
FRIDAY AUGUST 11 >>
AREA 1 – MODULAR
Adeline, Adriatique, Âme [dj], Jeniffer Cardini, Mano Le Tough, Tale of Us
AREA 2 – GENERATOR
B.Traits, DVS1, Matrixxman, Miki Craven, Regal, Ryan Elliott, and more to be announced…
AREA 3 – FREQUENCY
Chaos in the CBD, Daniel Baughman, Jackmaster b2b Jasper James, Mike Servito, Tom Trago, and more to be announced…
AREA 4 – AMP
Andre Buljat, Fairmont [live], Kölsch b2b Michael Mayer, Man Power, Mind Against, Satori [live], Solomun
SATURDAY AUGUST 12 >>
AREA 1 – MODULAR
Davis, Joy Orbison, Marvin & Guy, Recondite [live], Red Axes [live], The Drifter
AREA 2 – GENERATOR
Amelie Lens, Audiolux, Daniel Avery, Derrick May, HD Substance, Jeff Mills, Karenn [live]
AREA 3 – FREQUENCY
Discos Paradiso dj's, Mall Grab, Pedro Vian, Prins Thomas, Steffi b2b Prosumer, Tornado Wallace
AREA 4 – AMP
Coyu, Eats Everything, Lorenzo Bartoletti, Prunk, Paco Osuna, Triad, and more to be announced…