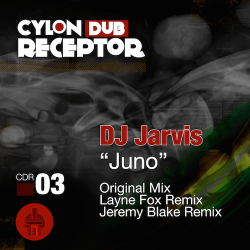 DJ Jarvis - DJ Jarvis – Juno
Growing up in Buffalo, NY, DJ Jarvis had the benefit of Toronto being just an hour away. Here, he was able to witness the explosion of a world class dance scene. On a more local level, he also was able to experience the fertile electronic underground of the late '90s which swept Buffalo by storm. These experiences have left an imprint that still helps shape his sound today, leading to a string of well-received singles on Cable Recordings and the newer Cylon Dub Receptor imprint.
This third DJ Jarvis single for Cyclon Dub Receptor introduces "Juno", a smooth and slightly dreamy deep house number with some appealing disco grit at the edges. The building pads and vocal snatches rise over a groovy bass line that masterfully references '80s electro funk. It's like the soundtrack to a slow motion drive in a sleek star-craft, which is fitting as Layne Fox (40 Thieves) steers things deeper towards Jupiter with his remix. It's a prime dose of celestial disco, with Fox setting the controls to 'Moroder' and laying down a slinky strobe-light vibe. Oakland's Jeremy Blake (sound+vision) completes the journey, turning in a lovely version that features layers of ambient-like flourishes over skippy rhythms and some exceptional synth work. All in all, "Juno" delivers the cosmic antidote for an Earth-bound dance floor.