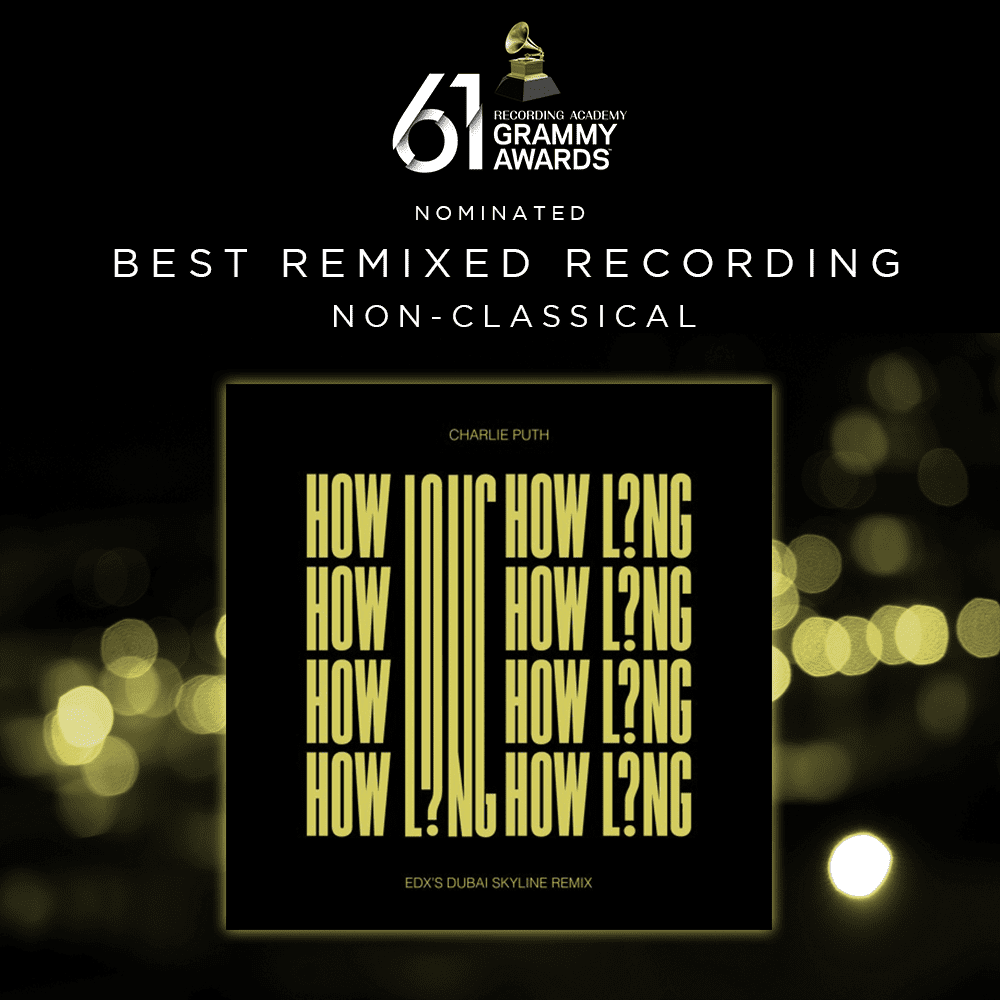 Edx Recieves 'Best Remixed Recording' Grammy Nomination
Exactly one year on from its critically acclaimed worldwide release on Atlantic Records in December 2017, EDX's Dubai Skyline remix of Charlie Puth's smash hit 'How Long' receives a 2019 Grammy nomination for 'Best Remix Recording'.
A career first and a dream come true for the Swiss icon and his studio partner Christian Hirt, EDX joins a category with fellow electronic music producers Kaskade, Cosmic Gate, Mura Masa and CID, whose remixes will go head to head at the 61st Annual Grammy Awards on Sunday, February 10, 2019.
With a career in electronic music spanning over twenty-five years, this Grammy nomination is an incredible milestone for EDX and his team, whose collective hard work has paid off with one of the highest recognitions in music.
The full list of nominees for the 'Best Remixed Recording' category is as follows:
BEST REMIXED RECORDING NOMINEES:
Charlie Puth – How Long (EDX's Dubai Skyline Remix)
Gabriel & Dresden – Only Road (Cosmic Gate Remix)
HAIM – Walking Away (Mura Masa Remix)
Kygo ft. Justin Jesso – Stargazing (Kaskade Remix)
LSD – Audio (CID Remix)
EDX's Grammy nomination comes at the end of a truly incredible year for the esteemed DJ, producer and Sirup Music label head, who is just about to launch his first ever live show concept – XIRCUIT– debuting at Avalon, Los Angeles on December 15.
Combining state-of-the-art lighting and video elements into an interactive, sensory live experience, XIRCUIT is EDX's first official touring show career and a concept that will be rolled out across festivals and clubs internationally in 2019.
With a Grammy nomination now under his belt, a huge remix for Chromeo & French Montana dropping on December 14, and a new original single slated for release at the beginning of January, EDX is an unstoppable force and on the form of his illustrious career.