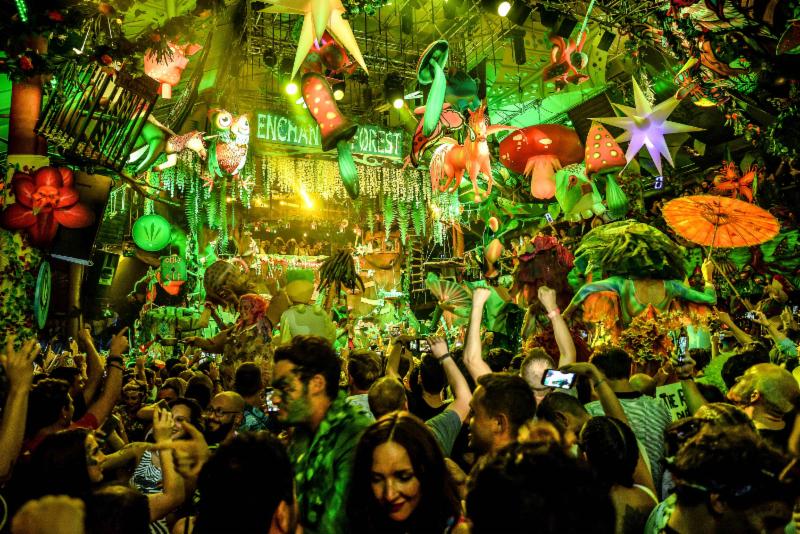 elrow Announce Open Air Show at Times Square, Newcastle
As the hazy summer days reach their peak, immersive party mavericks, elrow, team up with Shindig to bring a dazzling, open air show to Newcastle's Times Square on bank holiday Sunday 26th August 2018.
Showcasing their magical Enchanted Forest theme in the UK for the first time ever, a myriad of pixies, fairies and elves will be riding sunbeams through the dense foliage of the trees and giant toadstools at the transformed Times Square. Unicorns fleetingly emerge from the dappled shade as butterflies float from one brightly coloured blossom to another.
Taking place from midday to 10pm, the all-day spectacular will be elrow's first ever outdoor summer show in Newcastle, making the most of the long, balmy summer evenings and filling the city with sunshine-fuelled sounds from some of the most acclaimed figures in electronic music.
This unique summer show will offer an unforgettable experience, shimmering with confetti and wild, woodland creatures to keep party-goers on their toes from start to finish.
Presale tickets are available from midday on Tuesday 29th May with general sale released at midday on Wednesday 30th May. Sign-up for access to presale tickets: www.elrowbankholiday.uk
ELROW GOES TO NEWCASTLE
SUNDAY 26TH AUGUST 2018 | TIMES SQUARE, NEWCASTLE, UK
elrow is an award-winning experiential event concept and party series founded in 2010 by Cruz and Juan Arnau Lasierra; the sixth generation from a dynasty of entrepreneurs also responsible for creating Monegros Festival and legendary Club Florida 135 in Fraga, Spain. From their head-quarters in Barcelona, elrow have taken the world by storm with their unforgettable party style, pairing elaborate production, interactive performers and zany characters with the best electronic music, placing them as a global reference for circus inspired parties with tickets to the visual spectaculars usually selling out in minutes. A myriad of different themes and concepts makeup elrow's zeitgeist with sub-brands including 'Rowlympics'; their own take on the Olympic games, their Brazilian jungle carnival theme, 'Sambodromo de Brasil' and flag-ship theme 'Singermorning'.
With lauded residencies in Ibiza, Madrid, London and Amsterdam already in place, 2017 has seen a game-changing partnership with live entertainment platform, Providence-Superstruct, allowing elrow to push to new heights with a Shangai debut and a festival-scale event at the Queen Elizabeth Olympic Park in August.
www.elrow.com
www.facebook.com/ElrowSunday
https://twitter.com/elrow_
www.youtube.com/user/ElRowChannel
www.instagram.com/elrowofficial