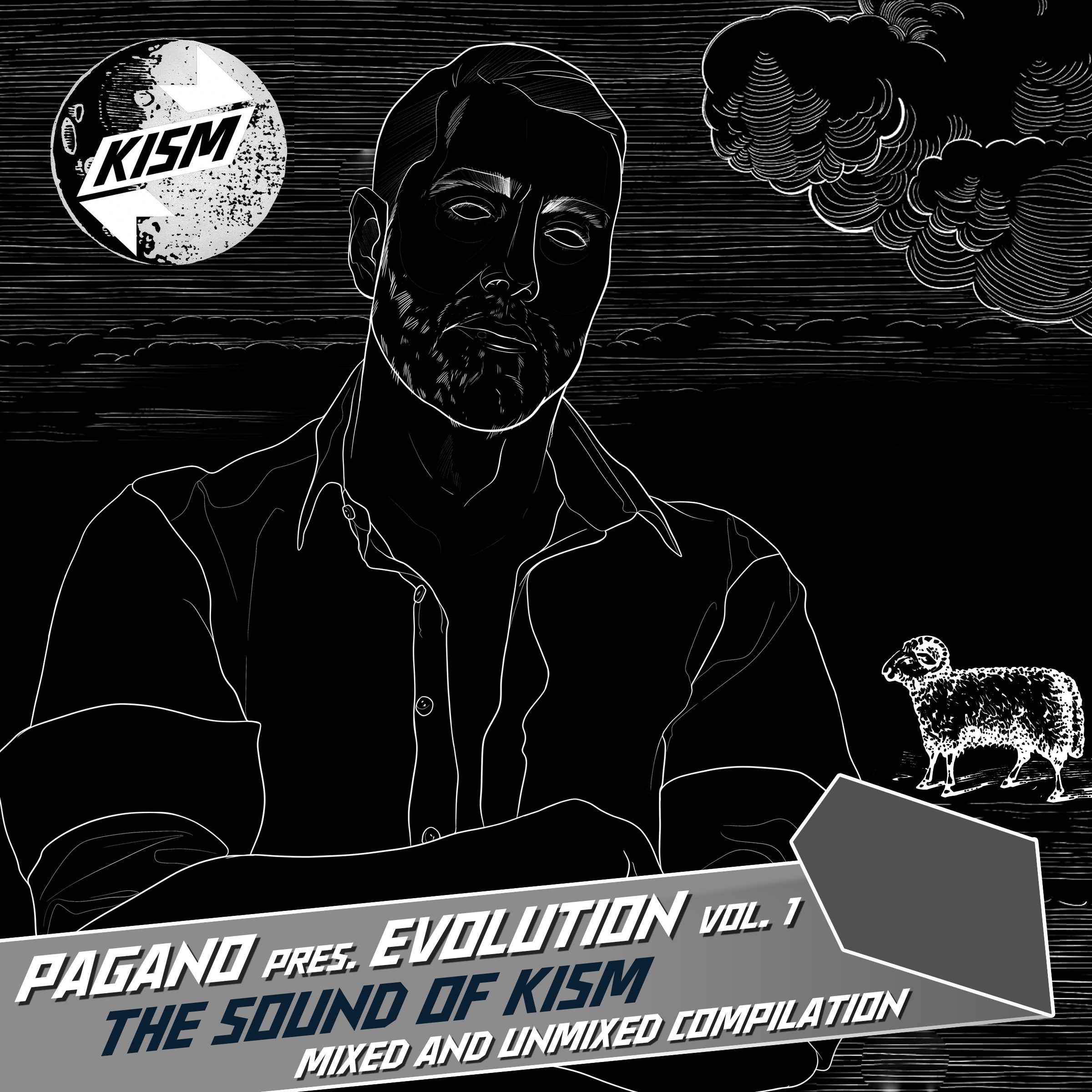 Pagano - Evolution Vol 1
Released on Christmas Day and at over 70 minutes Pagano's spirited blend of tech house and techno selections sees him distill the good time feeling that has cemented his reputation as one of today's most entertaining DJs to have emerged from the modern gay club scene. Launching his KISM label two years ago 'EVOLUTION Vol. 1' is the label's first compilation including some of the label's biggest tunes plus 8 previously unreleased tracks and remixes from artists like Ben Remember, Paride Saraceni, Filterheadz, Skober, Chris Bekker, Tuff London, Agent Orange and Pagano in both mixed and unmixed formats.
First of the many Exclusive and previously unreleased tracks is Toolroom's Ben Remember's new thumping remix of Pagano & Jason Chance's Tech House hit 'Timeline' (the Original Mix reached the #1 spot on the biggest English digital store Trackitdown's Tech/Deep House chart). Followed by a number of original tracks from acclaimed artists such as Carl Cox favourites Filterheadz, Mark Knight's collaborators Tuff London, NYC's Techno finest Agent Orange and Paul Van Dyk's protege Chris Bekker – plus 3 new Techno tracks from Pagano including his tribute remake of the anthem 'A Thousand Nights'.
Other highlights include Paride Saraceni's Remix of Pagano's single 'Rise' a Big Tune for Drumcode's Adam Beyer, Paolo Martini's Remix of 'Make Everything Alright' by Pagano & Jason Chance (a Steve Lawler and Format:B favourite), Skober's Remix of Chris Bekker and Pagano's 'Hashtag Wunder' championed on Paul Van Dyk's radio show; Pagano's official Techno infused remix of one of the biggest UK Hard House anthems ever 'Music Is Moving' and Pagano's single 'Out Of Control' recently released on Mauro Picotto's label Alchemy.
Pagano's mix sees him build bold tech house and techno textures to create an unadulterated energy that cuts a contemporary swathe on the dance floor. Perfectly capturing the intensity and edge of Pagano's live DJ sets, 'Evolution Vol 1" is clearly influenced by Pagano's years as a resident DJ at the legendary London After-Hours club, Trade. Steeped in the groove and not sticking to one sound whilst referencing that 90s House, Hard House and Nu-Energy vibes that have helped shape the sound of London's gay club scene, this selection of culminating tracks denotes KISM as a label to watch.
Pagano's sound has evolved hugely through a prolific touring schedule that sees him play every weekend in clubs and festivals across Europe and his mixed compilations that have hit the #1 spot in a number of digital stores including Beatport (both in Techno and House Releases) and Top 10 on iTunes (Album Dance charts in Spain and the UK). One of the most driven and creative DJ/Producers to have emerged from the gay scene, Pagano's productions have crossed over onto the wider dance floor gaining support from A List DJs in the mainstream and underground scene including Carl Cox, Nicole Moudaber, Adam Beyer, Annie Mac (BBC Radio 1), Eats Everything, Seth Troxler, Paco Osuna, Joseph Capriati, Monika Kruse, Paul Oakenfold, Mark Knight, Format:B, Danny Tenaglia and Tiesto.
Catch Pagano at: www.facebook.com/djpaganofanpage
Tracklist
01. Pagano & Jason Chance – Timeline (Ben Remember Remix) – Exclusive Track *
02. Pagano & Jason Chance feat Shena – Make Everything Alright (Paolo Martini Remix)
03. Tuff London – Miracle Man (Original Mix) – Exclusive Track *
04. Pagano & Reza & Sweet Female Attitude – Give It To Me (Pagano Dub Mix) – Exclusive Track *
05. Filterheadz – Playback (Original Mix) – Exclusive Track *
06. Pagano – The Black Sheep (Original Mix) – Exclusive Track *
07. Pagano – Starburst (Filterheadz Remix)
08. Agent Orange – I'm Free (Original Mix) – Exclusive Track *
09. Pagano – A Thousand Night (Tribute Remake Remix) – Exclusive Track *
10. Pagano – Out Of Control (Original Mix)
11. Pagano – Music Is Moving (2017 Remix)
12. Chris Bekker – Klangstunde (Original Mix) – Exclusive Track *
13. Pagano feat. Shena – Rise (Paride Saraceni Remix)
14. Chris Bekker & Pagano – Hashtag Wunder (Skober Remix)
15. Obi Baby – Life Is Beautiful (Kostas Maskalides Remix)
Pagano's 'Evolution Vol 1' debut compilation on KISM arrives in mixed and unmixed formats on Christmas Day December 25th 2017 on Beatport and 2 weeks later through all usual outlets.
www.facebook.com/djpaganofanpage or twitter: @DJPAGANO