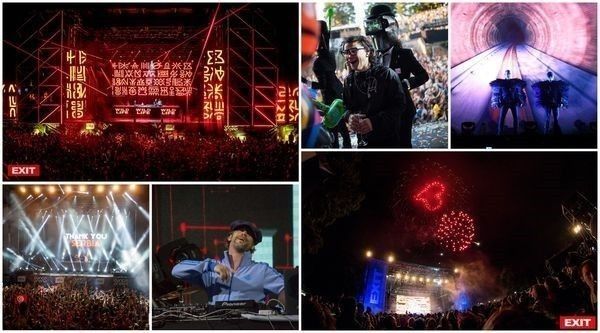 EXIT Festival raises over 140,000 Euros for Flood Relief Aid
Over 260 000 adventurers enjoyed the great summer EXIT Adventure and over 140,000 Euros raised for Flood Relief Aid
As the last acts on Sea Dance festival stages came to a close, the great EXIT Adventure finally came to an end. A record number of adventurers answered the call to join the summer adventure spanning 8 days in 2 different countries – over 260.000 of them partied at EXIT (10-13th July 2014), Sea Dance (15-17th July 2014), and [email protected] (11th June 2014). The bar has been raised yet again, and now EXIT has an even harder task of doing one better next year.
During these memorable eight days EXIT offered festival-goers a wide range of music and entertainment with performances by some of the world's best music stars including; Damon Albarn, Jamiroquai, Skrillex, Rudimental live, Queens of the Stone Age, Disclosure, Afrojack, Pet Shop Boys, Underworld, Gloria Gaynor, Hurts, Suede, Stromae, Example, Carl Cox, Deep Dish, Klingande, Pretty Lights, Juan Atkins and many others!
The biggest star of EXIT festival was, as always, its loyal audience! The best audience ever kept partying for eight days in sun and rain, mud or sand, beach and Fortress, in rubber boots or barefoot, raincoats or swimsuits.
Artists loved it so much they stayed!
Performers far and wide also fell in love with the festival and Novi Sad, postponing their travel arrangements to spend more of their precious time at the fortress to eat, drink, dance, and have an incredible, memorable time!
Skrillex was so smitten with the atmosphere at the festival after his incredible show on the main stage that he decided to miss his flight to stay and have fun taking in the sights and sounds of the Latino stage and the local trumpet orchestra show, before finally deciding to close the festival night in the Dance Arena – he took to the decks and played fierce techno until the very end of the festival night in 9am. He returned to the festival the following night and partied until the final beats stopped in the Dance Arena in the morning. The California dubstep king also fell in love with local drinks and the cuisine, which he had time to sample for a few days before continuing onto his next tour point.
Damon Albarn also decided to experience the festival like a true fan, walking around the fortress and tasting each stage. "Had I known it was this good, I would've come with Blur earlier" he commented.
Hurts star Theo Hutchcraft also enjoyed the festival as a fan and spending time dancing at the smaller stages – having fun with fans, and posing for photos.
Dub FX spent his time underground, at the catacombs beneath the fortress, hosting secret parties for special invitees. He also played a surprise gig in the centre of Novi sad on Wednesday and at a home for abandon children, staying with his entire crew for the remainder of the week in Novi Sad.
And while the DJ's partied with clubbers and drank until dawn, Gloria Gaynor won the hearts of her hosts, and they hers with local cuisine. The famous disco diva was also thrilled when she received a pack of čvarci (a local specialty) to take with her on the road!
Over 140,000 Euros raised for Flood Relief Efforts
The grand finale of EXIT Adventure was Sea Dance festival in Montenegro at the beautiful Adriatic coast. Jamiroquai, Example and Underworld headlined the Main Stage with visitors dancing till sunrise on the stunning Jaz beach with a host of other stages serving up a variety of different music with something for everyone.
In addition to Sea Dance Festival, EXIT stayed true to it's roots and helped to raise money for the flood victims in the Balkans, which saw the worst floods in more than a century and a state of emergency was declared in 14 municipalities. Numerous cities and villages were lost, dozens of people lost their lives, and over one million of people were evacuated.
The "BE HUMAN" was hosted by Jamiroquai and Example and was part of the EXIT foundation's EXIT AID programme, which aimed to raise money for the flood relief efforts in Serbia, Bosnia and Herzegovina, and Croatia. BE HUMAN was held in collaboration with the Municipality of Budva and Dukley Gardens, and supported by the Government of the Republic of Serbia, the Government of Montenegro, Budva Tourism organization and Hipotekarna Bank. Taking place in the luxurious Dukley Gardens complex, Jamiroqui and Example performed a special DJ set which helped raise over 140.000 Euros and 80,000 Euros in goods for flood relief efforts. More info here: www.exitfest.org/en/exitaid
Dušan Kovačević, founder and director of the EXIT festival, spoke at the charity gathering: "I'm pleased to see the EXIT Adventure end with a charity event, the goal of which is to help those who were affected by the catastrophic floods that hit the region a month and a half ago. Social betterment is at the heart of EXIT Festival, so we're glad that we're able to say goodbye to this year's adventure this way, and we'll definitely see you all next year!"
Watch the Sea Dance Festival highlights here…

Thanks to everyone who helped make EXIT Adventure a success and we hope to see you in 2015. More info on next year's event will be announced soon.
EXIT. Where hedonism meets activism.
www.exitfest.org