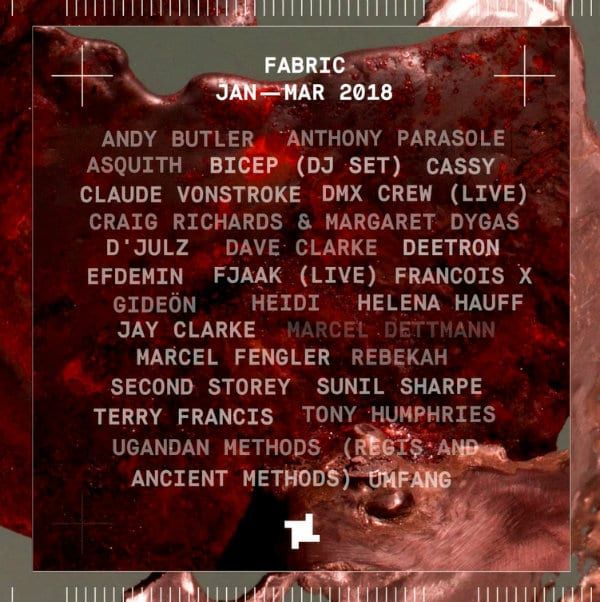 Fabric: Announcing the second wave of artists coming to Saturdays in 2018
The second in our announcements for the programme for Saturday nights in 2018 fills the gaps from the January and February events and also reveals the rest of our line ups through to the end of March.
Bicep will be returning to Room One on 24th February on the back of their incredible debut album that so perfectly brought together the heady reaches of IDM and club music. They're joined by Hercules and Love Affair's Andy Butler and Gideon. On 20th January Nicolas Lutz and Craig Richards have invited DMX Krew along to their All Night Long session in Room Two with an hour's live set while the pair will be playing the first and last record of the night.
We're also excited to announce another All Night Long session which will see Margaret Dygas and Craig Richards combine in the Room One booth on March 17th. This joins our series of All Night Long DJ pairings which are peppered in the first half of the year's events.
Elsewhere we welcome a DJ to Saturday nights who's had a heavy impact on dancefloors around the world in the last year as Helena Hauff comes to Room Two armed with her heady collection of electro. She's joined by Umfang who has been building respect in her own right for her raw-edged and pacey selections.
Covering the weightier end of the techno spectrum Marcel Dettmann and Dave Clarke join us for their first dates in 2018 and Ugandan Methods (Regis & Ancient Methods) Rebekah, Sunil Sharpe, Anthony Parasole, Efdemin and Francois X are also all slated to perform.
Plus our favourite jack specialist Heidi returns to EC1 along with Claude VonStroke, Houndstooth's Second Storey, Dennis Ferrer and many more.
Full listings for the year so far below, with new additions in bold. More soon.

06 JANUARY
ROOM ONE:
Amelie Lens, DJ Deep, Terry Francis, Surprise Guest (Live)

13 JANUARY
ROOM ONE:
Petre Inspirescu, Atipic aka Priku (Live), Vlad Caia, Matteo Manzini
ROOM THREE:
ONE RECORDS…
Adam Shelton & Subb-an (All Night Long)

20 JANUARY
ROOM ONE:
Craig Richards & Nicolas Lutz (All Night Long), Special Guest: DMX Krew (Live)
ROOM TWO:
Slam, Kobosil

27 JANUARY
ROOM ONE:
The Martinez Brothers (All Night Long)
ROOM TWO:
NONPLUS…
Boddika B2B Redshape (All Night Long)

03 FEBRUARY
ROOM ONE:
HARD TIMES PRESENTS…
Tony Humphries, Steven Dunn, Artist TBA
ROOM TWO:
BASS CULTURE…
Cassy, D'Julz, Terry Francis

10 FEBRUARY
Dennis Ferrer, Heidi, Terry Francis, CJ Jeff
Rooms and More Artists TBA

17 FEBRUARY
ROOM ONE:
Craig Richards & Ricardo Villalobos (All Night Long), Voigtmann
ROOM TWO:
Answer Code Request, Pariah, Artist TBA

24 FEBRUARY
ROOM ONE:
Bicep (DJ Set), Andy Butler, Gideon
ROOM TWO:
Jonas Kopp, Anastasia Kristensen, Terry Francis

03 MARCH
ROOM ONE:
To be announced
ROOM TWO:
Dave Clarke, Rebekah, Jay Clarke

10 MARCH
ROOM ONE:
Claude VonStroke, Terry Francis, Asquith
ROOM TWO:
Helena Hauff, Umfang, Jay Clarke

17 MARCH
ROOM ONE:
Craig Richards & Margaret Dygas (All Night Long)
ROOM TWO:
Anthony Parasole, Efdemin, Terry Francis

24 MARCH
ROOM ONE:
Marcel Dettmann, Francois X, Second Storey
ROOM TWO:
Ugandan Methods (Regis & Ancient Methods), Sunil Sharpe
Tickets and more information: www.fabriclondon.com