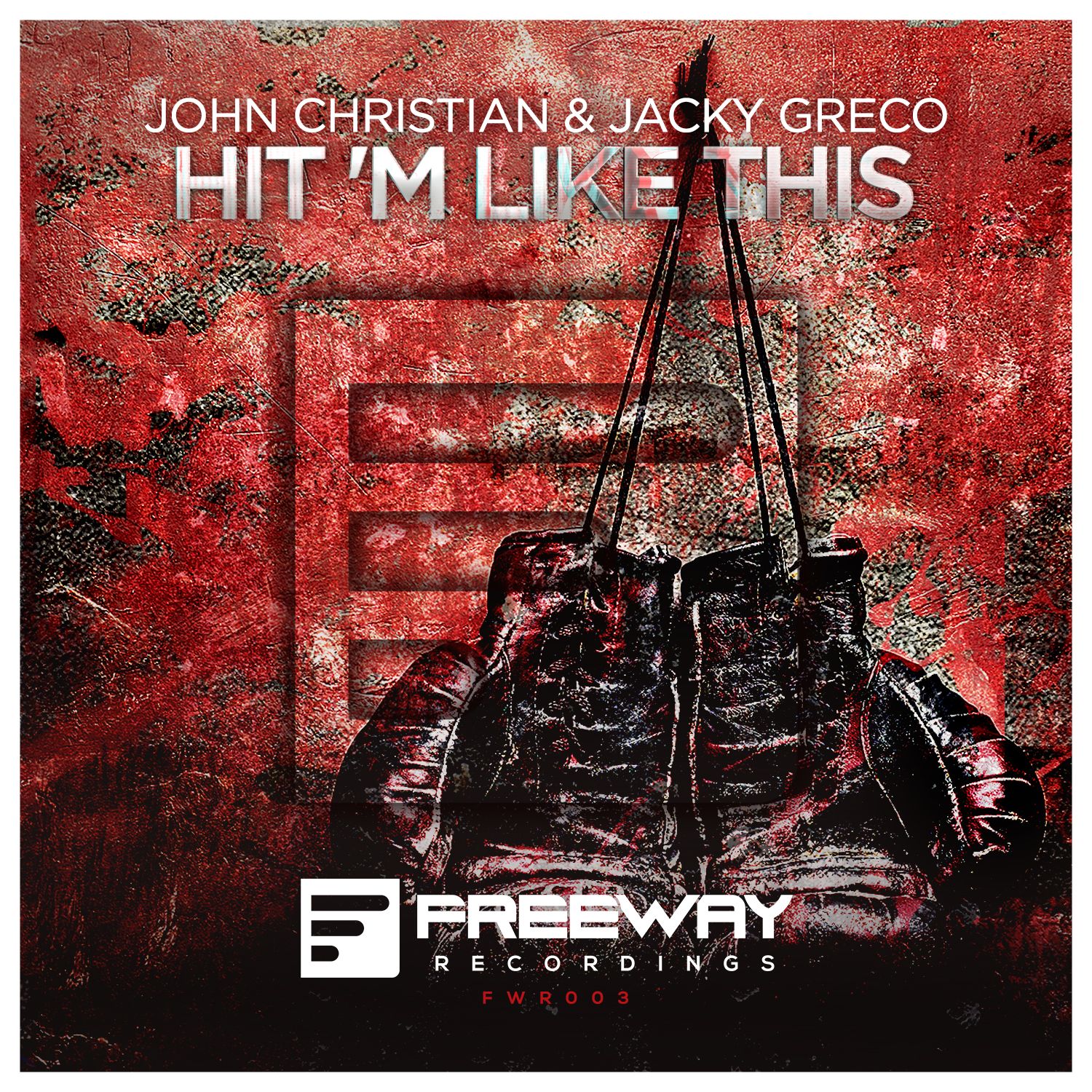 John Christian & Jacky Greco - Hit 'M Like This
Freeway Recordings is releasing their 3rd track in just 5 weeks time, a co-release with Sony Music Italy. Hit 'M Like This is a collaboration between John Christian and Jacky Greco and has an industrial electro sound that hits you right away. It brings some evocation of the film 'Rocky' with a remarkable winners vibe.
The track has received early support by DJ's such as VINAI, Tom Swoon, Sick Individuals, Cosmic Gate, Club Banditz, Volt & State & many more.
Full track
Beatport: http://smarturl.it/HitMLikeThis
John Christian one of the most successful producers in Dutch music history. He currently has over 2000 releases under his belt, including 400 single hit records. He decided to forge his own DJ career with the release of quality productions and remixes, all of which made their mark on the Electronic Dance Music scene and Beatport chart to boot – a decision that has seen his success gather momentum rapidly.
Brothers, his most recent release came out November 16th 2015, and reached #31 in the Beatport Progressive House top 100.
It received support of international top DJ's, including Tiësto, Deniz Koyu, VINAI, Bassjackers, Firebeatz, Sick Individuals, Paul Oakenfold, Andrew Rayel, Promise Land and more.
Jacky Greco took his first steps into the dance music world in the early 90s. As his passion grew, so did his talent. As his talent grew, so did the demand to perform in the hottest clubs in Milan and throughout Italy and abroad. He's performed at XL, Madame Claude, Le Cinema, Hollywood Milan, Ritual, Blues Café, Beaugeste, Peter Pan and Goa, just to name a few. After exploring different genres, styles and collaborations, he has reached his "real personal dimension", which he likes to call, the "dance dimension".With two ep released on FLUO RECORDS on 2014 ( "Gravity Ep" & "Enki Ep") Jackygreco is one of the most sought out producers and remix artists in the Italian edm scene with some hot collaborations that will be revealed later this year.
His track 'Miamify' reached the Beatport Electro House on #5 as well as the general top 100 on #30 in March this year.
Freeway Recordings is a platform for talented artists with a special vision about production and releasing music. A dance music label not focused on one style. Our signature is quality and creativity.
At Freeway Recordings we want to give artists complete freedom to express. It's a free way of bringing their message to the world. To those consolidated artists that are having creative limitations due to labels policies, linked to marketing plans and commercial demand, Freeway is their new home. We like thinking out of the box.
At Freeway Recordings we believe in creativity. We want to support the genuine ideas, the good music. The most important for us is not a genre or fitting into a certain market, but your message. We want to connect artists with the people that wants to listen to their music because they like or share their ideas.
Startup artists are also welcome at Freeway Recordings. Freeway wants to give opportunities building artist careers to those who have talent. We don't need finished tracks to be directly released. We welcome good music ideas (compositions and songs), and we'll help those artists, getting produced by John Christian and bring them to the world. We want to make their music dreams come true.
Socials
Follow John Christian here:
Twitter: www.twitter.com/djjohnchristian
Instagram: www.instagram.com/djjohnchristian
Facebook: www.facebook.com/djjohnchristian
Soundcloud: www.soundcloud.com/johnchristian
Youtube: www.youtube.com/johnchristiantv
Website: www.johnchristian.com
Follow Jacky Greco here:
Twitter: www.twitter.com/jackygreco
Instagram: www.instagram.com/jackygrecoofficial/
Facebook: www.facebook.com/jackygrecoofficial
Youtube: www.youtube.com/user/jackygrecoofficial
Website: www.jackygreco.com
Follow Freeway Recordings here:
Twitter: www.twitter.com/freewayrec
Instagram: www.instagram.com/freewayrecordings
Facebook: www.facebook.com/FreewayRecordings
Soundcloud: www.soundcloud.com/freewayrecordings
Website: www.freewayrecordings.com