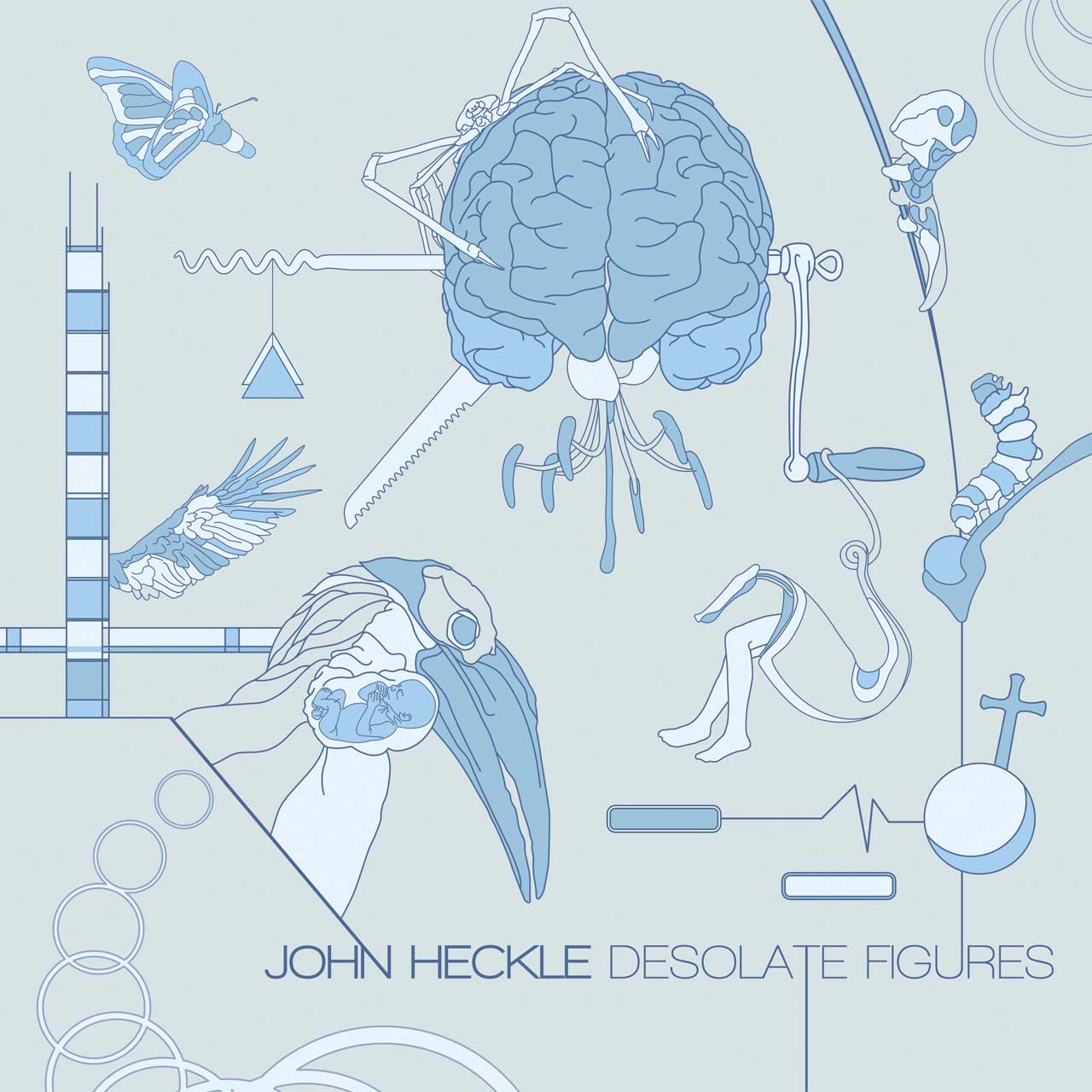 JOHN HECKLE – DESOLATE FIGURES
'Desolate Figures' is John Heckle's second album following a string of releases on esteemed labels such as Tabernacle, Crème Organization, Mathematics and Signals.
DJ, producer and live performer from Merseyside, UK, John began playing nights in and around Liverpool at the age of fifteen, before seeing his first record released a year later (thanks to boyhood hero Regis) under the alias Hek on Birmingham's RSB imprint.
John then cemented a residency at the emerging Rehab event at the Lemon Lounge in Liverpool. With a policy of not booking big names and free entry, people travelled from across the UK to revel in the music. Various gigs around the UK followed, as he added Roland Drum Machines to his fast paced 3-turntable Live/DJ shows.
In 2009, following a lengthy release hiatus, he rekindled his passion for production after becoming inspired by the music of record label Mathematics Recordings, in particular the music of Jamal Moss, whom John had travelled to Belgium to see perform live.
John was soon welcomed onto Mathematics Recordings with 2010's 'Life On Titan EP'. A string of releases on Mathematics followed (including the 2-part 'Second Son' album), as well as notable releases on Tabernacle (including 2 EPs and a remix for Scan 7's Trackmasta Lou), Signals (Hard Sleeper), and Crème Organization ('The Last Magic Maker' mini-album).
John subsequently collected a 2012 Qwartz Electronic Music Award in Paris for his 'Life On Titan EP', while the tail end of 2013 now sees the release of his second full-length album, 'Desolate Figures', on Tabernacle.
Kicking off with the building emotive strings of 'Blindman's Bluff', Heckle draws us gradually in before the stunningly inventive and musical interplay of 'Inhuman Nature' loses us somewhere in the Bermuda dancefloor triangle between Chicago, Detroit and Sheffield.
Indeed taking familiar sounds to dizzying new places is something that Mr. Heckle has become quite the expert at. If Jeff Mills made jacking Chicago house and then distorted it through an italo-disco prism you might come close to second guessing where 'Frankenstein's Sweet Nectar' came from whilst 'Love-Lies' is a two-minute subterranean curveball that is oddly infectious and funky.
Back for the jugular, 'Something for Your Distorted Mind' is more straight to the point but again infused with a melody and keys that takes you to some unexplored sector of the techno-house nebula. Like Drexciya and Carl Craig playing space-jazz in a Birkenhead basement.
'Death of a Spaceman' is quite possibly the most obvious nod to Millsian funk, skittery and ephemeral but with an industrial backbone of iron driving it to conclusion. 'Crazy Metal' is just that, sonic metallic madness and 'Never With You' strips house back to the bare essentials before a subtle acidline wraps some flesh around its jacking bones. Finally 'Power of Two' draws things to a close with its distant, echo-y hypnotic rhythms, layered percussion and all important sprinkle of magic synth work that gives Heckle's raw production an ever-present feel of warmth and emotion.
John has now performed in over twenty countries, and he continues to do so using an assortment of hardware to accompany his ever-varying vinyl selections. Full hardware live shows are also part of his repertoire, and are perhaps what John is best known for, following appearances on Boiler Room, FACT and LWE. It's the fly live programming, pad and synth work from his live shows that have also influenced his new opus 'Desolate Figures'. The sonic evolution continues…
http://www.johnheckle.com/
http://www.tabernaclerecords.co.uk/
GIGS
20 September – Phantom Planet Outlaws Live, People's Balearic Disco, Liverpool,UK
04 October – [LIVE] 030303, Ekko, Utrecht, Netherlands
18 October – Selective Hearing, The Garage, Leeds, UK
19 October – Antipode, Rennes, France
29 October – Sub Club, Glasgow, Scotland, UK
09 November – Flashforward, TAG, Venice, Italy