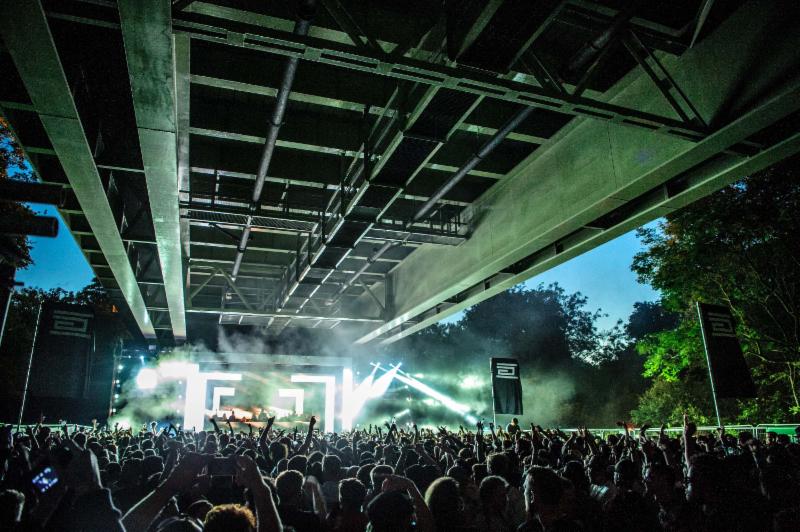 Junction 2 Festival Returns for 2018
Acclaimed techno festival Junction 2 announce their return for 2018. On Saturday 9th June they are back dancing under that epic bridge.
Following the sold-out 2nd edition, Junction 2 has carved-out a niche as one of the UK's leading electronic music events; a premier techno one-dayer. Praised for crystal clear sound, custom stage-designs and slick organisation, 12,500 music fans descended on Boston Manor Park and danced across 5 unique stages.
The unique site combines a multitude of different options to dance under; from Drumcode under a motorway bridge on an island to the bird watcher's hut nestled in the thick of the woodland. Then there was the expansive outdoor Hex stage holding pride of place in the meadow surrounded by hammocks and tasty food & cocktail offerings. Or you could seek more discerning styles of electronica inside the oversized by intimate stretch tent. And let's not forget the dark rave cave inside the LWE warehouse. A unique and diverse urban playground, packed with some of the underground's most revered figureheads.
With preparations well under way for their 3rd year, Junction 2 2018 promises a return of the unrivalled sound and production seen at their first 2 outings with a few more tweaks to make it even better than last year.

Tickets for next year's festival.
One of the key factors of the past two years has been the incredible crowd that have attended for the sonic journey in West London.
Irrespective of the line-up, the venue and the production, the team acknowledge that you guys have been pivotal in making Junction 2 what it is today. Simply put, you've been amazing! J2 know full well a crowd can make you, or break you. So it's important that they maintain this heading into their third year.
As a special thanks, anybody who purchased a ticket in 2016 & 2017 is eligible for these loyalty tickets to 2018's Junction 2. They've set aside some loyalty tickets at exclusively low prices, reserved for our most loyal customers.
Loyalty tickets for Junction 2 2017 will be released at 1pm on Thursday 5th October 2017. These will be available for ticket holders from the previous two festivals.
For those wanting to come to Junction 2 for the first time, register for pre-sale tickets at: www.junction2.london
Pre-sale ticket release date coming soon.