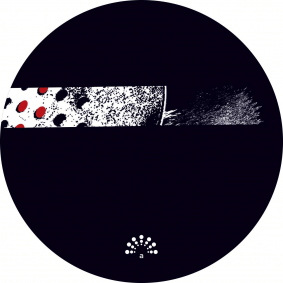 Edit Select & M.R.E.U.X. - Lineation EP
Blumoog Music is delighted to announce the addition of Edit Select to the label's ranks for a split EP alongside regular label artist M.R.E.U.X..
Edit Select knows how to create a breathtaking atmosphere with his psychedelic style and well-defined sonic touches. He has been doing so since the nineties on his own label as well giants like Soma and CLR. M.R.E.U.X., meanwhile, is an Italian who has always been an innovative DJ and producer with many strings to his bow. He has released music on labels such as Memento Records, Mantra Vibes and Muzak Rec. Between the two of them they serve up four classy and well produced techno tracks that offer plenty of new ideas.
Edit Select goes first with the brilliantly moody 'Line 1', which is ten minutes of tunnel vision techno. It sucks you ever further down the rabbit whole with rumbling drums down low and distant pads acting like a far off source of light in the darkness. 'Line 2' is just as superbly stripped back and deeply mysterious, but with a celestial air thanks to the heavenly vocals that drift way off in the background. It's heady techno for the more intimate floor out there.
M.R.E.U.X. then serves up the scintillating '303 Casper', a bold techno cut with industrial sounds and rooted drums designed to get the floor marching. Computer-in-meltdown sound effects litter the arrangement and the whole thing is high pressure and original throughout. The excellent 'Radiokiller' is another brilliantly refreshing techno track with sci-fi pads, hunched drums and icy hi hats that all feel urgent and adventurous as you race through the cosmos.
The two top artists and their great creations here confirm this humble label is slowly but surely making its way to the top.
Tracklist:
A1 Line 1 # (Edit Select)
A2 Line 2 # (Edit Select)
B1 303 Casper (M.R.E.U.X)
B2 Radiokiller (M.R.E.U.X)