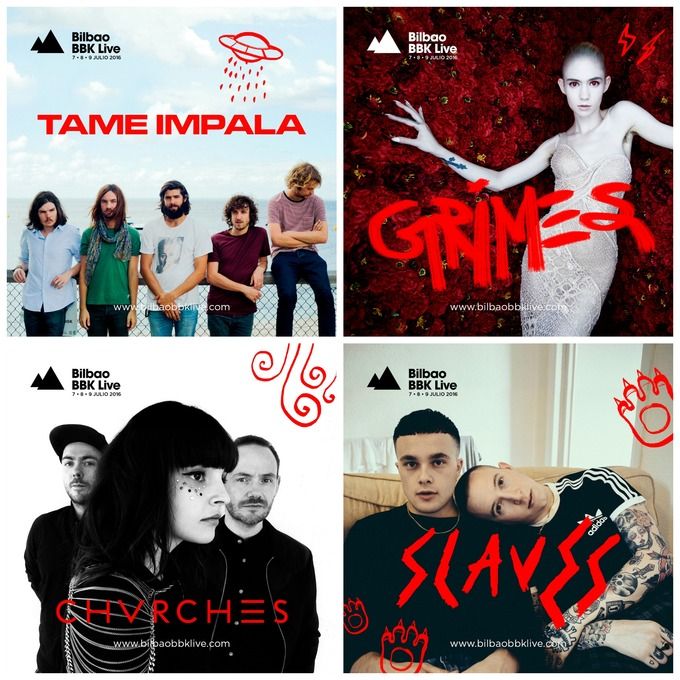 More acts join Bilbao BBK Live 2016 lineup!
With a lineup already fit to burst with some of the biggest bands on the planet, Bilbao BBK Live welcomes Australian five piece Tame Impala, boundary defying queen of pop Grimes, Chvrches, Slaves, Jagwar Ma, Inheaven and Love of Lesbian to the lineup for 2016. They join Arcade Fire, Pixies, Foals, M83, New Order, Hot Chip, Years & Years, Father John Misty, Courtney Barnett, Wolf Alice and many more.
Co-headlining with Foals are Aussie psych rockers Tame Impala. The release of Kevin Parker & co's third studio album 'Currents' was met with widespread critical acclaim in 2015, with chart topping hits 'Let It Happen' and 'Cause I'm A Man' cementing their place amongst the best albums of the year. Mixing modern psych and lush synths, the album marked the start of a new chapter of the band which sees them graduating to true festival headliners.
With last year's incredible 'Art Angels' proving to be one of the most widely regarded albums of the year, Grimes aka Claire Boucher is an artist that continues to build on her sound and legacy. Embracing saccharine pop and honing her sound to create some of last year's catchiest tunes, hers is a star that continues to rise and promises to provide one of the standout sets of the festival.
Following up debut LP 'The Bones Of What You Believe' was never going to be an easy task but Chvrches stepped up to the plate with one of the finest sophomore releases of recent memory in 'Every Open Eye'. The band's anthemic electronica and the distinctive Scottish brogue of singer Lauren Mayberry create a sound that is entirely their own.
Rowdy punk two piece Slaves were one of the most unlikely breakout hits of 2015. Rarely does anything so visceral and vital break out from the underground but with major label debut 'Are You Satisfied' the duo launched themselves into the public consciousness with a string of hits and a live show of unparalleled energy.
Jagwar Ma's mix of psychedelia and alternative dance music has positioned them as one of the most individual bands on the planet. Hailing from Sydney, Australia the three piece have garnered praise from everyone from Noel Gallagher to The XX.
With an early thumbs up from legendary Strokes frontman Julian Casablancas, Inheaven were rightly tipped for big things from the get go. Having released their debut single 'Regeneration' on the indie hero's Cult Records the band's atmospheric brand of 80s-indebted indie rock brings to mind greats like The Jesus And Mary Chain.
Catalonian alternative pop band Love Of Lesbian also join the lineup. The band formed back in 1997 and cut their teeth supporting the likes of goth pioneers The Cure. Now stars in their own right having topped the Spanish charts with 2012 album 'La noche eterna. Los días no vividos', Bilbao BBK Live welcomes them to the festival for 2016.
Set upon the Kobetamendi Hill with stunning views across the city and inviting, golden, sandy beaches, 2016 is certain to be a standout year for Bilbao BBK Live. Boasting an already jam-packed musical lineup showcasing some of the most exciting new talent and well-regarded artists worldwide and with more exciting names still to be announced, its 40,000 strong army of visitors will not be disappointed. Tickets, priced at £69.00 + bf are available now at www.bilbaobbklive.com.
Line Up
Arcade Fire / Pixies / Tame Impala / Foals
New Order / M83 / Grimes / Chvrches
Hot Chip / Years & Years / José González
Love of Lesbian / Father John Misty / Courtney Barnett
Wolf Alice / Slaves / Jagwar Ma
Was / Hola A Todo El Mundo / Inheaven
+more acts TBA
Tickets
General Admission 3-Day Ticket from £69.00 GBP +BF
General Admission 3-Day Ticket + Camping from £77.00 GBP +BF
Book now at http://bilbaobbklive.com/en-us/tickets
Connect
Website http://bilbaobbklive.com
Facebook http://facebook.com/bilbaobbklive
Twitter http://twitter.com/bilbaobbkliveen
Spotify http://spotify.com/user/bilbaobbklive
Instagram http://instagram.com/bilbaobbklive