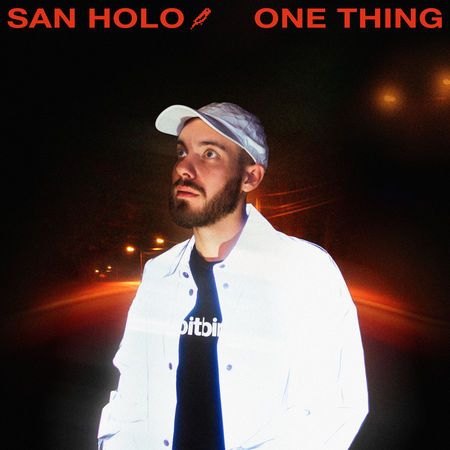 San Holo - One Thing
It's been almost a year since the release of San Holo's career-defining single, 'Light'. Having most recently kicked off his North American tour, San Holo returns with a sonically-challenging and unforgettable single for familiar and new fans alike, 'One Thing' released on 17 November 2017.
Many of San Holo's tracks take simple musical themes and flawlessly expand on them throughout the listening experience. In the same vein, 'One Thing' begins with a cyclical, harpsichord-reminiscent melody that quickly transforms into a seamless kaleidoscopic mesh of progressive synths and percussion, showcasing the imaginative skill that San brings to his brand of emotional dance music.
As San Holo explains: "The song 'One Thing' is an exact translation of how I feel most of the time. When I'm supposed to stand still, I still feel like I'm running, chasing after something. Restlessly wandering around because I'm too focused on what is to come, instead of being content in the moment. It's a reminder for me to enjoy the now, even though there's so many goals I have set. It's about the realisation I'm never really able to reach my goals because they're always changing.
If you're chasing your dreams, you'll never stop chasing. This song is a reminder to take a step back and enjoy the moments from time to time, cause that's all we really have."
ABOUT SAN HOLO
San Holo is dubbed the fastest growing talent in electronic music – a title that seems all the more fitting with every new release. San Holo (Sander van Dijck) is a musician, composer, DJ and record producer from the Netherlands. His first remix (The Next Episode by Dr. Dre) gained more than 130 million views on YouTube and cemented his name on the music map. This success was followed by various other remixes in his 'Don't Touch The Classics' series (Outkast, Nelly, Will Smith) that also gained millions and millions of plays. San Holo released his Cosmos EP in September 2014, quickly garnering a massive Soundcloud following and drawing the attention of major tastemakers and curators such as Skrillex and Diplo. He then followed with the Victory EP release in May 2015, New Sky EP in March 2016 and the release of 'Light' late 2016.
'Light' has gone on to accumulate over 61 million streams on Spotify and has established itself as San's biggest single to date. The song immediately became an international success upon release late last year, while also securing San's debut on the Billboard Dance/Electronic charts and spent seven consecutive weeks as #1 on Sirius BPM, firmly supplanting him as an international name in the trap and bass world. San draws in over 3 million monthly listeners on Spotify, where his song was also recently featured on the monster playlist Today's Top Hits. In March, San Holo delivered a 60 minute guest mix for BBC Radio 1 Diplo & Friends and in April, he delivered a second mix for Annie Nightingale's Radio 1 show.
"The Dutch producer is a tastemaker to watch in 2017." – Earmilk
"One of the most promising producers to emerge…pushing the boundaries of the future bass sound."
– This Song Is Sick
FOLLOW SAN HOLO