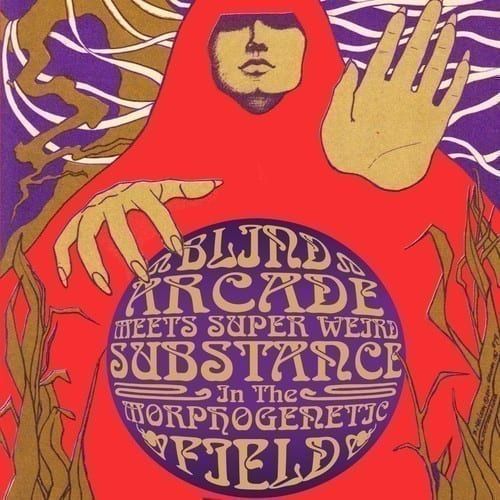 Podcast 057: Greg Wilson
BLIND ARCADE MEETS SUPER WEIRD SUBSTANCE IN THE MORPHOGENETIC FIELD (A MIXTAPE BY GREG WILSON)
Uplifting, life-affirming, and perfectly timed for the summer months – cobbled together, Heath Robinson stylee, more by serendipity than design, into a coherent whole by DJ / Producer Greg Wilson. Most of the tracks featured are by Blind Arcade (Kermit Leveridge & EVM128), either existing demos or works in progress, but the mixtape is also peppered with half-a-dozen GW edits, lyrically laced to bubble the Super Weird stew – the constant presence, and main ingredient, being Kermit, for it's his inspirational tale of faith and redemption at the very core of this morphogenetic mixtape. Following on from the Ruthless Rap Assassins and Black Grape, we believe that this is his greatest musical odyssey, drawing from the deep wells of his own mythos and logos. There were 3 frontmen in the Rap Assassins, 2 in Black Grape, but now, for the first time, Kermit steps to the fore – no longer to be described by such a limited term as 'rapper', but as a sabre-skilled vocal chameleon, his shades and depths ranging from wise old soul to lovestruck adolescent, invoking his many I's as a cast of compelling characters, both comic book and close–up personal, whilst, in trickster tradition, keeping us on our toes, not knowing what to expect next.
Let me take you by the hand
So you know what's going on
Let me take you step by step
On a journey that won't take too long
Come let me show you
Reality is not what it seems
It's all a construct
And what you see might not be real
Kermit Leveridge – The Construct
Accompanying blog post (inclusive of tracklisting):
www.gregwilson.co.uk/2014/06/blind-…genetic-field/
Interview re Super Weird Substance:
thepool-london.com/loop/greg-wilso…etic-field.html
Greg thanks all who contributed to the various stages of recording – Blind Arcade's Kermit Leveridge & EVM128, of course, studio engineer Derek Kaye, singers BB. James, Amy Wilson, Katherine Reynolds, Carmel Reynolds and Tracey Carmen, trumpeter Kevin G. Davey, saxophonist Marc Rockwood, special guest vocalists Howard Marks and MC Tunes, plus Martin Foster, Ollie Miles, Ché Wilson, Sam Heller, Alexis Billington and Asha Billington, who also leant a hand along the way. It's wonderful what spells we can muster when our magic is combined.
Links:
@super-weird-substance
www.superweirdsubstance.com
www.facebook.com/SuperWeirdSubstance
www.kermitleveridge.co.uk
evm128.com
www.gregwilson.co.uk
Podcast 057: Greg Wilson – Blind Arcade Meets Super Weird Substance In The Morphogenetic Field by Ihouseu.Com on Mixcloud