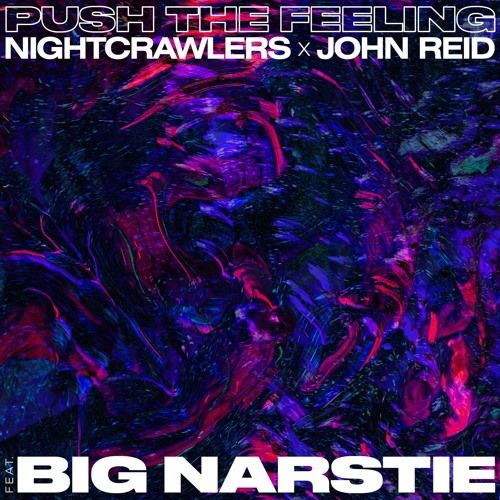 Nightcrawlers & John Reid ft. Big Narstie - Push the Feeling
Big Narstie has joined forces with Nightcrawlers x John Reid to update their '90's club anthem 'Push The Feeling' for 2018. The idea to bring back this chart-topping classic first started when Nightcrawlers X John Reid performed live on DJ Target's BBC 1Xtra Takeover show, and a whole new generation suddenly got switched onto one of the biggest dance records of the past two decades. Updated and produced by UK Garage star Mike Delinquent, he brought Big Narstie on board to bring the original bang up to date with a full set of new lyrics.
'Push The Feeling feat. Big Narstie' has already had heavy plays from Kiss Fresh (where it's playlisted), Capital Xtra, and BBC 1Xtra and DJ Target premiered the single on Radio 1, where it's picked up 5 spins to date. With Narstie fast becoming a national treasure, he performed it live on Alan Carr's New Year Specstacular 2017 on Channel 4, alongside TV appearances including the BBC's This Week, The Big Fat Quiz Of The Year, and Good Morning Britain, where his stint presenting the weather saw the clip go viral.
Included in Spotify's New Music Friday UK upon release, 'Push The Feeling feat. Big Narstie' is up to 320k total Spotify streams, and additions to Massive Dance Hits, All Night Dance Party, You Can Do It, Ministry of Sound, Dance Nation, NYE, Running Workout Goals, House Party Mix, Weekend Warmup, Ministry of Sound, Dance All Night, Remixes 2017/2018, and the UK Viral 50.
Big Narstie is more than an iconic British grime artist, he's featured across a daytime TV to broadsheets, tastemaker press, and beyond. His collaboration with Craig David 'When The Bassline Drops', went Gold; receiving over 10 million streams as well as a national TV appearance on the Jonathan Ross show. Narstie's array of creative outlets include the Base Society Mixtape, and further collaborations with Robbie Williams, Ed Sheeran, Section Boyz, and more. He's appeared on Channel 4 to discuss the lack of diversity at the Brit Awards, alongside debates at Oxford University. He starred in the 6 times nominated British Film Awards' movie Rise of the Footsoldier II. His awards include GRM Daily's Rated Awards' Personality Of The Year 2015, Noisey Man of the Year 2013 and received a MOBO nomination in 2014. Big Narstie is a festival pro, headlining Wireless Pepsi Max Stage, NASS, Lovebox, Ibiza Rocks, Truck Festival, Brownstock, Eski Dance and many more. His work with VR company, CEEK, saw him become the first British musician to enter the world of virtual reality, alongside artists such as U2, MegaDeth, Katy Perry, and Ludacris (https://ceek.com).
John Reid's roots began in soul music, and he started refining his craft as a songwriter as the front man of the Nightcrawlers, with tours, festival shows, and TV performances across the world following the No.1 success of 'Push The Feeling On'. As a songwriter he continues to travel the world working with top recording artists, songwriters and record producers. He's won an Ivor Novello Award and multiple BMI Awards, writing hit after hit for the likes of Kelly Clarkson, Il Divo, Westlife, Tina Turner, Rod Stewart, Leona Lewis, Lawson, Andrea Bocelli and Keith Urban. John wrote the US No.1 hit 'Only You Can Love Me This Way' for Keith Urban that gained him the BMI Award for Song Of The Year. John's solo project, the Nightcrawlers Soul Sessions, began with an EP release this month.
Big Narstie Online:
twitter.com/bignarstie
facebook.com/bignarstie
instagram.com/bignarstie
youtube.com/user/bignarstieVEVO
Nightcrawlers X John Reid Online:
twitter.com/jnightcrawlers
instagram.com/johnreidsongs
youtube.com/user/NightcrawlersVEVO