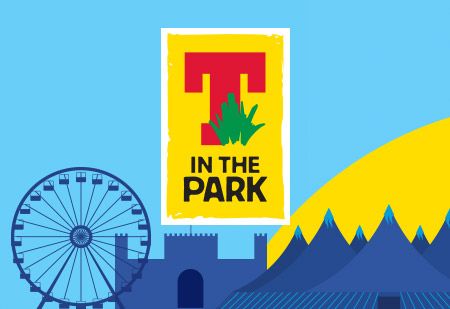 ROYCE 5'9", STEVIE MCCRORIE & TELEMAN JOIN THE T IN THE PARK BILL
With just over 2 weeks to go until the biggest party of the summer, T in the Park festival organisers DF Concerts and founding partner Tennent's Lager are excited to announce that Royce 5'9", Teleman and Stevie McCrorie are joining this year's T in the Park line-up.

Throughout his career, legacy has been a leading force in Royce 5'9"' verses. Beyond the plaques, chart positions, or whether radio or video supported the movement is irrelevant in 2016. At a time when boutique and couture culture dominates commerce, should music not take notice? Without a bright neon sign, assembly line production, or hypebeast promo, Royce 5'9" produces tailored lyrics with brutally honest texture. One of Hip Hop's most captivating and compelling journeys, Royce 5'9" is sure to blow away the crowds at this year's T in the Park.

As a young boy Stevie McCrorie had a traditional working class childhood, growing up on a council estate where everyone knew each other. Music was not a focus in the McCrorie household. Stevie spent half of his life playing in bands learning from the age of 15 and trying to catch a break. In 2012 Stevie took time out from his band "Stevie and the Moon" and focused on becoming a father to his daughter Bibi, focusing on a career as a Firefighter. He always knew deep down this was part of the plan: to provide a stable grounding then get back to his passion that is his own music. In 2015 he realised what that was when Stevie won the fourth series of BBC 1 talent search The Voice. He immediately became the show's biggest success story when his debut single – a cover of Maroon 5 frontman Adam Levine's Oscar-nominated track Lost Stars – hit No 6 in the official UK charts and No 1 in Scotland. He has now released his Debut album, Big World that reached No. 4 in the Scottish albums charts and is continuing to play headline shows, festivals and constantly working on new material for his next album.

The art of songwriting has been the driving force behind Teleman's second album Brilliant Sanity; the process of crafting the immaculate pop song, the dogged pursuit or the perfect hook. The result is an album that appears fastidiously and impeccably made, but also charged with joy. Tommy Sanders, their singer and guitarist, is an accomplished and distinctive lyricist with a passion for the music of words themselves. Together with his brother Jonny on synths, Hiro Amamiya on drums and Pete Cattermoul on bass they have honed themselves into a spectacular live act.

Tickets for T in the Park 2016 are on sale now from www.tinthepark.com and remain at the same price for a fourth year running. T in the Park's home Strathallan Castle is centrally located in the heart of the beautiful Perthshire countryside, approximately one hour away from both Edinburgh and Glasgow. Lying on an estate sprawling a massive 1000 acres, surrounded by beautiful woodland, the site has expanded for 2016 with the Main Arena now a quarter bigger in size and the campsite increasing by a larger amount.

Fans can secure their place in the Strathallan Castle crowd with T in the Park 2016 now on sale from www.tinthepark.com, www.ticketmaster.co.uk or 08444 999 990.

Pink Moon Camping is new to T in the Park 2016 and provides a unique camping experience, offering hassle free pre-pitched tents and a range of home comforts in an exclusive campsite – for more information and ticket prices, go to: www.tinthepark.com/tickets.

Boutique camping options in The Residence will also be available for those looking for luxury living at T in the Park – check out www.tinthepark.com/theresidence.

Wristbands for Refresh – the pamper parlour which offers access to salon standard hair washing facilities, hair straighteners, hair dryers, and premium showers and toilets – will also be available from www.tinthepark.com/refresh.

Further line-up details will be revealed in the coming months, and fans can keep up to date on the latest T in the Park news via www.tinthepark.com, www.facebook.com/tinthepark and by following on Twitter @Tinthepark, and on Instagram @tinthepark.