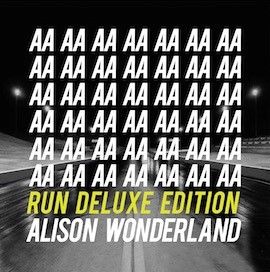 Alison Wonderland - Run (Deluxe Edition)
Breakthrough Australian DJ and producer Alison Wonderland today releases her RUN Deluxe Edition double album featuring official remixes by production figureheads Jimmy Edgar, Hermitude, Sinden and more. Sure to captivate Alison's fast growing global fan-base, the deluxe version of the album sees 12 stand-out producers reimagine tracks from the album. UK radio support has come from the likes of Mistajam, Annie Mac, Annie Nightingale, Diplo and Julie Adenuga.
When 'Run' hit #1 on both the iTunes Electronic and Billboard Electronic charts, as well as debuting top 10 in Australia, Alison then went on to sell out over 25,000 tickets on her Australian Wonderland Warehouse 2.0 tour before an incredible tour in North America.
After a hectic summer touring schedule including sets at Coachella, EDC Las Vegas, Electric Forest and Lollapalooza, Alison then returned home to Oz to headline the Listen Out Festival Tour.
Now, Alison Wonderland is embarking on her first European Tour. The vibrant Aussie talent is set to play 10 dates across three weeks in France, Germany, Italy, Denmark and the UK in November and December.
Alison's recent set for the Mixmag Lab in LA has recently clocked over 1 million views – the highest of any Mixmag Lab set to date!
'Run Deluxe Edition' Track listing:
PART 1
1. Run
2. U Don't Know (feat. Wayne Coyne)
3. Take It To Reality (feat. SAFIA)
4. Naked (Alison Wonderland x Slumberjack)
5. Carry On (feat. Johnny Nelson & GANZ)
6. I Want U
7. Games
8. One More Hit
9. Ignore
10. Back It Up (Alison Wonderland x AWE)
11. Cold
12. Already Gone (feat. Brave & LIDO)
PART 2
13. U Don't Know (Slander Remix)
14. U Don't Know (Vincent Remix)
15. I Want U (GANZ Flip)
16. I Want U (DJ Hoodboi Remix)
17. Games (Hermitude Remix)
18. Games (Jimmy Edgar Remix)
19. Games (Dre Skull Remix feat. Konshens)
20. Run (Jayceeoh & B-Sides Remix)
21. Run (Sinden Remix)
22. Take It To Reality (Justin Jay Remix)
23. Take it to Reality (Ritual Remix)
24. Get Ready (Tasker & Leaderboy Remix)
LIVE DATES
Tickets available from http://www.alisonwonderland.com.au/#shows
• Nov 20 Les Etoiles, Paris, France
• Nov 21 Vega. Copenhagen, Denmark
• Nov 26 Laundry, London, United Kingdom
• Nov 27 Gorilla Manchester, United Kingdom•
• Nov 28 SWG3, Glasgow, United Kingdom
• Dec 04 Crux, Munich, Germany
• Dec 05 Delirium Warehouse, Ferrara, Italy
• Dec 11 Bootshaus, Cologne, Germany