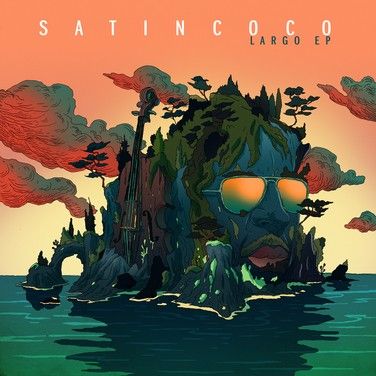 SATINCOCO – Largo EP
SatinCoco is the new French pop sensation. Behind this exotic name hides a Parisian duo composed of Jérémie Poirier-Quinot and Raphaël Coqblin. This new project comes as the achievement of the musical journey of these two musicians and singers who have been involved before in several music groups such as MiniOrchestra, while being renowned instrumentalists. They both come from the Conservatoire from which they have been awarded multiple times. They also proved their worth as soundtrack composers.
They are making their dream come true as musicians thanks to SatinCoco combining their instruments of choice – his voice for Jérémie and the violin for Raphaël – with a music from different horizons, soothing thanks to the beauty of its strings arrangements, elegance and harmony. We could say Al Green and Aphex Twin as much as Radiohead or Burt Bacharach have inspired them.
The SatinCoco project started in the beginning of 2013. It was quickly and strongly supported by Mr Gilles Peterson, the most famous London DJ on the BBC, who is well known for his capacity of discovering brand new talents. He invited SatinCoco to perform at his WorldWide Festival in July 2013 in Sète (South of France).
Even though the band was in its early stages, this concert made quite an impression that night among the audience thanks to its rich and generous music that perfectly fits between London Grammar's silky trip hop and Coldplay's lyrical pop, especially with their track "Another Morning". SatinCoco will release this strong song as part of its single along with its original song "SatinCoco" and its cover of "Sheep" by Gonjasufi.
Jérémie Poirier-Quinot and Raphaël Coqblin may be at the core of this project but SatinCoco can also be extended on stage: from six to fifteen musicians depending on the type of concert.
Following the release of their first EP at the beginning of 2015, the band will start a creation residency in the spring, in order to put together the future show on stage.