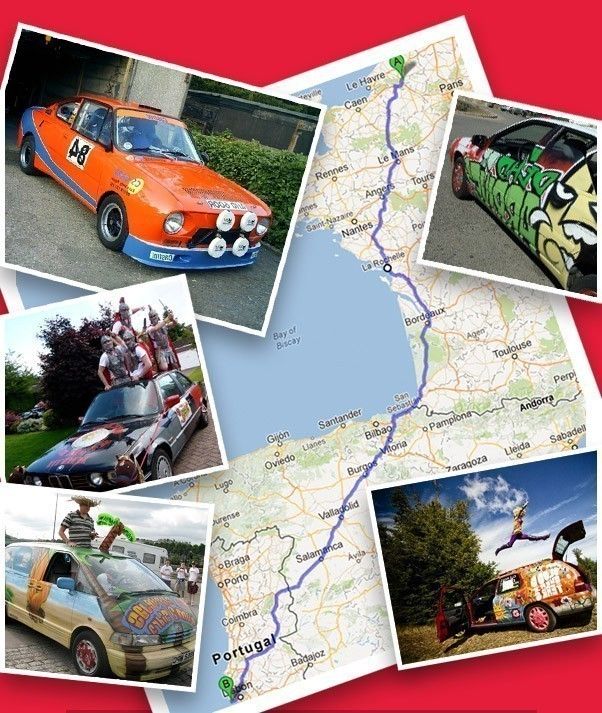 The Sucata Run 2014
The famous Sucata Run is back with a big and booming bang in 2014, meaning that four days of adventure, fancy dress and unthinkable automotive fun await as you drive and party your way through Europe's most vibrant cities, all the way to the stunning finish line in Cabo da Roca in Portugal!
This is the ultimate road trip for fans of non-stop sun, sea and sonic silliness so what are you waiting for? All you need to do is pull together your mates to form a team, buy a clapped out old banger for £250 or under and get to work decorating it with your own personal touch, fun flavours or crazy themes.
This year our theme is Music so there is a ton to go at in terms of how to decorate your wagon. Spray paint, fancy dress, props… all are fair game and the more eccentric the better, so make sure you really represent your chosen sounds in the most striking way possible as you drive through Europe. Then all you have to do is head for the start line and a summer holiday you'll never forget. It's here you will join the other Sucata teams for this five day adventure, point your battered bonnets in the direction of the finish line and drive off into the great unknown.
But what are the Sucata Rallies?
The Sucata Rallies are bargain basement road trips where you get to make your own crazy journey in an old banger across Europe and end up in beautiful Portugal. Our advice – expect the unexpected!
The route: Sucata Run – Portugal
Day 1. 21 Aug: Rouen to La Rochelle
Day 2. 22 Aug: La Rochelle to San Sebastian
Day 3. 23 Aug: San Sebastian to Salamanca
Day 4. 24 Aug: Salamanca to Cabo da Roca
Day 5. 25 Aug: (Optional) Time to relax on the beach
How much do I have to fundraise?
Each team is required to fundraise £1,000 for charity. Teams are asked to raise 60% of the minimum amount prior to the event to secure their place. All of the money you fundraise is going straight to charity, which means every penny you raise will make a difference.
Once you've registered, we will send you lots of helpful information on fundraising, and the London's Air Ambulance team is always on hand to give you advice and support along the way.
Who am I fundraising for?
Your team will be fundraising for London's Air Ambulance; the charity that delivers an advanced trauma team to critically injured people in London.
How do I register?
There's a registration fee of £200 per team to cover the cost of your Sucata T-shirt, welcome pack and support in the run up to and during the event.
For more info head to http://www.sucatarallies.com