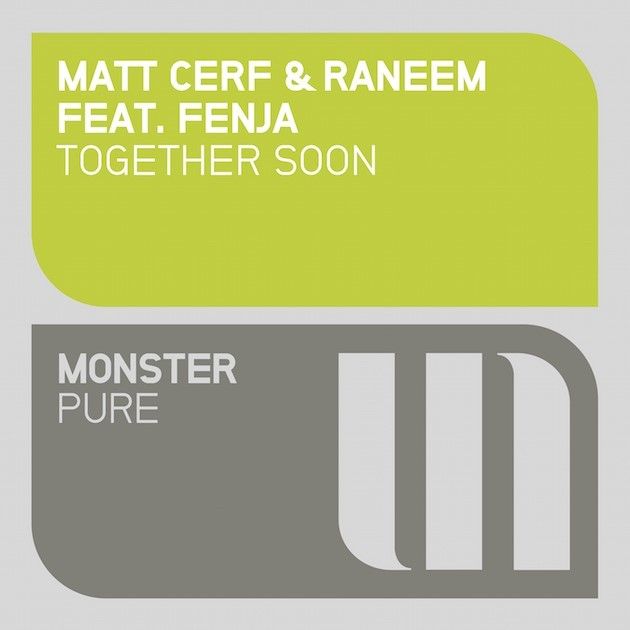 Matt Cerf & Raneem feat. Fenja - Together Soon
Monster Tunes warmly welcomes a fine vocal-led collaboration between three artists who need no introduction. Available now on Beatport and May 25 on iTunes, Matt Cerf & Raneem Feat. Fenja – "Together Soon" displays the creative bond between husband and wife Matt and Jaren Cerf, while delivering an extra dose of chemistry from fellow Canadian Raneem.
The original mix is a sweet, tranquil groove-driven ode loaded full of exquisite vocal lines and harmonies revealing a story of true love. Amply backed by a jackin' bass line, punchy beats and a pulsating pad melody, this is a refreshing production which breaks from the monotony! Fenja's pure angelic vocals echo through a progressive build up for an unforgettable drop that sends you into a euphoric trance state of mind. She's one of trance's most popular vocalists, but her low-key demeanor and talent is what makes her presence so special.
On the flip, Monster enlisted the fresh production talents of the enigmatic Avenue One. Having already nailed a remix for Aly & Fila which appears on the remix version of 'The Other Shore,' we knew that we had to get these in-form producers to give us another take on this sublime creation. Big bold beats, stabs and drops a plenty fill this alternative mix which is the perfect countermeasure to the rounded original mix.
Both Matt Cerf & Jaren (Fenja) rose to fame as part of 'Cerf, Mitiska & Jaren,' clocking up many a successful release across the Armada group. Canadian native Raneem has seen similar success having chocked up releases on labels such as High Contrast as well as the iconic ReBrand Records ran by fellow Canadian Max Graham.