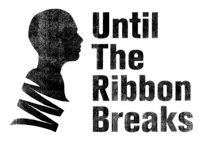 Until The Ribbon Breaks – Addicted To Love
Until The Ribbon Breaks, (UTRB) the three-piece band fronted by Cardiff native Peter Lawrie Winfield, announce their first London show at brand new intimate venue, Studio Spaces in East London on 2nd October.

Fresh from sell out support tours with Lorde, Phantogram and Delorean, and a month-long sell-out residency at the Bootleg Theatre LA, UTRB are an electrifying live proposition, and will soon return to their adoptive US home to support London Grammar on their 13-date North American tour.

Winning rave reviews from the likes of Pitchfork, SPIN and The Fader to name just a few, UTRB have steadily made their mark with their own brand of haunting pop alongside winning loyal fans, with their inventive re-imaginations of some of the hottest contemporary artists including The Weeknd, Sam Smith and Lorde.

Decidedly honest, their music embraces an old-school passion for intricate, clever writing and the slicing together of sounds, samples and lyrics; a skill demonstrated by debut track 'Pressure' as well as their first EP 'A Taste of Silver' which followed – each track with it's own self-produced video made by lead, Pete who originally studied film and has always maintained that music and film inform both each other, and the production process.

The band take their name from a golden era when mixtapes were still a 'thing' and the very definition of a romantic gesture, listened to again and again, until the tape wore out: Until The Ribbon Breaks.

UTRB recall how as youngsters you would "give a girl or a friend a mixtape to let them know what music you loved. It didn't matter if one song was De La Soul and the next was R.E.M. It was about the feeling the entire collection conveyed." Encapsulating that fresh, hauntingly powerful sound, Until The Ribbon Breaks will undoubtedly blow everyone away on their return to the UK this October.


DETAILS:
Thursday 2nd October
Doors 7.30pm
Studio Spaces, 1 Kingsland Rd, London E2 8AA

Advanced Tickets: £12.5 + bf (Limited capacity only 200)
www.londonwarehouseevents.co.uk