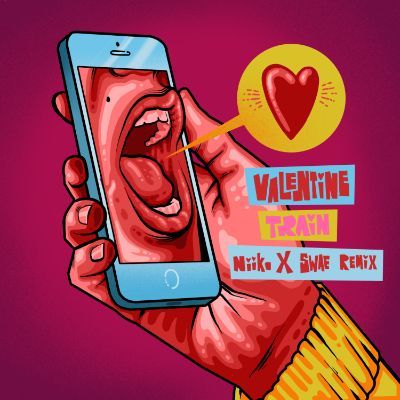 Niiko x SWAE Train - Valentine (Niiko X SWAE Remix)
Niiko x SWAE are thrilled to share their remix of Train's 'Valentine' this Valentine's Day season. The bubbly remix came about after the duo struck up a relationship with Train front man Pat Monahan.

"Working on this remix for Train has been one of the most incredible opportunities we've had in our career so far. We're both huge fans of Pat's music, so to be able to remix their song 'Valentine' and put it out on Valentine's Day is very special for us." – Niiko x SWAE

The 'Valentine' remix comes quickly after the release of their single 'Let Them Go (feat. Rama Duke).'Laced with the vocals of Californian singer/songwriter Rama Duke, 'Let Them Go' relies on Niiko X SWAE's sweeping melodies and creative basslines, with the duo famed for their refreshing new take on the future bass movement.

Niiko X SWAE have seen their hits reach the Top 20 of Billboard's Dance Club Chart ('Flavor' #7 peak, 'Run This Town' #13 peak), amassing backing from some of the biggest names in the industry in the process, including Nicky Romero, via his Protocol Radio show. With previous production 'Flavor' also receiving airplay on Hardwell's Revealed Radio.

The Southern California duo were recently announced as a 2019 resident performer at Hakkasan Las Vegas. They made their debut performance on January 25th with EDM heavy hitter Steve Aoki and will be back at the Las Vegas hotspot on Saturday, March 9th.

It's Niiko x SWAE's live show that really sets them apart from their peers. Filled with ambient builds, creative bass lines, and the occasional bass anthem hit, Niiko x SWAE are known for their slow building, but explosive sets. They delivered their powerful production prowess to various stages in 2018, including Breakaway Music Festival Dallas, Art of the Wild at the Wynn, and The Beach Festival OC.

'Valentine (Niiko x SWAE remix)' is available now.