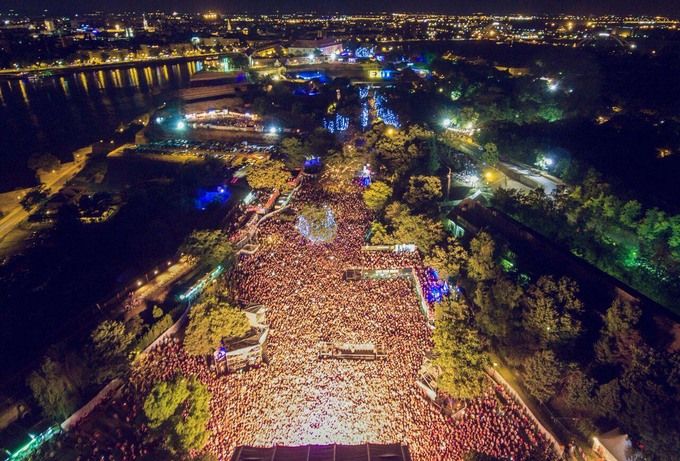 EXIT once again voted Best Major Festival at European Festival Awards!
EXIT was once again crowned 'Best Major Festival 'at the 9th annual European Festival Awards, that took place at Groningen's De Oosterport in The Netherlands last night.
EXIT won the Grand Prix in fierce competition comprising of over 350 festivals in 35 countries, that included all the major players in Europe. EXIT has been shortlisted in record-breaking three categories including the main 'Best Major Festival' award, 'Promoter of the Year' and the 'Take a Stand' award for social activism. All the other festivals organized by EXIT team such as Sea Dance in Montenegro, Sea Star in Croatia and Revolution in Romania were also shortlisted in their respected categories, the best mid-sized, the best new and the best small festival. The artist who won the hearts of the audience at EXIT in 2017, Rag'n'Bone Man, was voted Newcomer of the Year.
EXIT Festival founder, Dušan Kovačević, was overwhelmed saying: "It is a truly remarkable success to win the most important festival award in the world again after only four years, let alone in the most important category, among the greatest European and world festivals with budgets 10 times greater than ours. EXIT Summer of Love 2017, comprising four festivals in Serbia, Croatia, Montenegro and Romania, with over 350,000 visitors, will have its place in the festival's history. An exceptional year is behind us, and for the year in front of us we have even greater plans. We are starting the new winter festival at the Olympic mountain in Bosnia, while EXIT is preparing its best edition in its almost 20-year history. This award will be a driving force to excell in all aspects!"
EXIT's competition for the award were other European festival giants, such as Tomorrowland, Sziget Festival, Lowlands and Wacken Open Air. This is the second time EXIT has been voted Best Major Festival at European Festival Awards since they were established in 2010, while every year it is shortlisted in this category. EXIT won its first Best Major Festival award at European Festival Awards in 2013, while in 2007 it was voted the Best European (overseas) festival at the British Festival Awards. Winners are chosen by audiences from across Europe, together with an expert committee with standout individuals from the festival industry. The list of winners can be found at the official website.
This year, EXIT Team presents the greatest festival undertaking so far, dubbed EXIT Freedom 2018, comprised of five festivals in five countries. Lead by the officially Best Major Festival in Europe, EXIT, the one to start things off is Festival 84 on Jahorina. What follows are Sea Star and Revolution as an introduction for the greatest gathering at the location of the title defender, Petrovaradin fortress. The end of the summer is reserved for Sea Dance, who won the best festival up to 40,000 visitors three years ago. Apart from EXIT, Sea Dance, Sea Star and Revolution were in the final of their respective categories.
EXIT Freedom 2018 presents 5 festivals in 5 countries!
After the EXIT Summer of Love gathered the four festivals in a row last summer, EXIT Freedom 2018 will represent an even greater festival achievement, putting together five festivals in five countries: EXIT, Festival 84, Sea Star, Revolution and Sea Dance. Tickets are sold via exitfest.org, while the official tourist agency of the festival, exittrip.org, offers tourist packages containing tickets, as well as accommodation and transport options!
EXIT Festival 2018 will take place from 12-15 July 2018.
www.exitfest.org