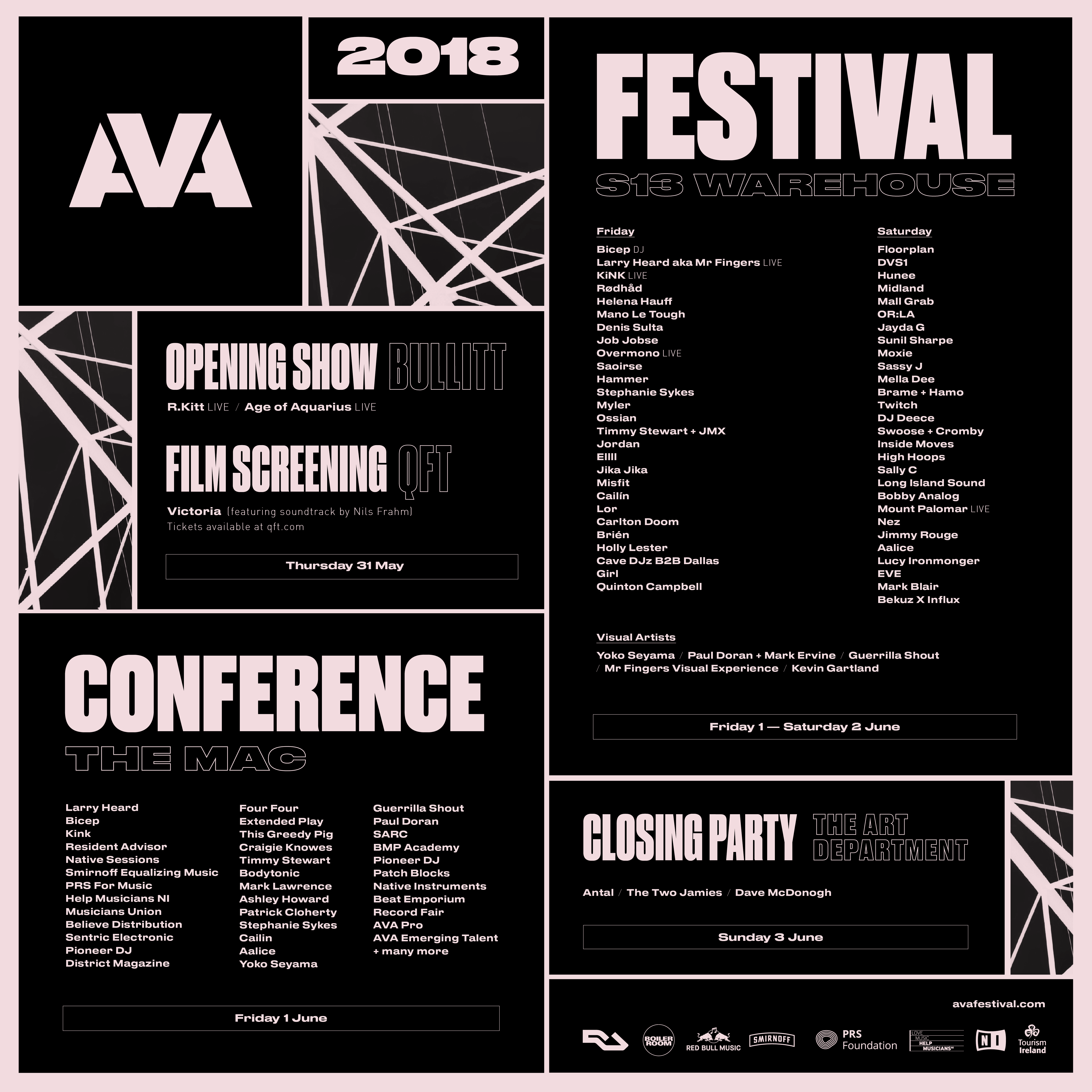 Five week countdown to AVA Festival and Conference
AVA FESTIVAL AND CONFERENCE 2018
1st to 2nd June 2018, Belfast
LAST CHANCE FOR WEEKEND TICKETS FROM £75
Five week countdown to AVA Festival and Conference with Larry Heard (Live), BICEP, DVS1, KiNK (Live), Rødhåd, Helena Hauff, Denis Sulta, Mall Grab, Saoirse, Or:la, Boiler Room and more
It's the five week countdown to Belfast's brightest and boldest – AVA (Audio Visual Arts) Festival and Conference is around the corner. Marking it's fourth year in a brand new rave-ready warehouse location between 1st and 2nd of June, AVA 2018 is part educational and inspirational conference and part raucous weekend featuring groundbreaking names from electronic music. Also – details of AVA's extended programme have just dropped, including a Sunday session with Rush Hour's Antal, a Thursday warm-up with live performances from R. Kitt and Age of Aquarius, plus a film screening of Nils Frahm's 'VICTORIA' for those looking to extend the weekend. AVA are also proud to add four visual artists to the festival programme with Japanese artist Yoko Seyama, as well as creative studio Guerrilla Shout, Paul Doran and Mark Ervine all showcasing installations across two days of the festival. Final tier weekend tickets are £75, and with flights still available from most major UK cities for less than £40, it's the last chance to get down with the Belfast craic. Big big fun in a city like no other, that won't break the bank.
– CONFERENCE –
Friday 1st June sees the AVA conference offering hands on interaction with industry leaders including Native Instruments and Pioneer DJ. Leading the proceedings with a headline Keynote,Larry Heard delves into the creative process behind his brand new album, 25 years on. Catch a live masterclass from the wizard, KiNK, while panels, workshops and more offer provide an exploration into the new wave of Irish talent and their global counterparts, with Bicep, Timmy Stewart, Native Instruments and more all onboard.
– FESTIVAL –
In it's new dystopian home a disused B&Q warehouse, three stages become four. Larry Heard makes his NI debut with a live headline show, plus expect a sounds spanning hard-hitting steel lined techno, acid jams through to infectious house from Helena Hauff, Rødhåd, Timmy Stewartand more. Local heroes rep for Belfast, with Holly Lester and Quinton Campbell making their Boiler Room debut alongside Job Jobse, Mano Le Tough plus rave mavericks LumenxDSNT host the Smirnoff stage, with Myler, Ossian, Stephanie Sykes and more in tow. Saturday is about dancefloor heat with revered Rush Hour dons Hunee, Sassy J, and grassroots talentsSwoose and Cromby, Sally C and Bramo and Hamo among the names set to storm the Loading Bay. Expect vibes from tastemakers Jayda G and Moxie, while dancers can enjoy Midland in the infamous Boiler Room following Sunil Sharpe, Aalice and more.
– EXTRA ACTIVITIES – THURSDAY / SUNDAY –
For those keen to extend the weekender or take some more time to experience Belfast itself, AVA will now host an opening screening of arthouse film 'Victoria' at Queens Film Theatre on Thursday 31st May. The film scored by Nils Frahm is a perfect cultural start to the weekend. Warming up for the main event, catch live performances from R.Kitt and Age of Aquarius at the Bullitt Hotel. Also, for those wanting to keep the fire burning there's a closing party with Rush Hour kingpin Antal on Sunday 3rd June.
– AVA 2018 –
2018 is set to be AVA's grandest yet. Expect a jaw-dropping production, a carefully curated, diverse and exciting line-up and an inimitable crowd. From the conference to the main event – there's something for every one between Main Stage, Boiler Room, Red Bull Music Academy, and Smirnoff's brand new fourth stage. With less than 5 weeks go, don't sleep on full AVA weekend tickets from just £75, with all previous tiers selling out in record time and flights for under £40 return from London. Grab a ticket now.
A city with a spirit like no other, AVA is the ideal chance to experience the spirit of Belfast first hand, a culture filled city break that won't break the bank, with budget flights from UK / EU airports, plus an abundance of accommodation from hotels, hostels and Air BnB's just a stones throw from the site, it's an ideal, culture packed weekend escape. For flights, travel and accommodation, please head to AVA Festival website.