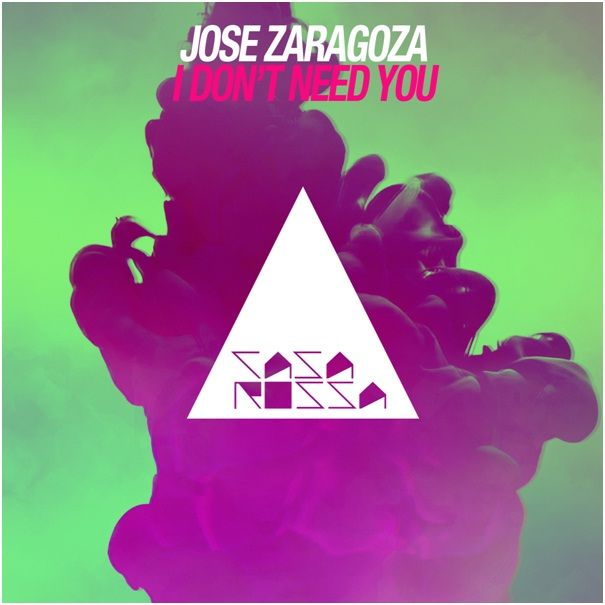 Jose Zaragoza - I Don't Need You
One of Chicago's most acclaimed music exports, Jose Zaragoza has been making waves within the electronic music industry in recent years, having put his signature on top projects like: 'Shooting Star Vol. 2', 'Beat This', 'So Happy' and 'Start Of A Revolution' amongst numerous others. He is now back to form this month with his latest wonder 'I Don't Need You', released on the 12th of October, 2015.
Jose Zaragoza's unique blend of Tech, Disco and Funk into his signature take on Chicago style House – passed down to him by legendary mentors such as: Tony Rodriguez and Burt Blanchard – has seen him land extensive support and recognition from A-list spinners such as: Seth Troxler, DK Watts, Eddie Richards, Franco Bianco, Gee Moore, Ian Carey, Joseph Capriati, Luciano, Mannix, Marques Wyatt, Carlos Sanchez, Miguel Campbell, Paco Osuna, Patrick Lindsey, Tiago Fragateiro, Amine Edge and Vanilla Ace to name a few. Through his consistent top-notch quality, Jose Zaragoza has also managed to land multiple deals with renowned labels like: Select Case, Restore Music, Scrambled Recordings, Le Bien Et Le Mal Recordings, Achterdeck, Walkin' Rhyth'm Records, Doppelgaenger, ADSR Records, High Pro-File Recordings, FineGrind Audio, Musica Diaz / Senorita, Anybody Music, Mood Indigo and his own Deep Hype Sounds Records amongst others.
Along the years Jose Zaragoza has made his way onto the charts on several occasions and he's now looking to build up his chart-topping legacy with his freshest track 'I Don't Need You'. Infused with House and Deep House flavours, 'I Don't Need You' is blessed with subby bass-lines, infectious grooves and a catchy, soulful vocal that spices things up. Memorable, lead-synth accompaniments lift the melodic elements within this single, melding the instrumentals together to create the ultimate dance-floor anthem. Jose Zaragoza has truly shown his mastery by taking complete control over dynamic and energy levels, devising every section and sound to perfection.
'I Don't Need You' marks Jose Zaragoza's debut on Bologna based label Casa Rossa. The brainchild of esteemed DJ and producer Gary Caos, Casa Rossa has been a trend-setter in House, Tech House, Deep House and EDM music for many years, with the help of legendary artists like DJ Dan, Robbie Rivera, Richard Grey and label boss Gary Caos himself. Boasting numerous chart accomplishments and being one of Beatport's Top 10 House labels in 2014, Casa Rossa has managed to gain a lot of ground in a relatively short period of time. Licensed by the world's biggest imprints and supported by heavyweight DJs worldwide, the Italian label is surely on the right track for more successful years ahead and Jose Zaragoza is surely the right artist to keep their hit streak rolling.
Preview 'I Don't Need You' on SoundCloud
https://soundcloud.com/casarossa/cr1558-jose-zaragoza-i-dont-need-you
Available on Beatport
http://pro.beatport.com/release/i-dont-need-you/1628170
Jose Zaragoza Online
http://www.djjosezaragoza.com
https://www.facebook.com/Jose-Zaragoza-168821033143839
https://twitter.com/djjosezaragoza
https://soundcloud.com/josezaragoza
https://www.youtube.com/channel/UC5dcnFGMbsmjYwfOvBWLRtw
Casa Rossa Online
https://www.facebook.com/casarossamusic
https://twitter.com/casarossamusic
https://soundcloud.com/casarossa
https://www.youtube.com/user/casarossalabel