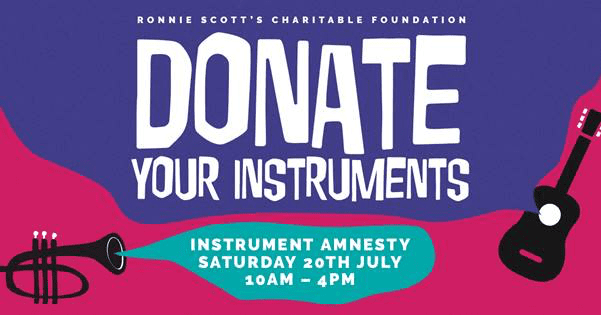 James McVey, Jools Holland and KT Tunstall kick off the Ronnie Scott's Instrument Amnesty!
The legendary Ronnie Scott's Jazz Club has launched its third biennial Instrument Amnesty through its charitable arm, the Ronnie Scott's Charitable Foundation. The amnesty will take place on Saturday 20th July.
Members of the public are encouraged to donate musical instruments and equipment, which are then distributed to music programmes working with young people in challenging environments in the UK and overseas. Donors are then given a tracking number so that they can stay informed of the final destination of their donations.
Since 2015, the initiative has donated 350 instruments to young people to help support their music education. Beneficiaries have included Play for Progress in Croydon, which delivers therapeutic and educational arts programmes for child refugees across London; Kinetika Bloco, a performance group in Tulse Hill which engages South London Youth with creative arts; and In Place of War in Manchester, which delivers arts programming for young people living in war-zones.
In previous years, the Instrument Amnesty has been supported by the likes of Sam Smith, Al Jarreau, Lalah Hathaway, Nitin Sawhney and Norah Jones, and some big name have already been confirmed for 2019.
This year's campaign is kick-started by composer, pianist, bandleader and broadcaster Jools Holland OBE, who will be part of a special call-to-action video to launch the campaign. Two-time Grammy award-nominated trumpet playerChristian Scott aTunde Adjuah is donating a Bach TR500 student trumpet.  He is joined by James McVey, lead guitarist of the British pop rock band The Vamps, and award-winning singer-songwriter KT Tunstall, who will also be donating instruments.
Other musicians who are donating instruments to the amnesty include Blue Lab Beats, Rudi Cresswick, Project Karnak, Femi Koloseo from Ezra Collective and João Caetano.
Fatine Boumaaz, Head of Ronnie Scott's Charitable Foundation, said:
"Owning your own instrument is key to becoming an accomplished musician; unfortunately, this is not a cost all families and schools can afford. Our initiative helps tackle this issue and we are glad to help support young aspiring musicians in their musical journey."
The Vamps guitarist and I'm A Celebrity Get Me Out of Here star, James McVey, said:
"I'm really excited to donate this guitar. In this crazy world of politics and technology I think it's important to nurture passion for music. I hope it goes to a great cause."
2019 beneficiaries are set to include The Nucleo Project in North Kensington, a music programme that uses musical excellence as a way of enriching the lives of young people; Music in Detention, which brings together immigrant detainees with professional musicians to create and enjoy music; Mount Merrion Music Academy in Belfast, which offers accessible and affordable music tuition to the local community; and Parkwood Primary School in West Yorkshire.
International beneficiaries for 2019 will also include Brass for Africa in Uganda and Music Art Society in Nepal, which provide free musical tuition to the most vulnerable children, alongside DCMA in Zanzibar, which is the first and only music school on the island.
Members of the public who would like to donate a musical instrument to the 2019 Instrument Amnesty should ensure their instrument is in good condition before dropping it off at Ronnie Scott's Jazz Club (47 Frith Street, Soho, London, W1D 4HT) on Saturday 20th July from 10 am to 4pm.
For large instrument donations or for more information, please contact Fatine Boumaaz on [email protected]. All instruments are welcome, from piccolos to double basses!
Alongside the institution's important charity work, Ronnie Scott's Jazz Club will also celebrate its landmark 60thbirthday in 2019 and will be commemorating the occasion with several birthday events throughout the year, including The Ronnie Scott's 60th Anniversary Street Party which will coincide with this year's instrument amnesty on 20th July. Donors will be treated to al-fresco jazz, champagne, street food and fun for all the family from 12 noon until 6pm. Also on the 60th anniversary calendar is A Night at Ronnie Scott's: 60th Anniversary Gala at The Royal Albert Hall, which will take place on 31st October.