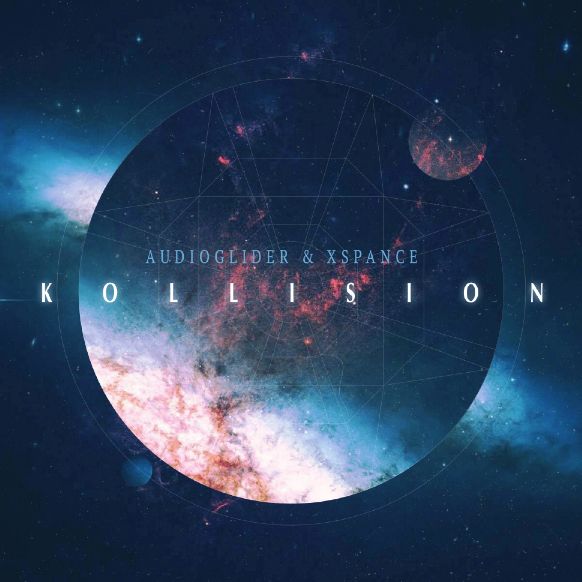 Audioglider & Xspance - Kollision LP
Section Records welcomes back two of its finest artists for an exciting new collaborative album project. Audioglider & Xspance (aka Roberto Sodano and Myles Webb) were perhaps always destined to work together, having journeyed on a similar musical orbit on the Internet – especially on the deep and wide-ranging audio tapestry of Soundcloud, where their paths first crossed. Both will no doubt already be familiar to those with a penchant for electronic music at the more eclectic end of the creative spectrum.
While collaborating on an EP project a year ago, Roberto and Myles enjoyed the creative process so much, that they started rapidly swapping music files to see how far they could push their combined energies, culminating in an incredibly productive purple patch in late 2016. Over the following months, these sessions came together to form 'Kollision' – a positive clash of musical styles and influences, fusing together naturally and effortlessly, crossing musical, emotional and melodic boundaries and telling a beautiful sonic story in the process.
This decidedly dynamic duo, marry their unique sounds and deft production skills to perfection throughout this 10-track album. Whether it involves getting chilled, reflective, and diving deep into hypnotic horizontal territory with the album's opening title track and 'Bounce'; becoming wonderfully moody and introspective on 'Ghostly Corners'; or soaring with melancholic beauty on 'Snopoke'. Their diverse musical palette cleverly blends experimental and anthemic elements within the pulsating 'Glas Herz' and 'Snarky'; and delights with the head-nodding, analogue synth chug of 'Dammerung'. Audioglider & Xspance are also not shy of upping the tempo and laying down some infectious, hip-swinging grooves to explore nu-disco-tinged territory ('Dappled' and 'Bedazzled'); or creating an enchanting Balearic beauty with their album finale – 'Appearing Sun'. This is heart-warming music that demands your full attention, an album featuring a diverse and engaging collection of tracks that can be revisited time and again.
Audioglider has already had a long adventure navigating through electronica's many phases – from warm and fuzzy machine music, through to the strobe-lit hypnotica of the dancefloor; and on to explore laidback shoegaze of the Schnauss persuasion. He's already released two albums ('Accidental Beauty' 2014, 'Subaquamarine' 2016) on Tripswitch's excellently eclectic Section Records https://section.bandcamp.comgarnering much critical acclaim, as well as producing countless remixes and EPs that continually blur restrictive genre boundaries. Detailed beats and basslines, spacey atmospherics, and big melodic hooks (as highlighted throughout 'Kollision') are a common musical theme for Audioglider, whether he's aiming for the armchair or the dancefloor.
Xspance is inspired by film scores and uplifting music that tells a story. He's a huge fan of artists like Jon Hopkins and Ulrich Schnauss – to name but a couple of influencers. His musical style is laidback, detailed and melodic, with echoes of shoegaze and nugaze, basing his sounds variously around the progressive, electronic and ambient axis. In addition to his previous, deeply emotional 'Melodyheart' (2016) album on Section Records, he's involved with a broad spectrum of labels and artists, releasing on Stripped Records, Just Music, Stellar Fountain, Hydrogen, NYLO, Touched, Traumwelten, BC2, ant-zen, & Mirabilis Records.
It's been quite a journey so far for both artists and while they have their own projects on-going with more albums and singles scheduled into 2018, their collaborative 'Kollision' celebrates finding a particular space and time where complementary forces align and conspire to create something unique, inspiring and timeless.
Buy:
Beatport: https://www.beatport.com/label/section-records/17851
Artist Info:
https://soundcloud.com/audioglider
https://www.facebook.com/audioglider
https://soundcloud.com/musicmilo
https://www.facebook.com/musicmilo
Label Info:
https://section.bandcamp.com
https://twitter.com/sectionrecords
https://soundcloud.com/sectionrecords
https://www.facebook.com/sectionrecords
https://www.beatport.com/label/section-records/17851