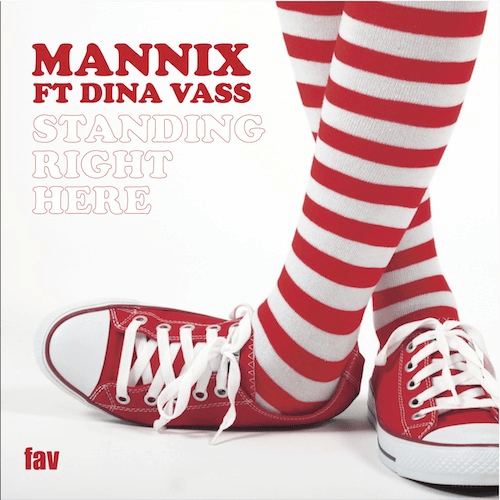 Mannix featuring Dina Vass 'Standing Right Here'
Austrian DJ/Producer Mannix unleashes an amazing cover version of the beautiful Melba Moore disco classic 'Standing Right Here' for Favouritizm. Enlisting the help of soulful star Dina Vass, who delivers a shimmering vocal performance, Mannix puts his own outstanding spin on the song, all recorded with live instruments, treating us to a feast of stunning brass and sweeping string performances to shimmy, shake and get down to!
Mannix, born 1974 in Vienna has been into Dance music ever since 1986 when he bought his first records and finally started Djing 1990. He's been one of Vienna's pioneers for good house music alongside Austrian legends Alfi Budin, Lorenzo Al Dino, Peter Pan or to name but a few. After finishing school he started working behind the counter at Virgin Megastores Vienna to finance his studies at University. A few years later he got Dance buyer, supervisor and finally sales manager for Virgin Megastores Austria and has established a very good and big vinyl department that is seen as an own record shop by customers. In 2001 he left Virgin to concentrate on product management and marketing at Planet Entertainment/Austria. In late 1999 he formed Whipped Creem together with DJ Krismas and DJ Wax to move to the next level. From this time on Mannix has been a producer, promoter and music journalist (DJ Magazine Hype Chart contributor, Tilllate Magazine House Reviewer) and has released on labels like AM:PM, Go Beat, Generate Music, Soundmen On Wax, Polydor or V2. After splitting up with Krismas, Mannix and Wax formed a new project Double Jackpot, Which stood for unique funky house music in its production and DJing guises.
Together WaX and Mannix run the successful radio show 'Crystal Radio' on underground station Play.FM.
From 2012 on Mannix started workin' on solo material under his own name, working together with long time studio mate, Albert Koler. A live instrument driven album is on the way as well as some blasting remixes for various international projects.
Dina Vass is a spirited and accomplished UK artist. Somehow, you know that she could chew you up and spit you out ­ albeit in a cool and sassy, soulful-diva kind of way – just as confidently as she uses her tremendous vocal strengths to enchant and transport us to the centre of some faraway, house music ether. Dina has worked with many dance producers including Mannix right back in 2004 under his Whipped Creem guise on 'Now I'm Free', to the Hoxton Whores' 'Come Be With Me'. Her own solo material includes 'Waiting For You' and the massive single ,'The Love I Have For You', produced by Full Intention on Go Beat! Which also featured a remix from Whipped Creem, no less!
TRACKLISTING
1 Standing Right Here – Mannix Crystal Disko 12″
2 Standing Right Here – Mannix Crystal Disko Instrumental
3 Standing Right Here – Mannix Crystal Disko Radio Edit
'Standing Right Here' will be released on Traxsource promo September 30th / full release October 28th 2013 on Favouritizm.