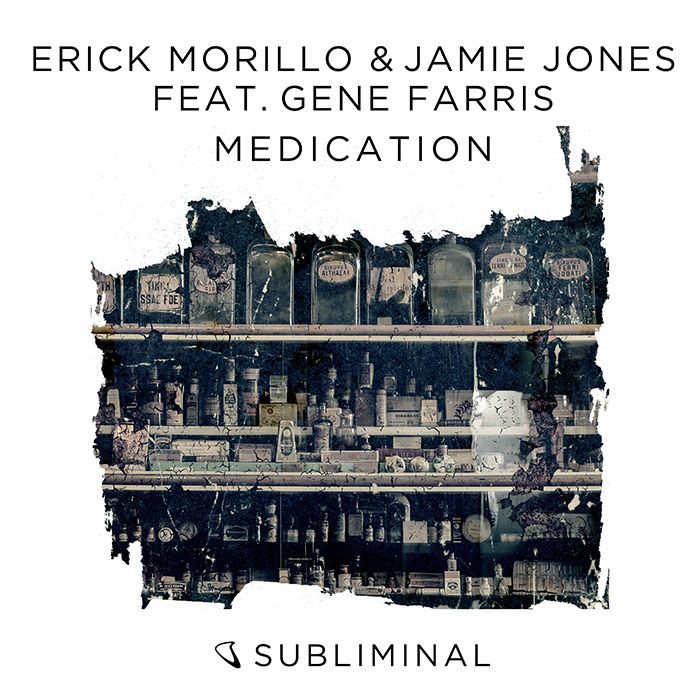 Erick Morillo & Jamie Jones ft. Gene Farris - Medication
In a pairing likely to excite fans of house music across the globe, Erick Morilloand Jamie Jones have collaborated on a new single, 'Medication'. The two dance music innovators have enlisted the help of respected Chicago mainstayGene Farris on the vocals for the new track, which has been released today on Morillo's Subliminal Records.

'Medication' features a grooving bassline, the provocative eponymous vocal sample and a breakdown primed for the huge gigs Erick and Jamie are both known for playing. It's an eagerly anticipated release, with Morillo teasing the track via a clip on Twitter and hinting "bring on Miami Music Week, because Jamie and I will be playing this at all our events".

Erick Morillo is a truly multi-talented artist; since starting to DJ at the age of 11, he's become a platinum-selling producer, held an incredible 13-year-long residency at Pacha Ibiza, hosted an MTV TV series, and DJed at some of the most historic clubs in the world – the Hacienda, Cream at Nation, The Cross and Turnmills in the U.K. alone. His legendary label and event series Subliminal has now been running for 20 years, and continues to redefine house music today. Erick also recently relaunched sub labels SONDOS and Subliminal Soul.

Originally hailing from Wales, Jamie Jones has become synonymous with the sun-drenched sounds of Ibiza and L.A.. As head of the game-changing label Hot Creations, he has overseen and released some of the biggest dancefloor hits over the past half decade. Jamie's Paradise party series is one of the biggest success stories in the scene, with every party featuring festival-sized lineups and selling out to a diverse crowd each week throughout summer at the DC10-based Ibiza residency. The party has confirmed its return to the White Isle in 2018, marking an incredible seventh year of the residency.