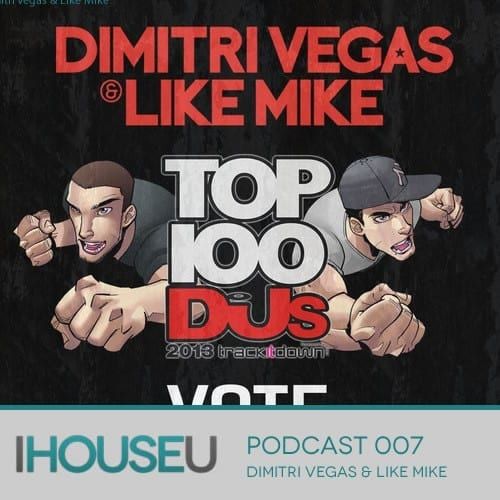 Podcast 007: Dimitri Vegas & Like Mike
In what has already been an incredible journey so far, for Dimitri Vegas & Like Mike, 2013 has indisputably been their year. From huge Beatport Top 100 Chart #1sMammoth and Turn It Up to what was officially the most played track during Miami Music Week 'Wakanda', to recent smash hit 'More' and the incredible Tomorrowland Anthem 'Chattahoochee', and not forgetting what is probably the most hotly anticipated unreleased single of the last two years 'Ocarina', Dimitri Vegas & Like Mike have been an absolutely unstoppable international force. From the North Americas down to South America, across Europe, Africa, Asia and Australasia, their live act has brought the house down in the biggest clubs and festivals on the planet, earning them millions of fans in the process. Working around the clock, the pair even found time to launch 'Smash The House Radio', 60 minutes of madness and mayhem bringing the freshest and most ferocious electronic music to the masses each and every week.
To celebrate, and to remind you of some of the most explosive, jaw-dropping moments of their year so far, rewind with Dimitri Vegas & Like Mike as they take you on an incredible recap of 2013.
And once the video is done, sink your teeth into this exclusive mix available for free podcast download and providing an absolutely perfect showcase of why the brothers from Belgium have evolved into one of the most in-demand acts anywhere in the world. This very special edition of Dimitri Vegas & Like Mike's Smash The House Radio not only features their greatest hits but also brand new music due for release this Fall. Download it, share it, set your seat belt to 'tight' and hold on for your life as this most enigmatic and explosive duo take you on one hell of a musical ride.
TRACKLISTING
01. Dimitri Vegas & Like Mike vs Sander Van Doorn – Project T
02. Dimitri Vegas & Like Mike – Tomorrowland Anthem 2012 ( Dimitri Vegas & Like Mike vs Yves V Mainstage Remix )
03. Dimitri Vegas & Like Mike vs Tujamo & Felguk – Nova ( Instrumental Mix )
04. Dimitri Vegas & Like Mike ft Wolfpack – Ocarina ( BodyBangers Remix )
05. Dimitri Vegas & Like Mike – Wakanda ( Original Mix )
06. Ferry Corsten – Rock Your Body Rock ( Dimitri Vegas & Like Mike Mainstage Remix )
07. Major Lazer ft Flexican, FS Green & Busy Signal – Watch Out For This ( Bumaye ) ( Dimitri Vegas & Like Mike Tomorrowland Remix )
08. Dimitri Vegas, Like Mike & Yves V – Loops & Tings ( Original Mix )09. Dimitri Vegas, Like Mike & GTA ft Wolfpack – Turn It Up ( Original Mix )
10. Dimitri Vegas, Like Mike & JunxterJack – Turn It Up ( Original Mix )
11. Wolfpack ft Coco Star – Miracle ( Dimitri Vegas & Like Mike Remix )
12. Dimitri Vegas, Moguai & Like Mike – Mammoth ( Original Mix ) w/ AJ & SA – NO BEEF Accapella ( Hardwell Smash-Up )
13. Laidback Luke & Dimitri Vegas & Like Mike – MORE ( DOD Remix )
14. Dimitri Vegas, Like Mike & Regi – Momentum ( Michael Calfan Remix )
15. Dimitri Vegas & Like Mike – Chattahoochee ( Tomorrowland 2013 Anthem )
16. Dimitri Vegas, Like Mike & Coone ft Lil Jon – Madness ( Oh Snap ReMix )
17. Dimitri Vegas, Like Mike & Coone ft Lil Jon – Madness ( Original Mix )
18. Steve Aoki & Angger Dimas vs Dimitri Vegas & Like Mike – Phat Brahms ( Original Mix )
19. Steve Aoki & Angger Dimas vs Dimitri Vegas & Like Mike – Phat Brahms ( Coone Remix )