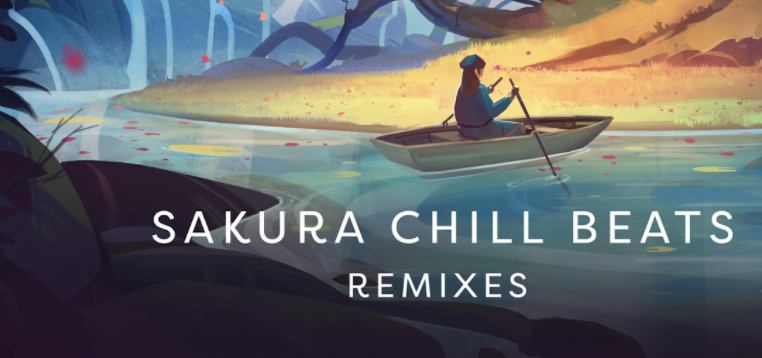 Remix By Chime of ASCA's 'Carpe Diem' Via Sakura Chill Beats
SONY Music Japan's 'Sakura Chill Beats' YouTube channel returns to the release radar with its tenth episode, featuring British talent Chime's rework of anime series' 'The World Ends With You' ending theme, 'Carpe Diem' by ASCA. It follows up previous remixes of anime and video game themes by the likes of Corsak, RetroVision, Slushii, Outr3ach, and more. Out now via SONY Music Japan, Chime's remix of ASCA's 'Carpe Diem' is available to listen to across all streaming platforms.
Chime's rework kicks off with the introduction of a guitar and vocals before being quickly accompanied by rising tension and textures. The buildup erupts into a high-octane sonic space, rife with hard-hitting bass drops and melodic instrumentation. Chime's rendition of 'Carpe Diem' takes the J-rock sensibilities of the original and transforms it with classic drum & bass production elements and a more spacious atmosphere. The enthralling remix engages listeners with its propelling soundscape paired with ASCA's lyricism, showcasing the prowess of Chime. The latest addition to the 'Sakura Chill Beats' YouTube channel continues to highlight expertly and remarkably reimagined themes.
To go beyond the 'Sakura Chill Beats' YouTube, be sure to check out the channel's weekly updated official Spotify playlist featuring curated selections from the remixer and original artists. This week, immerse yourself in sounds hand-selected by Chime and ASCA.
ABOUT CHIME — Chime is a DJ and producer from Leeds, England. He initially began producing drum & bass music, but soon shifted to specialize in a more melodic, dubstep sound, inspired by his love of video game music. His newfound speciality found Chime popularity amongst other DJs and producers such as Xilent, Seven Lions, Virtual Riot, and others. His talent garnered him support and releases under esteemed labels such as Firepower Records, Monstercat, Disciple, Subsidia, and more. More recently, Chime began his own imprint, Rushdown, and has gained millions of streams on Spotify, making him an artist to watch for the years to come.
"This remix opportunity was such a pleasant surprise. It came out of nowhere! I was aware of ASCA through my wife's love for the Sword Art Online anime and her songs 'Resister' and 'Selfrontier'. I've always been deeply inspired by Japanese culture through my strong Nintendo music influence and I'm very glad to be further entering the Japanese spotlight with these kinds of remixes.
In early 2020 I played a few shows in Japan alongside Xilent – both Osaka and Tokyo – they were honestly some of my favourite shows I've ever performed. The Japanese audience was ready for anything and responded with incredible energy to every track I played.
This remix feels like a combination of the new and old Chime styles with a heavy dose of J-pop/rock flavour. I hope my Japanese fans especially love it!" – Chime
ABOUT ASCA — ASCA debuted in 2017 with 'KOE', the ending theme for the second season of the TV anime 'Fate/Apocrypha'. This gathered her much attention, resulting in her release of the opening theme of the second season of anime 'Sword Art Online Alicization' in 2019. In January 2021, ASCA released her album 'Hyakki Yakou', sporting her talent as an artist with delicate yet magnifying high notes. ASCA can be supported through her official fan club 'ASCA Music Entertainment', in which she pretends it is an imaginary company that she is president of.
ABOUT SAKURA CHILL BEATS — SONY Music Japan's 'Sakura Chill Beats' YouTube channel is the newly-launched main source for official anime theme songs from some of the biggest names in electronic dance music currently. The newly rebranded channel launched on Saturday, June 19th with Retrovision's remix, and perfectly coincided with the Japanese broadcast of hit anime series My Hero Academia, a groundbreaking show now in its fifth season that chronicles the life of a superhero, Deku, as he consistently faces conflicts with fellow classmates at U.A. High School.
The first of its kind to officially upload remixes from artists such as this, it joins the ranks of fellow channels such as Trap Nation and MrSuicideSheep, both of which also feature EDM-related content alongside imagery from popular anime series. The channel has already featured Slushii's remix of Cö Shu Nie's 'Give It Back', the second ending theme to Jujutsu Kaisen, earlier in the year, and has its sights set on continuing this streak of officially-remixed anime opening and ending theme songs from renowned EDM titans.
The story of Sakura Chill Beats begins with a young girl, traversing her way through her anime world in search of friends. Humans can no longer inhabit the earth due to a handful of natural and man-made disasters, so she is now left behind wandering aimlessly before realizing she is alone. Upon finding a unique Sakura tree, several cherry blossom petals begin falling to the ground, giving her the utmost courage to face her journey as we collectively watch over her future.