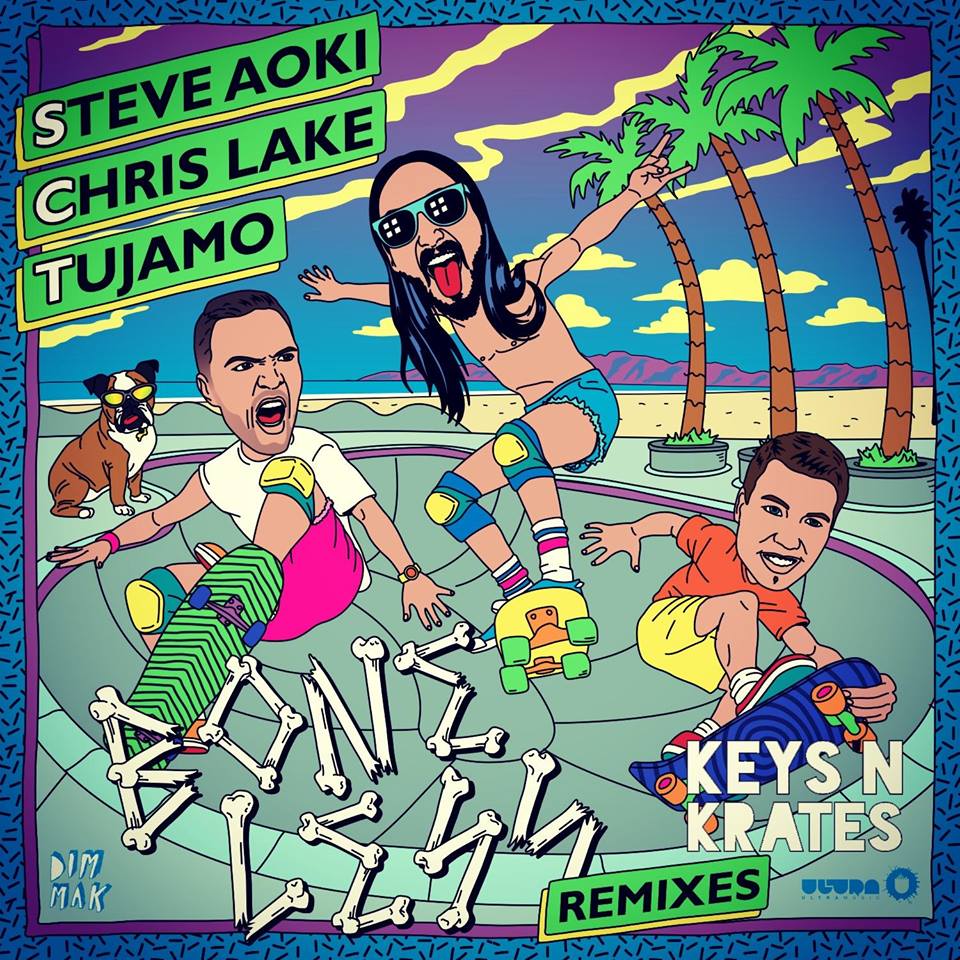 Steve Aoki, Chris Lake & Tujamo 'Boneless' Remixes
Steve Aoki returned to the fore alongside fellow EDM megaliths Chris Lake and Tujamo with a rhythm styled just in time for the summit of the festival season: "Boneless", which quickly reached the #1 position on Beatport (http://bitly.com/BonelessBtprt). Remixes courtesy of Canadian trio Keys N Krates and trap maestro Ookay are out now on Ultra (http://smarturl.it/bonelessRMXS).
Check out the music video with Steve Aoki and Chris Lake duking it out in a time-warped skate park: http://youtu.be/gl2p4G3CUrI
"Boneless" is a potent fireball of unrelenting bassline, infectiously stomach-stabbing main synth, and a crescendo that feels like the tip of a rollercoaster before it plunges to earth. Aoki has buddied up with Chris Lake, the beatsmith behind crossover gems like "Ohh Shhh," Sundown," "Changes", "Only One" and "If You Knew". The latter took the No. 1 spot in the Music Week "Buzz and Cool Cuts" charts, while the accompanying music video was praised by MTV and broke into its "Top 5" weekly chart. Fellow collaborator, Tujamo, saw his previous track "Who" enter the Beatport Top 20 as well as gaining a truckload of DJ support from Avicii, Steve Angello, Afrojack, and A-Trak.
As for Hollywood based electronic producer, Steve Aoki, his past goes without introduction. The founder of Dim Mak Records, which has been active since 1996, Aoki has put out releases from Datsik, Infected Mushroom, Dada Life, Bloc Party, The Bloody Beetroots and Zeds Dead amongst his own collaboration with Tiësto. Then there's the impressive roster of remixes under his belt name, counting Duran Duran, Michael Jackson, The Killers and Weezer in his discography. Aoki's latest solo album, "Wonderland" was released January 2012.
'Boneless' Remixes Track list:
1. Steve Aoki, Chris Lake & Tujamo – Boneless (Original)
2. Steve Aoki, Chris Lake & Tujamo – Boneless (Keys N Krates Remix)
3. Steve Aoki, Chris Lake & Tujamo – Boneless (Ookay Remix)
Buy link: http://smarturl.it/bonelessRMXS
###
For more info on Keys N Krates visit:
www.keysnkrates.com
www.facebook.com/keysnkrates
www.twitter.com/keysnkrates
https://soundcloud.com/keysnkrates
For more info on Ookay visit:
www.facebook.com/ookaymusic
www.twitter.com/ookayx
https://soundcloud.com/ookaymusic
http://facebook.com/steve.aoki
http://twitter.com/steveaoki
https://facebook.com/chrislake
https://twitter.com/chrislake
https://facebook.com/Tujamo
https://twitter.com/Tujamo_
http://ultramusic.com