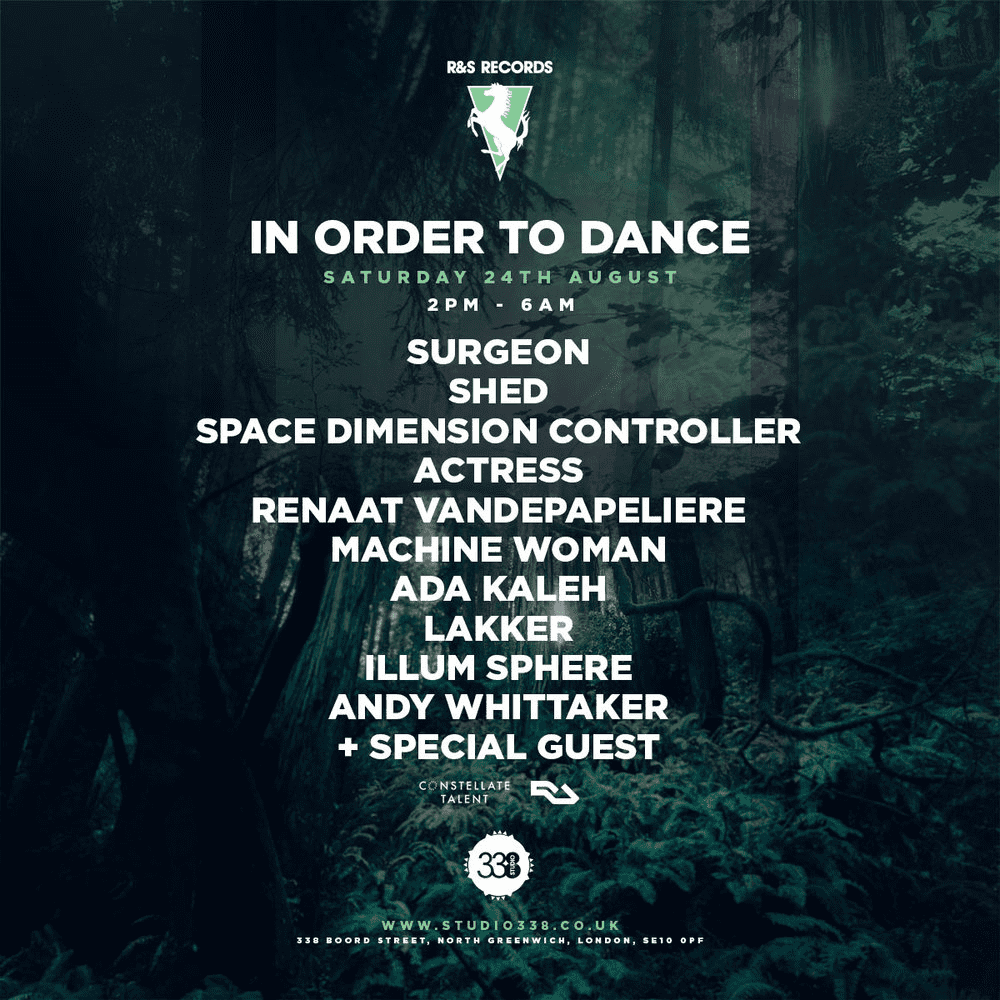 Surgeon Headlines Studio 338 For R&S Records: In Order To Dance
LINE-UP
SURGEON / SHED / SPACE DIMENSION CONTROLLER / ACTRESS
RENAAT VANDEPAPELIERE / MACHINE WOMAN / ADA KALEH / LAKKER
ILLUM SPHERE / ANDY WHITTAKER + SPECIAL GUEST
 LISTEN TO R&S RECORDS ON SOUNDCLOUD:
https://soundcloud.com/r-srecords
Studio 338 is excited to announce the debut of the R&S – In Order To Dance concept at the venue on Saturday 24 August. Carefully curated to suit each space inside 338, the lineup showcases the very best in house, techno and electronica, with 10 artists split across three rooms and 16-hours of programming.
Since its inception, R&S Records has heralded more cutting edge techno gold and groundbreaking electronic music than any other label in dance music history. R&S represents the initials of Renaat Vandepapeliere and Sabine Maes, the couple who founded the label in 1984 and who still run the label to this day.
Always pushing boundaries with new sounds and establishing the careers of artists across the last two decades, the label is not about looking to the past, it was and remains future orientated. The R&S Records catalogue includes music from Aphex Twin, James Blake, Lone, Paula Temple, Joey Beltram and many more.
This 16-hour event will see R&S Records – In Order To Dance take over all of Studio 338's dancefloors and will be their biggest ever London event. The In Order To Dance concept is to synthesize the label's cutting-edge acts with fellow trailblazers from the electronic world, but as label founder Renaat Vandepapeliere told us recently "only the ones that bring the party".
Topping the lineup is techno pioneer Surgeon. Known and respected as one of the leading names techno music, Surgeon has been at the forefront of the British techno scene since 1994. Joining Surgeon, is R&S co-founder Renaat Vandepapeliere, the heavy-hitting Shed, retro-tinged time-traveller Space Dimension Controller and Actress, whose brand new studio album is set to drop on Ninja Tune later this year.
Russian born Anastasia Vtorova aka Machine Woman will be bringing her downbeat minimal, alongside Romania's Ada Kaleh and the Irish techno duo Lakker.
Completing the lineup is Illum Sphere plus R&S Records A&R and resident Andy Whittaker, whose trusted record collection will open up the day. Adding to the star power, Studio 338 and R&S have one more ace up their sleeve, with an unannounced guest set to be announced on the night.
"I'm incredibly excited about the launch of 'In Order To Dance' at Studio 338. When we restarted the R&S label, in 2007, we moved the base from Ghent, Belgium to London, so it's the perfect city for us to see the team's hard work come to life.
"The outdoor terrace and large indoor space at Studio 338 give us a unique opportunity to present a varied lineup from afternoon to sunrise and I am very much looking forward to testing out their incredible Void sound system.
"R&S has always represented the underground and bucked against the commercial side of techno and electronic music so I am very pleased to announce that we will have the likes of Surgeon, Shed, Actress, and more joining the R&S roster – Ada Kaleh, Tessela, Space Dimension Controller, Lakker and myself, Renaat Vandepapeliere." – Renaat Vandepapeliere (R&S Records Founder)
"R&S Records has long been one of my favourite, buy on sight record labels. They introduced me to James Blake, something I'll be forever grateful for and shaped and challenged my understanding of what electronic music can be. It's likely that I wouldn't be doing what I do today without certain records or labels and R&S is definitely one of them. I am therefore delighted to welcome R&S to the Studio 338 orbit and am hugely excited for their debut party here" – Dan Perrin (Music & Bookings Director, Studio 338).
Tickets available now via RA:
https://www.residentadvisor.net/events/1278448
For more info about Studio 338's Made For Summer series of events head to:https://www.studio338.co.uk/