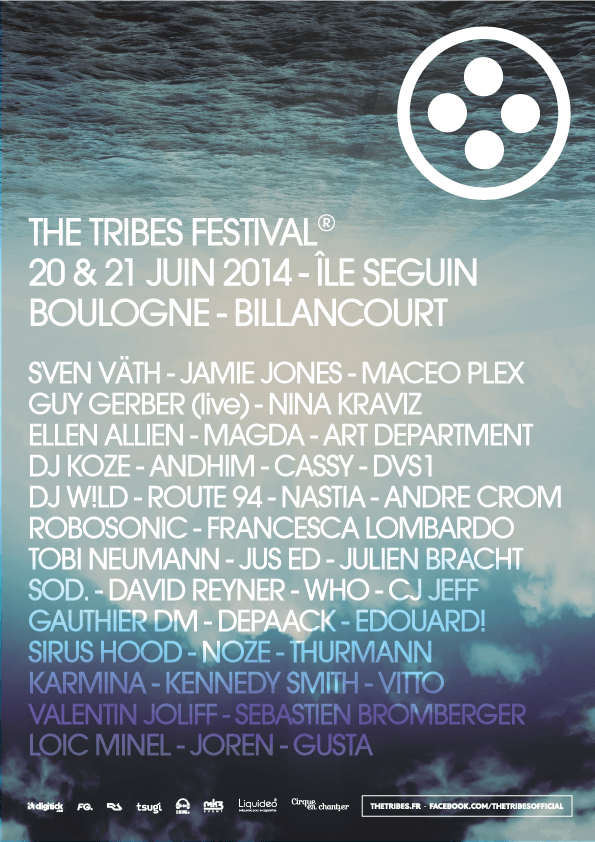 The Tribes Festival
Sven Väth – Jamie Jones – Guy Gerber (live) – Art Department – Nina Kraviz – Magda – Ellen Allien – DJ Koze – Cassy – Andhim – DVS1 – DJ W!Ld – Tobi Neumann – Benoit & Sergio (live) – Nastia – Just Ed – Francesca Lombardo – Philip Bader – Andre Crom – Robosonic – Purple Disco Machine – Who – Sod. – David Reyner – Louca – Victor Petroi – Edward! – Nozen – Thurmann – Sirus Hood – Gauthier Dm – Vitto
Well established and trend setting French promotion team The Tribes is to put on its first ever electronic music festival in Paris between June 20th and 22nd with an array of international headliners from the worlds of house and techno. The venue is Ile Seguin, an island just ten minutes from the iconic Eifel Tower meaning the festivities will play out in the landmark's shadow, with Paris as the backdrop.
The small island is an urban industrial estate surrounded by the Seine that will make for a perfect place to play with 10, 000 other people, whilst The Tribes is known for underground parties in Paris with brands like Circo Loco, Mobilee and Jamie Jones's Paradise, all of whom are involved at the first ever The Tribes Festival. Across all days, The Tribes Festival will make use of four dancefloors, inside and out, offers more than 40 international artists and will ensure food, dancers, performers and a chill out area and much more are on site to make things as wonderful as possible.
Headlining the 3 days will be Coccoon boss Sven Vath and label mate DJ W!ld, Hot Creations chief Jamie Jones and Ellum Audio honcho Maceo Plex, Rumors and Supplemental Facts boss Guy Gerber, No 19 house pair Art Department, Rekids temptress and techno talent Nina Kraivz, BPitch Control's Ellen Allien, the weird and wonderful Pampa founder DJ Koze plus Underground Quality main man and US house master Jus-Ed.
On top of that, the likes of Panorama Bar's Cassy, Andhim, techno tastemaker DVS1, Philip Baber from Moon Harbour, Andre Crom, Robosonic and tens more top DJs will all have their own musical input to what is sure to fast become Paris' finest electronic festival.
The Tribes Festival
June 20th – June 21st
Boulogne – Billiancourt , Paris, France
http://www.thetribes.fr/
https://www.facebook.com/thetribesofficial