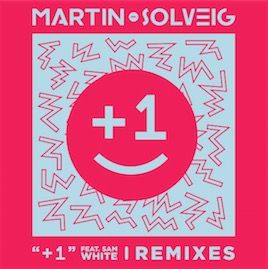 Martin Solveig - +1 feat. Sam White (Remixes)
Fresh off the back of crossover hit 'Intoxicated', a track that peaked at #5 on the Official UK Singles Chart to grant him his first ever UK Top 10, Martin Solveig has unveiled the official remix package to new single, '+1'. Drafting in Bart B More, Blonde, Delta Heavy, Format:B, Loge21 and Tujamo to provide their own twists on his infectious original, each adds to the buzz surrounding Solveig as he looks to close out 2015 with a bang.
A natural extension of the bubbling, future house sound that has seen him make such an impressive mark on the charts in 2015, '+1' is a testament to Solveig's ability to write crossover hit records. With the official video to '+1' now having amassed near-on 9 million views on YouTube already, the new mixes ready feed straight into the momentum behind the single.
From Bart B More's storming, upfront edit to chart mainstays Blonde's mesmeric, rolling mix, each remix gives '+1' a new dance floor perspective. Delta Heavy turn in a monstrous drum & bass rework, while German producer duo Format:B deliver the goods on their stunning, peaktime tech roller, before Loge21 and Tujamo see the package out with blistering remixes of their own.