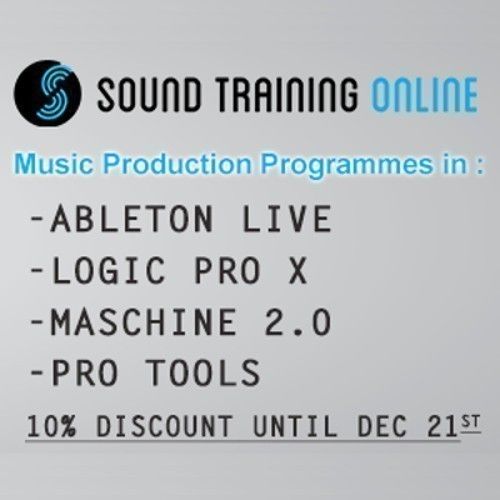 10% Discount On Sound Training Online Courses Until December 21st
Sound Training Online delivers music production courses that are created by the music industry professionals of today, for the music industry professionals of tomorrow. We currently offer online programmes for Ableton Live, Logic Pro X, and Native Instruments Maschine, with our brand new Pro Tools 11 programme kicking off in January 2015. All Sound Training Online lecturers are active industry professionals, who have built and maintained successful careers within the music industry. Using their expertise and years of experience, these professionals have created courses that teach a unique range of skills, so students can build successful careers of their own. Choose to do a course entirely at your own pace, or enrol on a Premium course and have a the course lecturer provide weekly personalised feedback and guidance throughout your programme. With our current 10% discount, course prices start from as little as €175 making this an ideal time to invest in your future.
Ableton Live with Martin Clancy is a four-week programme that takes an in-depth look at the main functions of this hugely popular software. The course is tailored for those who are new to Ableton, and its aim is to quickly familiarise students with the software's many features, allowing you to apply them to your own personal set-up. Whether you are an aspiring Music Producer, Live Performer, or DJ, this course will give you the start that you need. Martin is a Dublin / New York-based producer, musician, programmer, and Ableton Certified Trainer with over 30 years international studio experience.
Music Production in Maschine with Will Kinsella is a comprehensive 6 week programme that covers all aspects of production within Native Instruments Maschine 2.0 software. By the end of the 6 week course, learners will have created their own fully mixed arrangement, all within Maschine. The course is taught from the perspective of the Maschine software, but also demonstrates how to use the Maschine hardware controller in order to effectively increase your workflow. The course also details how to integrate Maschine into existing production setups, such as Logic and Ableton. Will Kinsella was first discovered by the legendary Dave Clarke in 2010, and was listed in Dave Clarke's top tracks of 2011 with "Kongo" As a producer Will has signed tracks to Kombination Research, Sleaze Records and Globox. He was also listed in Dave Clarke's top tracks of 2011 with "Kongo"
Electronic Music Production with Full Tilt covers everything you need to know to start producing music using Logic Pro X. The comprehensive programme consists of two separate 6 week modules, Production 101 and Production 201. Production 101 covers the wide range of production tools required to begin producing Electronic Music. Production 201 then practically applies the material covered throughout Production 101, in order for you to create a fully produced, mixed and mastered track of your own. Students have the option of creating a Remix of an existing track, or an entirely original production. The course features several hours of masterclass tutorials, where Full Tilt create a fully produced, mixed and mastered track right before your eyes. This gives you unrivalled access to Full Tilt production techniques, and allows you to see the in-depth production process from start to finish.
Pro Tools with Aidan Cunningham takes a comprehensive look at the main functions of the recording industry's professional standard software, Pro Tools 11. The course is tailored for those who are new to Pro Tools, and aims to quickly familiarise students with the many features available within the software. By the end of the course, students will be able to set up and navigate Pro Tools sessions with ease, allowing them to Record, Edit, and Mix any type of track consisting of recorded audio or virtual MIDI instruments. Aidan Cunningham has spent several years as freelance sound engineer and is an Avid Certified Pro Tools Expert. He will ensure that you will be a highly proficient Pro Tools user by the end of the course.

For more information: http://www.soundtraining.com/online/courses/
For Free Course Trials: http://www.soundtraining.com/online/free_trial/