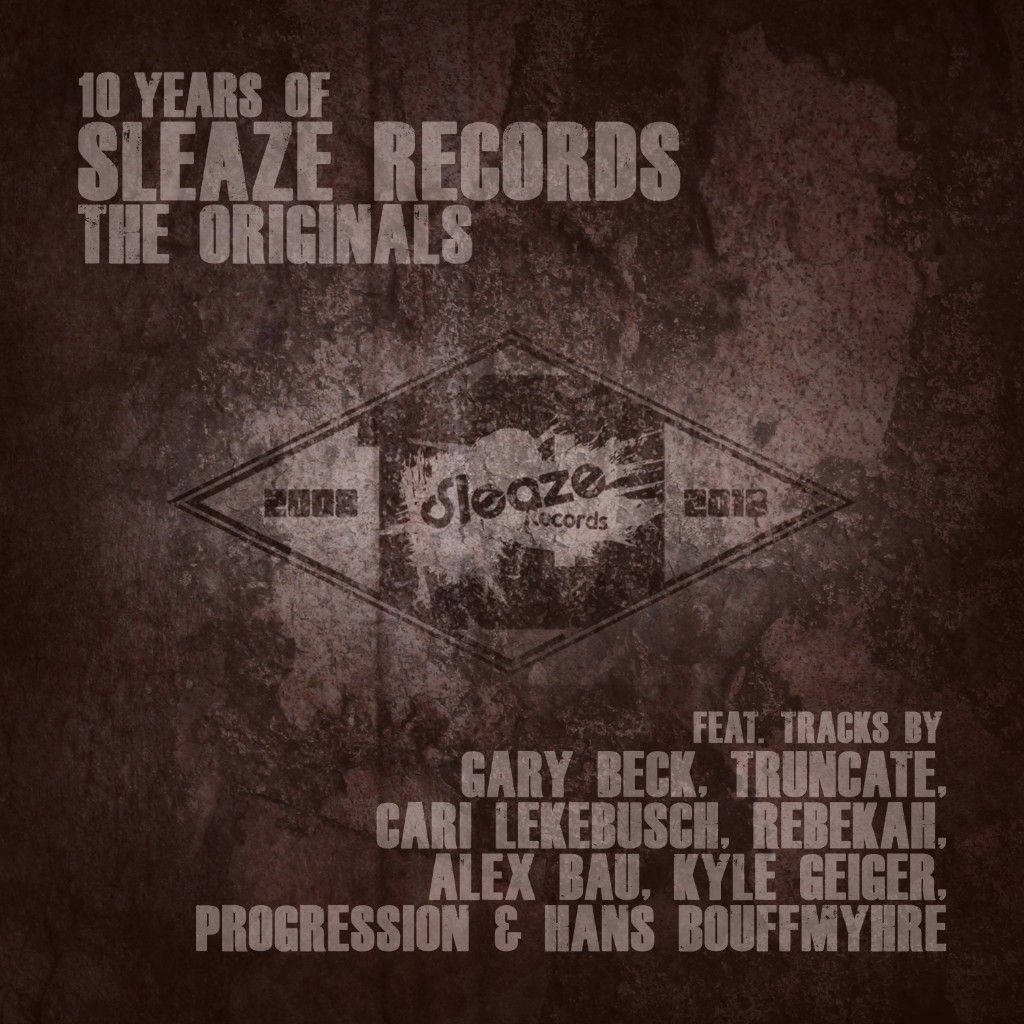 Various Artists - 10 Years of Sleaze Records
Sleaze Records celebrate their 10 Year Anniversary, and not only that, they also honor their brand of raw and profound style of techno by arranging an impactful compilation featuring a mixture of established producers.
The lineup includes multiple artists, all of them deserve praise, so let's break them up. It all starts with Scottish artist DJ Gary Beck who is recognized by his unique intense and energetic sound. Truncate continues with Sparse, a clearly deep track with a hypnotic evil coming from his coarse style. Cari Lekebusch comes right from Sweden with this the cold Holographic, which frenetically progresses into a rooted creation. The need to evolve is induced into the next track, First Response, which Rebekah forms with her need to push the envelope. As soon as things start getting mild, Alex Bau fires with another technical and precise work with the frantic and psychotic aria Take One. Followed by Abysmal, a track which I would in fact describe as abysmal as Kyle Geiger built this dark and atmospheric track for the toughest crowds. Bristol based producer Progression (UK) likes to live on the darker periphery of techno, he shows it with Survivor Of A Kind, an industrial song comprised of a classic dark techno broken kick and mesmerizing patterns. NowBehind The Gates plays and it couldn't end any better than with this production bySleaze Records' label boss Hans Bouffmyhre, it is a weirdly blithe and powerfully dynamic piece that closes this compilation, but the celebration of this 10th Year Anniversary doesn't end here, because the legacy of these impressive and imposing artists will continue for years.
The 10 Years of Sleaze Records compilation will come out on October 29th, and we cannot keep waiting.
Tracklist:
01. Gary Beck – Seb
02. Truncate – Sparse
03. Cari Lekebusch – Holographic
04. Rebekah – First Response
05. Alex Bau – Take One
06. Kyle Geiger – Abysmal
07. Progression (UK) – Survivors Of A Kind
08. Hans Bouffmyhre – Behind The Gates
Sleaze Records:
http://pullproxy.com/publicity/campaigns/releases/2457-10-years-of-sleaz…
https://www.facebook.com/sleazerecords/?ref=br_rs
http://www.sleazerecordsuk.com/
https://soundcloud.com/sleazerecords
https://www.residentadvisor.net/record-label.aspx?id=1996
Hans Bouffmyhre:
http://pullproxy.com/publicity/campaigns/artists/1105-hans-bouffmyhre
https://soundcloud.com/hans-bouffmyhre
https://www.facebook.com/hansbouffmyhre1
https://www.residentadvisor.net/dj/hansbouffmyhre