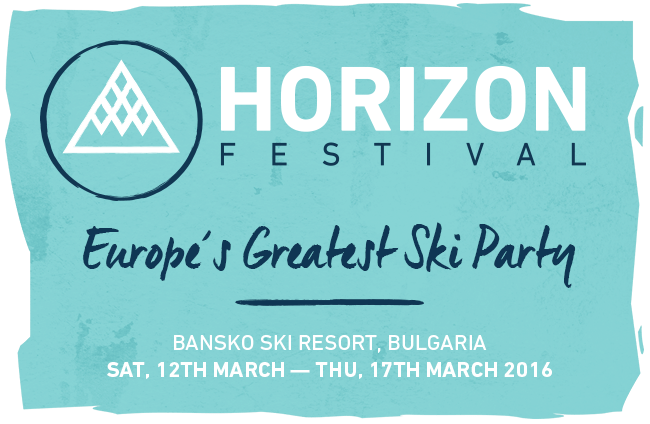 120 Acts, Hot Spa Cinema & Hotel House Party For Horizon Festival, Bulgaria 2016
Horizon Festival intend to expand your experience in every sense in 2016. Distilling everything that's great about festivals, snowboarding/skiing, amazing locations and decadence, Horizon Festival is the high life.

The dramatic vista of pristine slopes is matched by the outstanding international line-up of acts, amazing one off parties and living the dream for a fraction of the cost thanks to Bulgaria's crazily low prices.

THE MUSIC:

Musically, Horizon Festival delivers a many and varied palate, catering for the most discerning tastes. It's all about quality be it House, Techno, Drum & Bass, Grime, Funk, Garage, Soul or Hip-Hop. Adding to the already colossal line-up are Berlin's purveyor of finest techno Âme, the much-in-demand Nina Kraviz, jungle pioneer Congo Natty and bastion of UK Garage, the legendary MJ Cole. They join the likes of Goldie, Craig Charles, Lady Leshurr, 9 piece dub reggae band Gentleman's Dub Club, John Talabot and Levon Vincent. (Full line-up below)

This festival is about so much more than just the music. Creating a truly unique immersive experience, the Horizon Festival team have created Hot Spa Cinema, Geothermal Pool Rave, Music Production Lab and The Hotel House Party.

THE HOTEL HOUSE PARTY:

Team Horizon have commandeered a derelict hotel in the remotest part of the allegedly haunted Pirin Mountains. In a never to be repeated night of unadulterated twisted decadence the whole hotel is transformed into a labyrinth of unexpected party rooms. From top international DJ's playing in the dilapidated master suite to the 007 themed cocktail bar and rooms with Bulgarian woodwind bands, immersive magicians and bashment poledancers (can you believe it?) there's a twist at every turn. The 25 curated rooms will run all night and the soundtrack will be pumped out at full volume as there are no restrictions AND ticket holders will be offered the chance to design and host a room – more on that to come soon.

HOT SPA CINEMA & GEOTHERMAL POOL RAVES:

The Natural Geo Thermal pools just South West of Bansko will, for the first time ever, host Apres-Ski Raves. Three outdoor pools, each hotter than the last are a welcome plunge in the snowy Pirin Mountains. Add to this headline DJ's with a sublime sound system, a full bar and delicious menu (served to you on platters in the pools), this will be another unique event added to the Horizon Programme. Also in the pools will be the immersive Hot Spa Cinema showing classics and new arrivals. The perfect segway between the piste and the parties.

THE MUSIC PRODUCTION LAB:
This is a chance for artists, DJs and music fans to listen, try, learn and experience the latest processes and gain invaluable insight from industry professionals via hands on workshops. From production, to tech, to creation and promotion there's a wealth of information to tap into and take away for free. There will be one lucky innovator that will see their work created in the studio and played out on the main stage!

Line-up so far is here:

ÂME • John Talabot • Nina Kraviz • Levon Vincent • Goldie • KiNK • Gentleman's Dub Club • Mala • Congo Natty • Lady Leshurr • The Four Owls • Craig Charles • Gerd Janson • MJ Cole • Kahn & Neek • The Heatwave • Zenker Brothers • Session Victim • Flava D • Channel One • Dan Shake • Bjarki • Ellijah & Skilliam • Anushka • DJ Format • Terrence Parker • Fliptrix & Verb T • Gorgon Sound • Flowdan • Swindle • Henry Wu • Hybrid Minds • Jane Fitz • Jon Phonics • Jon Rust • Kutmah • Medlar • Moxie • Afriquoi • BCee • Denis Sulta • Dimensions Soundsystem • Dolan Bergin • DJ Milktray • DLR • Doc Scott • Drae Da Skimask • El-B • Hodgson • The Menendez Brothers • Toucán • Leaf Dog & BVA • LSB • Merachka • Nick Nikolov • Ocean Wisdom • Peggy Gou • Rachel Row and more to come…
TICKET INFORMATION
With a variety of ticket packages available, there's the perfect package for everyone, with prices ranging from:
• Festival + 6 nights apartment from £172 pp
• Festival + Ski from £178 pp
• Festival + Ski + 6 nights apartment from £232 pp
• Festival + Ski + 6 nights in 4—star hotel from £270 pp
• Festival Ticket Only from £110 pp

Book now at www.horizonfestival.net