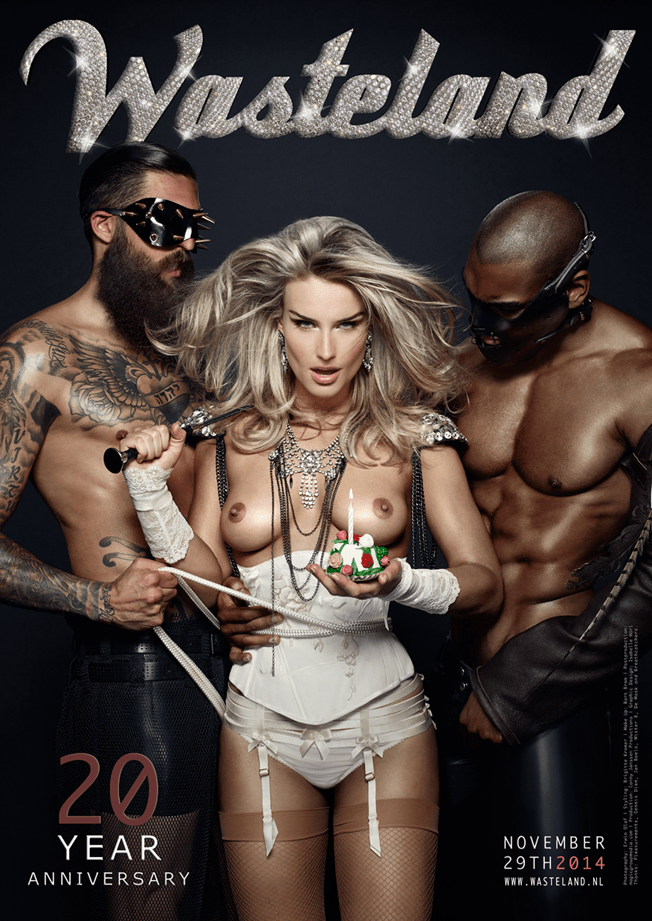 20 Years of Wasteland
20 years ago Wasteland celebrated its very first edition in the famous club Richter in Amsterdam. At that time the fetish scene in the Netherlands was still confined to the 'not widely accessible' and therefore somewhat elitist – underground. Now, 20 years later Wasteland is the epitome of fetish extravaganza. Straights, gays, transsexuals and a varied international club crowd find each other in a sanctuary of tolerance. Besides a bi-annual event in Amsterdam, Wasteland is held once a year in Berlin. We proudly celebrate these 20 years of grand spectacle in 2014.
Coming edition Wasteland presents a spectacular fashion performance by Bas Kosters supported by Ellen ten Damme. Everyone from and around the fetish and fashion scene will be present during this event: A fetish fashion show by Honour and international fetish models and performers like Sister Sinister (SE), Lara Aimee, Kay Morgan (BE), Miss Crash (USA), Boom Boom (UK), German Burlesque star Marlene von Steenvag and many more. Furthermore the location will be transformed into a vibrant fantasy world.
Music by Lucien Foort, Benny Rodrigues, Billy the Kit, Fabio White (It), Aiscream, Clark Kent (Ger), Sjeazy Pearl, Rude boy Marcus (Uk), Dennis Ruyer and more.
Over the last two decades Wasteland has and continues to keep its audience entertained, excited and enthralled. Every party has a different theme to encourage the best in costumes, outfits and décor complimenting the playful atmosphere, with a theatrical twist. Wasteland is 'an experience' presenting fashion shows by renowned designers, great DJ's, VJ's and spectacular performances that instantly arouse your fantasy. Iconic are Wasteland's flyers created by top photographers and artists. For this edition the double flyer is created by acclaimed photographer Erwin Olaf.
2014 will be a very special party year indeed for Wasteland. So come and celebrate the 20-year anniversary, two decades bursting with magnificent memories!