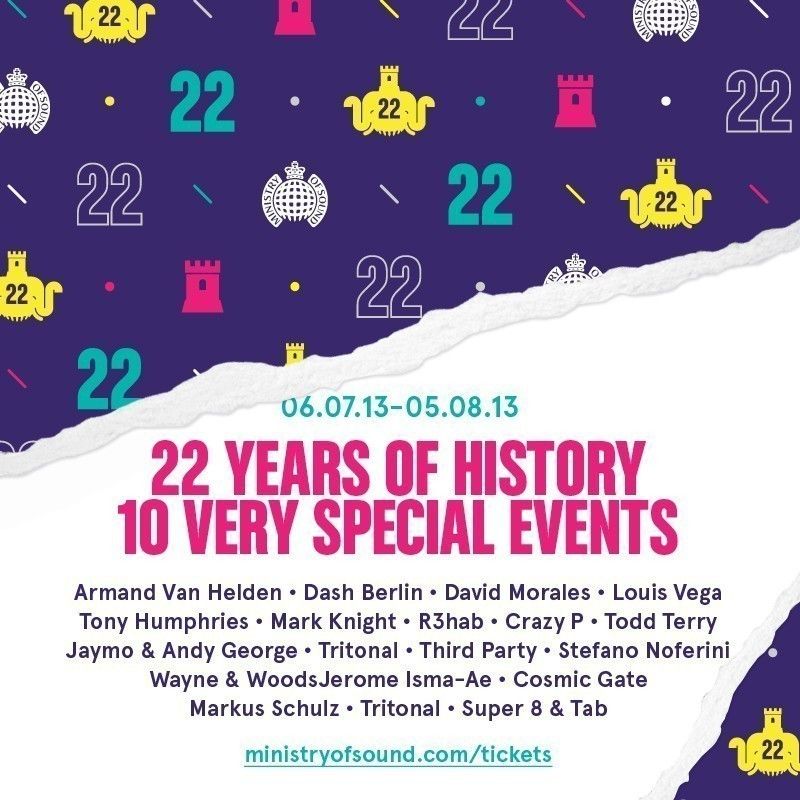 22 years of history in the making
This year ensuring the 22 birthday candles will be blown out in style; Ministry of Sound is celebrating with 5 weekends of parties, more than 150 DJ's and a heap of surprises from a number of associated brands! Celebrating with us over the 5 weeks is The Gallery alongside Saturday Sessions, bringing a host of brands such as Anjuna Beats, HK Records and Spacestation and also Toolroom's 10th Birthday and Kinki Malinki's 15th Birthday!
Over the last 22 years, Ministry of Sound has grown to become the ultimate shrine to electronic dance music, offering the ultimate in line-ups every time. With an annual refurb taking place every year, what once started as a disused bus shelter has now been extended, amplified, lit, smoked, lazered, and polished to become the greatest nightclub in the world! It's difficult to talk about clubbing in London without the mention of Ministry of Sound in the landscape of the past, present, and after all of these years, as part of the framework of London's future!
To celebrate the years of success, 5 weeks of line ups will mix iconic amongst the new across a range of styles. Gallery kicks off on Friday September 6,th a periscope into the future hosted by Anjunabeats and featuring Jerome Isma-Ae, Norin & Rad, and Ronski Speed. Partying with Gallery on September 20th is none other than Dash Berlin and Markus Schulz, with Tritonal taking centre stage on Friday 27th September. Since Gallery's inception over 10 years ago, Ministry of Sound has become its spiritual home, to the point where each is now synonymous with one another, and these 5 weeks are set to be some of their most epic parties yet.
As if 22 years of existence is not already enough to celebrate, kicking of the Saturday night celebrations at the club are long term residents Kinky Malinki, who celebrate their 15th Birthday on Saturday 7th September with Todd Terry, Jaymo & Andy George and Mike Mago. On 21st September, Ministry of Sound harks back to the classic with Three Kings of House with David Morales, Louis Vega & Tony Humphries, while on Saturday 14th September they pump up the volume with R3hab, Third Party and GTA. On 28th September invites back winner of the DJ Mag Top 100 2012 Armand Van Helden.
Finishing the 5 week party are old friends and residents of Ministry of Sound Toolroom Knights who will be taking over both Friday and Saturday night for an all star line up to celebrate their 10th Birthday with Mark Knight, Stefano Noferini, Dannic on Friday 4th October, and Funkagenda, Rene Amesz, Prok & Fitch on Saturday 5th October, for what is to be their biggest parties yet!
With a great deal to be a part of, bag yourself a spot on the dance floor ASAP!
Friday 6th September : The Gallery presents Anjunabeats
Box : Jerome Isma-Ae / Norin & Rad / Ronski Speed / Special Guest Andrew Bayer (Gallery Debut)
103 : Luigi Rocca
Saturday 7th September : Kinky Malinki 15th Birthday
Box: Todd Terry / Jaymo & Andy George / Mike Mago
103: Hauswerks / Electronic Youth / Grant Nalder / Groove Project / Shane Macauley
Friday 13th September : The Gallery Cosmic Gate
Box : Cosmic Gate 3 hours / Jaytech / Chicane Live
103 : Alex Kenji
Saturday 14th September : R3hab
Box: R3hab / Third Party / GTA
103: HK Records: Just Kiddin / White Square
Friday 20th September : The Gallery Dash Berlin
Box : Dash Berlin / Markus Schulz / Lee Osborne
103 : Gavyn Mytchel & Steve Lee
Saturday 21st September : Three Kings of House
Box : David Morales / Louis Vega / Tony Humphries
103 : Spacestation: Special guest TBA / Toyboy & Robin / Se7en / Jordan Wade / Rick Maia
Launch of Circa 1991 : Justin Berkmann & Friends
Friday 27th September : The Gallery presents Enhanced
Box : Tritonal / Super 8 & Tab / Estiva vs Juventa / Will Holland
103 : D.Ramierz
Saturday 28th September : Armand Van Helden
Box : Armand Van Helden / Sonny Wharton / Santero
103 : Fenech Soler / Tempo Eterno
Friday 4th October : Toolroom Knights 10th Birthday part 1
Box: Mark Knight, Stefano Noferini, Dannic
103 : Federico Scavo, Belocca, Mark Storie, Gav Mytchel Toolroom: Long & Harris, Residents
Saturday 5th October Toolroom Knights 10th Birthday Part 2
Box : Mark Knight, Funkagenda, Rene Amesz, Prok & Fitch
103 : Doorly, Prince Club, Filthy Rich, resident

Tickets available from:
http://www.ministryofsound.com/club/listings
http://www.residentadvisor.net/event.aspx?433181
http://www.clubtickets.com/
Ministry of Sound
103 Gaunt Street
London
SE1 6DP
0870 060 0010